'Grey's Anatomy': Did Callie and Arizona End Up Together in New York? Fans Need to Know
'Grey's Anatomy' fans will not accept a series finale without being told whether or not Arizona and Callie ended up together.
No one really knows whether there will be a Grey's Anatomy that extends beyond season 18. Most of us were unsure whether season 18 would ever actually happen. It is this that makes most fans of the show want the director and crew to tie up loose ends. Otherwise, we may forever have to wonder what really happened to our most favorite characters, even those that have already departed the show.
One example of a couple that we all want to know more about is Callie and Arizona. Fans want/need to know what happened to the Calzona love story.
'Grey's Anatomy': For the love of Calzona
Callie Torres (played by Sara Ramirez) joined the Grey's Anatomy cast in season 2 with a first appearance in "What Have I Done to Deserve This?". It aired on February 26, 2006. The following September she returned as a recurring cast member.
Callie was first introduced as an orthopedic surgeon and love interest for George O'Malley (T. R. Knight). As luck would have it, a better lover was waiting in the wings though it would take three seasons for us to find her. Arizona Robbins (played by Jessica Capshaw) first appeared in "Wish You Were Here" in January 2009 and became a regular the following September.
They were the couple that most people loved. They were sweet, beat the odds, and took on the LGBTQ challenges head one to be together. It was a relationship that we felt would always be there. However, problems arose and the two split up.
After a rotten breakup and custody battle, as well as meeting a new love, Penny (played by Samantha Sloyan), Callie departs the show at the end of the 12th season. She moves to New York to continue her relationship with Penny. Later is revealed that they split up, and Robbins opts to move to New York as well. She departs after season 14, following her daughter who was unhappy without Callie.
Unanswered questions surrounding Calzona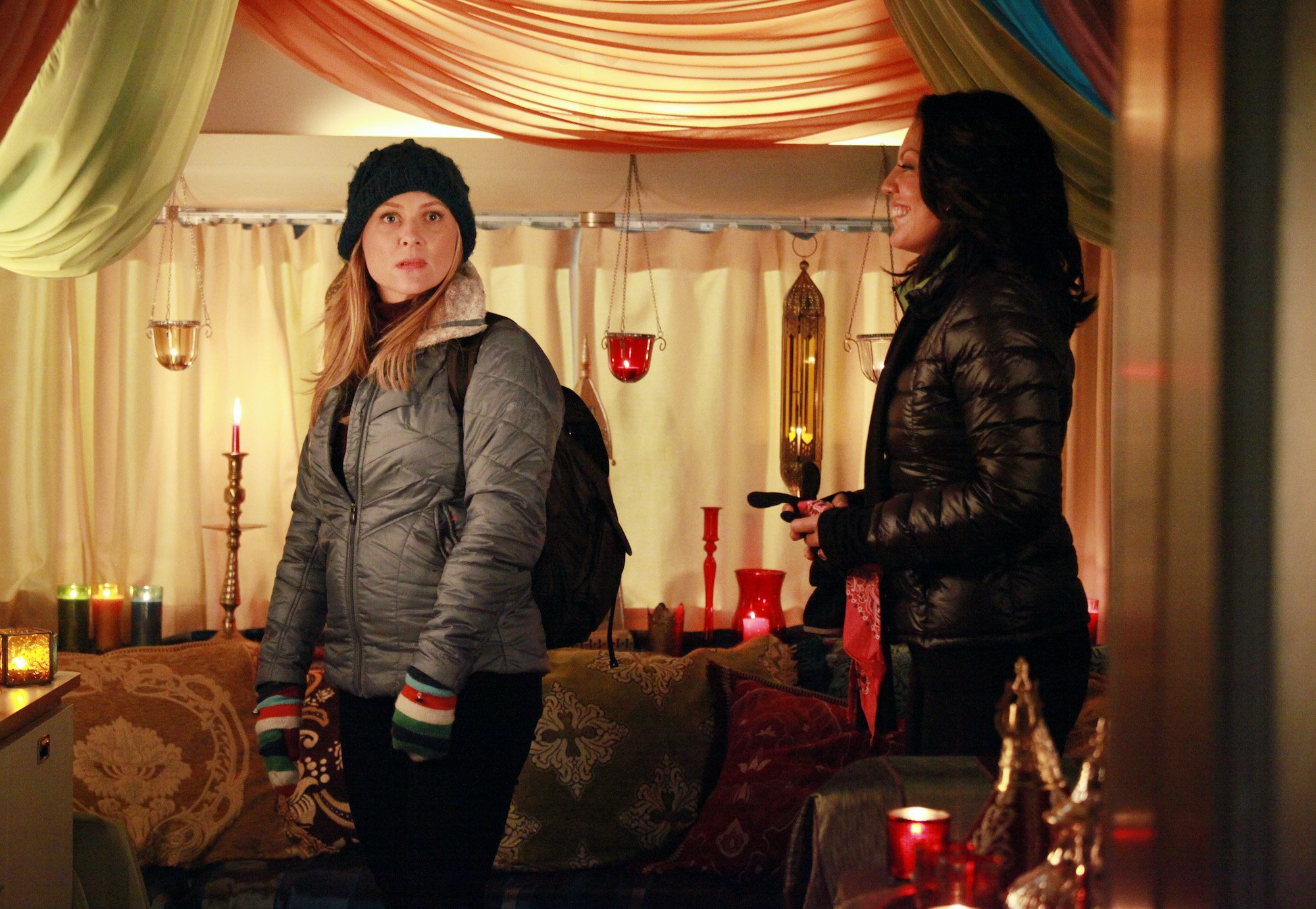 When Robbins left for New York to follow Torres, we all hoped it would be to renew their love, It is implied that Arizona hoped to rebuild her relationship with Callie, who she always smiles when she gets a text from. However, no one knows for sure what becomes of Calzona.
Recently, one fan asked on Reddit, "What is on everyone's season 18 wish list?" Among one of the biggest wish list things that fans want is an update on whether Calzona is a couple in New York.
It is a situation that feels unresolved since we have no "endgame" idea of what became of them. As pointed out by one replier, "Every major couple got one, except for them."
We can hope that they found love after leaving Grey's Anatomy, but without confirmation, who knows. Fans are not picky and most say that they would settle for any bit of information about Calzona.
It is true, we could get a little update. Callie and Arizona left friends behind, there could be a phone call or a mention of them. They could return to help other characters, such as Jo (Camilla Luddington). We will settle for anything if we can close that chapter and know what is going on in New York.
Other key things fans wanna see in the 18th season
Other things that the fans want to include a return of Addison Montgomery (Kate Walsh), Christina Yang (Sandra Oh), and Tom Koracick (Greg Germann). Many also would like to see Alex Karev (Justin Chambers), or at least an update on what he is doing now. His departure from Grey's Anatomy was too sudden for there to be anything but questions.
A few other ideas that fans have included are that we would like to see a few departures or better storylines. These ideas include character development for Dr. Taryn Helm (Jaicy Elliot), a separation between Nico and Levi (Alex Landi and Jake Borelli), and a departure for Owen and Teddy (Kevin McKidd and Kim Raver).
In some cases, there are fans that also would like to see a deepening relationship between Meredith Grey (Ellen Pompeo) and Cormac Hayes (Richard Flood). If not a real relationship, then, at the very least, a real storyline.
Sadly though, we will just have to wait and see what season 18 may bring to Grey's Anatomy.