'Grey's Anatomy': Does Alex Karev End Up With Izzie Stevens and 2 Children?
Although fans were dying to find out how Grey's Anatomy would wrap up the departure of Alex Karev (Justin Chambers) from the show; no one saw this ending coming. Everyone is in tears. Be prepared.
[Warning: Grey's Anatomy Season 16 spoilers ahead]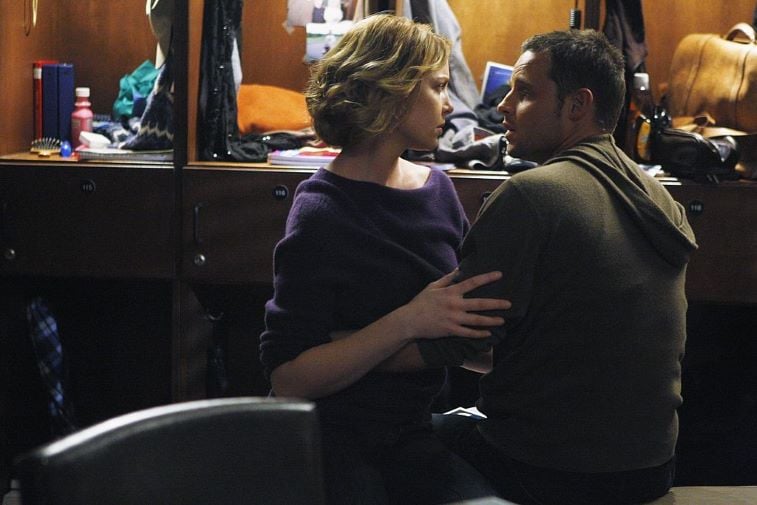 What happened with Izzie Stevens and Alex Karev 10 years ago?
When Izzie (Katherine Heigl) discovered she had metastatic melanoma stage IV and was given only a 5% chance of survival, fans were sure she was going to die. However, Derek (Patrick Dempsey) was able to remove her brain tumor successfully.
Izzie then spent her time planning Meredith (Ellen Pompeo) and Derek's wedding, but when her condition gets worse, her friends decide to give the ceremony to Izzie and Alex. The two get married, and then she almost dies. She flatlines and sees George (T. R. Knight) in the elevator. All those moments, fans will never forget.
She ends up living; while George dies. However, Izzie and Alex's happily ever after didn't last long. She makes an error that endangers the life of a patient and is let go from Grey-Sloan. Izzie thought that Alex was responsible for the loss of her job; however, he wasn't.
When she returns to makeup, Meredith tells her that Alex is moving on. Izzie shares the good news that she is cancer-free, but he ends up breaking up with her. Izzie leaves Seattle for a fresh start, and that was the last we saw her.
Why did Alex leave Jo to be with Izzie Stevens?
The show opens with Jo, Meredith, and Miranda, all receiving a letter from Alex from somewhere in Kansas. Meredith tears hers open frantically while Jo stares at it.
"I regret to inform you blah blah blah that I will not be returning to Grey Sloan," the letter to Miranda reads. "The last thing I want to do is hurt you, but I'm leaving. I already left actually. I'm gone."
"Any chance to take the easy way out, maybe that used to be true," Alex's letter to Meredith says. "What I do know is that I owe you the truth. I don't know how else to tell you. If I showed up on your doorstep, you would set me straight."
We hear Alex's voice reading the letter throughout the entire episode. He tells her that she was always the one to set him straight and point out when he was an ass.
"The thing is I can't come back," he continues. "I can't face you. I deserve the guilt and to be called an ass, but I don't want to be set straight, because the one perfect thing isn't in Seattle. I swear it's not about work or you or Jo. It's about me. I left, and I'm with Izzie."
Viewers at home are stunned but also crying because of the endless scenes of Izzie and Alex's relationship together. Let's not even mention the montage of Alex and Meredith's moments. The tears are real.
How did Izzie Stevens and Alex Karev have children together on 'Grey's Anatomy'?
Meredith's trial gave Alex an excuse good enough to call Izzie and see where she landed. He wanted to know if she was alive and well. He missed her and wanted to hear her voice.
"It turns out that Izzie was single and couldn't have kids because the cancer killed her ovaries," he continues.
We get a few flashbacks to when Izzie had cancer and made Alex give her his sperm so they could freeze embryos. He never thought they would get a chance to use them. It turns out they did.
They have twins who are five — Eli and Alexis — and he says they are "hilarious." He went there after Meredith's trial and never came back. The kids both want to be doctors. Izzie is a surgical oncologist, and they live on a farm.
Although it seems like Alex Karev's character development went back in time, the ending is also perfect. He has two children, and he can't leave them. With how many people grew up on the show without two parents, we can see how he wants to stay with his two children. We can't stop crying about it though.
Read more: 'Grey's Anatomy': Fans Cannot Stop Talking About the Latest Episode—They Didn't Know How Much They 'Needed' It