'Grey's Anatomy': Ellen Pompeo and Giacomo Gianniotti's Instagram Posts Will Make You Miss Meredith Grey and Andrew DeLuca
On March 11, Grey's Anatomy Season 17 left fans of Meredith Grey (Ellen Pompeo) and Andrew DeLuca (Giacomo Gianniotti) brokenhearted. Then after the all-new episode aired on ABC, Pompeo and Gianniotti shared separate posts on Instagram to celebrate their friendship and work together — here's what the Grey's Anatomy actors had to say.
[Spoiler alert: This article contains spoilers from Grey's Anatomy Season 17 Episode 7.]
What happened to Meredith Grey and Andrew DeLuca in 'Grey's Anatomy' Season 17?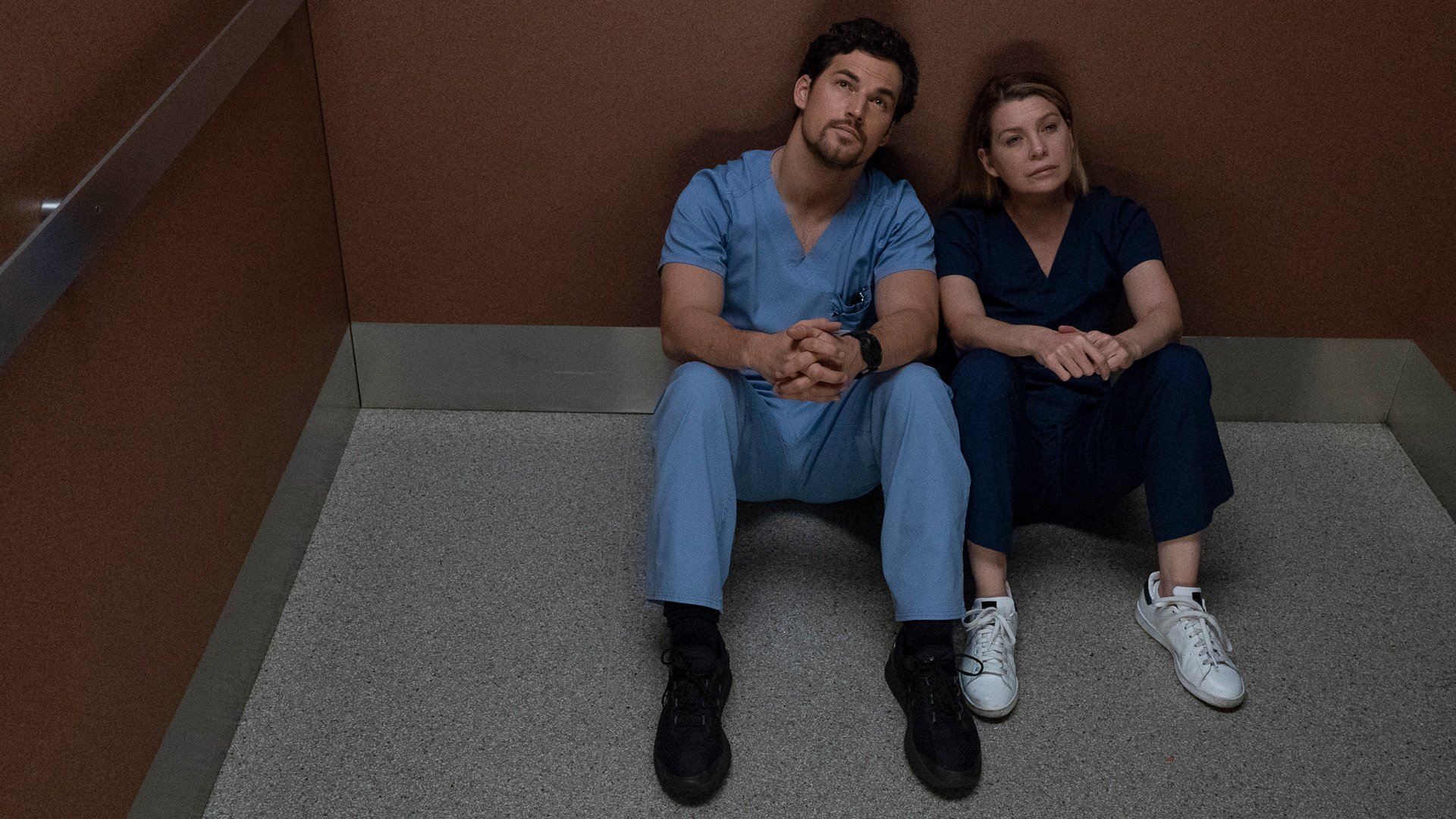 RELATED: 'Grey's Anatomy' Season 17: Ellen Pompeo Hints Whether Meredith Will Die When the Show Returns
Grey's Anatomy Season 17 Episode 7 — titled "Hopelessly Hoping" — started where the Station 19 Season 4 spring premiere left off. During the firefighter spinoff, DeLuca followed Opal, the woman who was suspected of sex trafficking. Then in the end, DeLuca was stabbed.
On Grey's Anatomy, Teddy Altman (Kim Raver) and Owen Hunt (Kevin McKidd) did everything they could to save DeLuca. At first, fans were hopeful DeLuca would come out alive. But by the end of the episode, the beloved character was gone. That said, DeLuca was still able to say goodbye to Meredith.
As you may remember, Meredith was put on a ventilator in the Grey's Anatomy Season 17 winter finale after contracting the coronavirus (COVID-19). So DeLuca reunited with Meredith on the dream beach that highlighted Derek Shepherd (Patrick Dempsey) and George O'Malley's (T.R. Knight) cameos.
RELATED: 'Grey's Anatomy': Anthony Hill Teases Maggie Pierce and Winston Ndugu's Romance in Season 17
Meanwhile, DeLuca thanked Meredith for their time together. "No matter what happens, I want you to know that I never felt seen the way you saw me," DeLuca told Meredith. "I never felt inspired the way that you inspired me. You made me want to be not just my best self, but better. And yeah, I felt small around you sometimes. I felt insecure. I wanted something from you that I needed to give to myself. But here, now, on this beach with you, I get it."
Then when the exes watched the sunset from the dock, DeLuca's mother called out to him. Meredith also seemed to know what was going to happen. "I'll miss you," she said. "If I go back and you don't, I'll miss you.
DeLuca told Meredith it would be "OK" and revealed he had to go. Meredith looked at DeLuca as he walked away with his mother. Then DeLuca died in the real world.
Ellen Pompeo thanks Giacomo Gianniotti in an Instagram post
RELATED: 'Grey's Anatomy': Sarah Drew's Return as April Kepner Has Fans Itching for More Cast Reunions in Season 17
When DeLuca died on Grey's Anatomy, many members of the cast applauded Gianniotti's work over the past seven seasons. Then in a post on Instagram, Pompeo thanked her co-star.
"Bravo @giacomo_gianniotti," Pompeo wrote on Instagram. "You will be missed. Thank you for showing up and being the consummate professional every time you walked on set. Grey's is a master class in patience and in having to be present no matter how monotonous it may get. You aced it."
The Grey's Anatomy lead continued, "Now you get to go have some fun and apply all that skill!! I'm excited for your future… and remember wine and pasta with me will always be a part of it!!"
Pompeo concluded the heartfelt message with "Tuo amico per sempre," which means "Your friend forever" in Italian.
Giacomo Gianniotti opens up about working with Ellen Pompeo on 'Grey's Anatomy'
RELATED: 'Grey's Anatomy' Season 17: Jesse Williams Reveals Which Cast Members He Wants to Return and It'll Make You Miss Mark Sloan
Following Pompeo's post on Instagram, Gianniotti shared the same photo with a caption of his own. Gianniotti revealed the selfie was taken on his last day on the Grey's Anatomy set. Then the actor thanked Pompeo.
"My last day on set… on the beach with this beach waved beauty," Gianniotti wrote on Instagram. "@ellenpompeo although our friendship will be everlasting, this ride with you has been incredible and I will deeply miss sharing the screen with you. Digging deep in scenes, fighting for truth, seeing how much you care about your character and the show after all these years. It's been an honor."
He continued, "Deluca and Meredith won't be seeing each other any more, but Giacomo and Ellen will be having much more time for pasta and wine now. Well said. Thank you for making this experience such a memorable one @ellenpompeo."
Grey's Anatomy Season 17 airs Thursday nights on ABC.