'Grey's Anatomy': Why Ellen Pompeo Doesn't Find Meredith's 'Pick Me, Choose Me, Love Me' Speech Empowering
For years, Grey's Anatomy fans have found Meredith Grey's (Ellen Pompeo) strength inspiring. The award-winning general surgeon and single mother proved time and time again she is the sun of her own story. But even so, viewers may not have known the character was headed in that direction when the Shondaland series began in 2005. And recently, Pompeo revealed she didn't find Meredith's iconic "pick me, choose me, love me" speech empowering. However, it's evident the show has grown over the past 15 years.
Meredith Grey's 'pick me, choose me, love me' speech on 'Grey's Anatomy'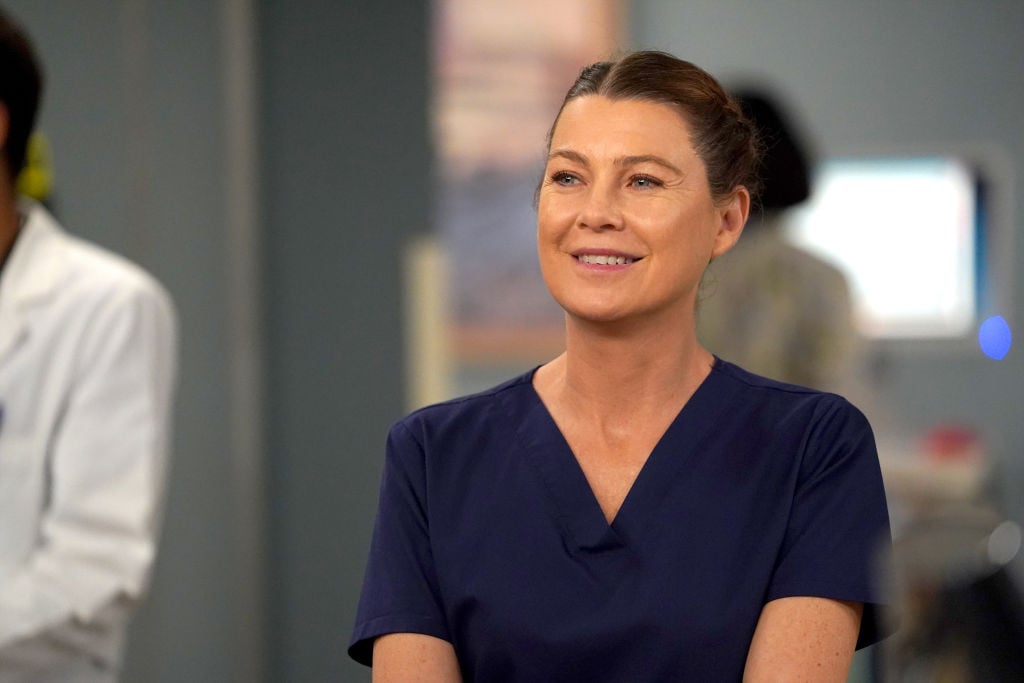 In Grey's Anatomy Season 2, Episode 5 — titled "Bring the Pain" — Derek Shepherd (Patrick Dempsey) is struggling to choose between his intern, Meredith, and his wife, Addison Montgomery (Kate Walsh). Then at the end of the episode, Meredith — who isn't exactly the romantic type — tells Derek to pick her. She says:
I lied, I'm not out of this relationship. I'm in. I'm so in it's humiliating because here I am begging. OK, here it is. Your choice. It's simple. Her or me. And I'm sure she's really great. But Derek, I love you. In a really, really big pretend to like your taste in music, let you eat the last piece of cheesecake, hold a radio over my head outside your window, unfortunate way that makes me hate you, love you. So pick me, choose me, love me. 
Meredith then tells Derek to meet her at Joe's Bar if he chooses to divorce Addison. He never shows.
Ellen Pompeo discusses the growth of Meredith Grey on 'Grey's Anatomy'
Of course, Grey's Anatomy fans know Derek and Meredith eventually fall in love and start an epic romance before his death in season 11. But regardless, Meredith's "pick me, choose me, love me" speech was hailed as one of the many romantic moments of the series. Then in an interview with Variety from April 2020, Pompeo shared why it wasn't.
When the publication asked whether the actor saw Meredith as a strong feminist at the start of Grey's Anatomy in 2005, Pompeo explained the character stood out from other roles at the time.
"I did recognize that the film roles that I was being offered at the time were all the girlfriends and sort of just the chick in the movie with not a lot to do," she said. "And [when] I read the pilot, I did recognize, 'Wow, this is a female lead — with a career.' I wasn't seeing many of those parts, so I did recognize that."
However, Pompeo didn't always see Meredith as the empowering woman she is today, particularly when she begged Derek to love her.
"Her journey to becoming powerful was not really so obvious to me," Pompeo said. "I have a different perspective, and maybe people see the beginning of the show as more empowering than I did. But that, 'Pick me, choose me, love me' [line]; I was like, 'Why am I begging a man to love me?' To me, that's not empowering."
Nevertheless, Pompeo acknowledged how much growth Meredith has gone through on Grey's Anatomy.
"With television shows specifically, they don't really know where they're going," Pompeo said. "Shonda [Rhimes] definitely had an idea for characters and they have to have some sort of arcs. But I think that a show that runs for as long as Grey's, the show has had to grow with the characters."
She continued: "I'm 15 years older now, so I'm so much stronger a person than I was then. It just evolves. The writers get to know you, they watch the dailies and they watch the show. Grey's is so unique, because we've been on the air for so long, they've all watched me grow up. Shonda and the writers, we've all grown up together."
Whether or not you find Meredith's speech empowering, the Grey's Anatomy character has certainly grown into someone worth aspiring to. And now we look forward to watching Meredith continue her journey as the Shondaland series nears its 17th season. So stay tuned.
Read more: 'Grey's Anatomy': Krista Vernoff Reveals Why Alex Karev Didn't Die in Season 16