'Grey's Anatomy:' Ellen Pompeo Singled Out Katherine Heigl's 'Problem' on the Show
While Grey's Anatomy continues to be one of ABC's most successful shows, the prime time medical series has seen its share of drama both on and off camera.
When issues arose with cast member Katherine Heigl pulling out of Emmy consideration in 2008, her relationship with creator Shonda Rhimes took on some considerable tension. With the actress angling for a film career, the situation on set began to get a little messy according to Grey's star Ellen Pompeo.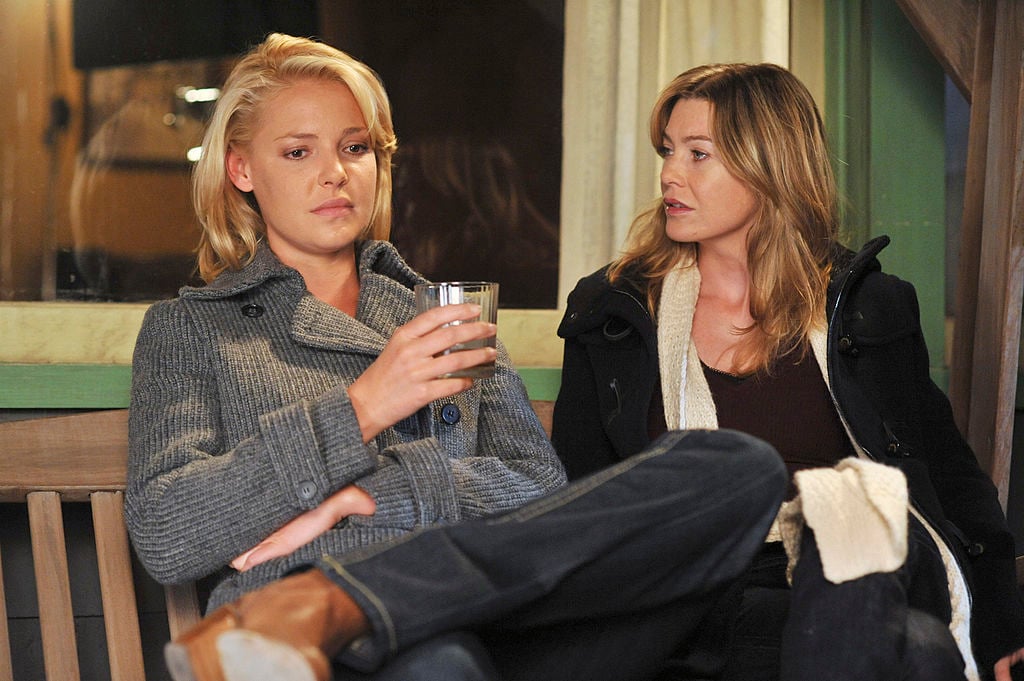 Katherine Heigl's misstep with the Emmys
Playing Dr. Izzie Stevens on the medical drama from 2005 to 2010, Heigl won a Best Supporting Actress Emmy in 2007 for her performance on the show.
Yet the actress decided to withdraw her name from consideration for the awards the following year, giving a statement that made tabloid headlines and left Heigl with a marred reputation.
"I did not feel that I was given the material this season to warrant an Emmy nomination and in an effort to maintain the integrity of the academy organization, I withdrew my name from contention," Heigl said, according to Entertainment Weekly. "In addition, I did not want to potentially take away an opportunity from an actress who was given such materials."
Heigl hadn't kept her intentions of wanting to crossover into films a secret. The press saw her Emmy withdrawal as further proof she was hoping to leave Grey's.
"The remark has fueled speculation in Hollywood that Ms. Heigl, 29, wants out of her contract on the series," The New York Times reported in 2008. "This is the second time in little over a year that a dispute between Ms. Heigl and the show's producers has spread beyond the studio soundstage."
RELATED: 'Grey's Anatomy' Star Camilla Luddington Shares a Side Effect of Playing a Doctor on the Medical Drama: 'A Lot of Us Feel That Way'
'Grey's' alum backtracks
For Heigl, hindsight was 20/20 where she came to see her errors in handling the Emmys and her exit. The actress spoke to Howard Stern on his SiriusXM radio show years later, revealing she apologized to Rhimes after the Emmy incident.
"I went in because I was really embarrassed," Heigl admitted, as reported by Vanity Fair. "I went in to [see] Shonda and said, 'I'm so sorry. That wasn't cool, and I should not have said that.' And I shouldn't have said anything publicly. But at the time, I didn't think anyone would notice. . . . I just quietly didn't submit and then it became a story, and I felt I was obligated to make my statement, and [I should have just said], 'Shut up, Katie.'"
Rhimes was clearly put off by Heigl's actions and expressed her feelings to Oprah Winfrey in 2012. "On some level, it stung and on some level I was not surprised," Shonda told Oprah of Heigl. "When people show you who they are, believe them."
RELATED: 'Grey's Anatomy' Alum Jeffrey Dean Morgan Says He Pleaded With Shonda Rhimes to Keep Denny Duquette Alive
Ellen Pompeo weighs in
Starring on Grey's since its debut in 2005, Pompeo had witnessed plenty of behind-the-scenes strife while on the show. "Hurt feelings, combined with instant success and huge paychecks, started things spinning out of control," she told the New York Post in 2013.
The actress recalled the time period surrounding Heigl's departure and empathized her co-star's temptation to leave the show. "When Katie left, it was tough," Pompeo said. "You could understand why she wanted to go — when you're offered $12 million a movie and you're only 26."
Yet Pompeo felt that Heigl's shouldn't have bothered with contract negotiations on Grey's if she knew she wanted to pursue film work. "Katie's problem is that she should not have renewed her contract," the ABC star explained. "She re-upped, took a big raise and then tried to get off the show. And then her movie career did not take off."
Heigl starred in a string of films including 27 Dresses, One for the Money, and The Ugly Truth, but didn't become a bankable box office draw and soon returned to the small screen.
RELATED: 'Grey's Anatomy's' Ellen Pompeo Shares One of Her Most Memorable Scenes With Her 'Person' Sandra Oh