'Grey's Anatomy': Except for Denny's Ghost, People Still Love Izzie's Story in Season 5
Grey's Anatomy is a testament to the storytelling power of writer Shonda Rhimes. Grey's Anatomy was one of Rhimes' earliest projects, and it has proven to be the longest-lasting so far.
The shocking medical drama is now in its seventeenth season, and over the years it has undergone many changes — not all of which have sat well with fans.
With that much ground covered — more than 350 episodes — there are plenty of moments from the past for fans to drag back up when they're feeling nostalgic. There have also been plenty of characters who have come and gone since the show's 2005 premiere. 
One of those is Izzie, who was played by Katherine Heigl. Izzie's character had an exceedingly dramatic send off (even for a show known for intense endings), and her Season 6 exit marked a point of contention for many fans who saw it as too ridiculous. Looking back now with the privilege of hindsight, many fans admit that the story wasn't as ridiculous as it once seemed — except for one part.
Many fans miss the early seasons of 'Grey's Anatomy'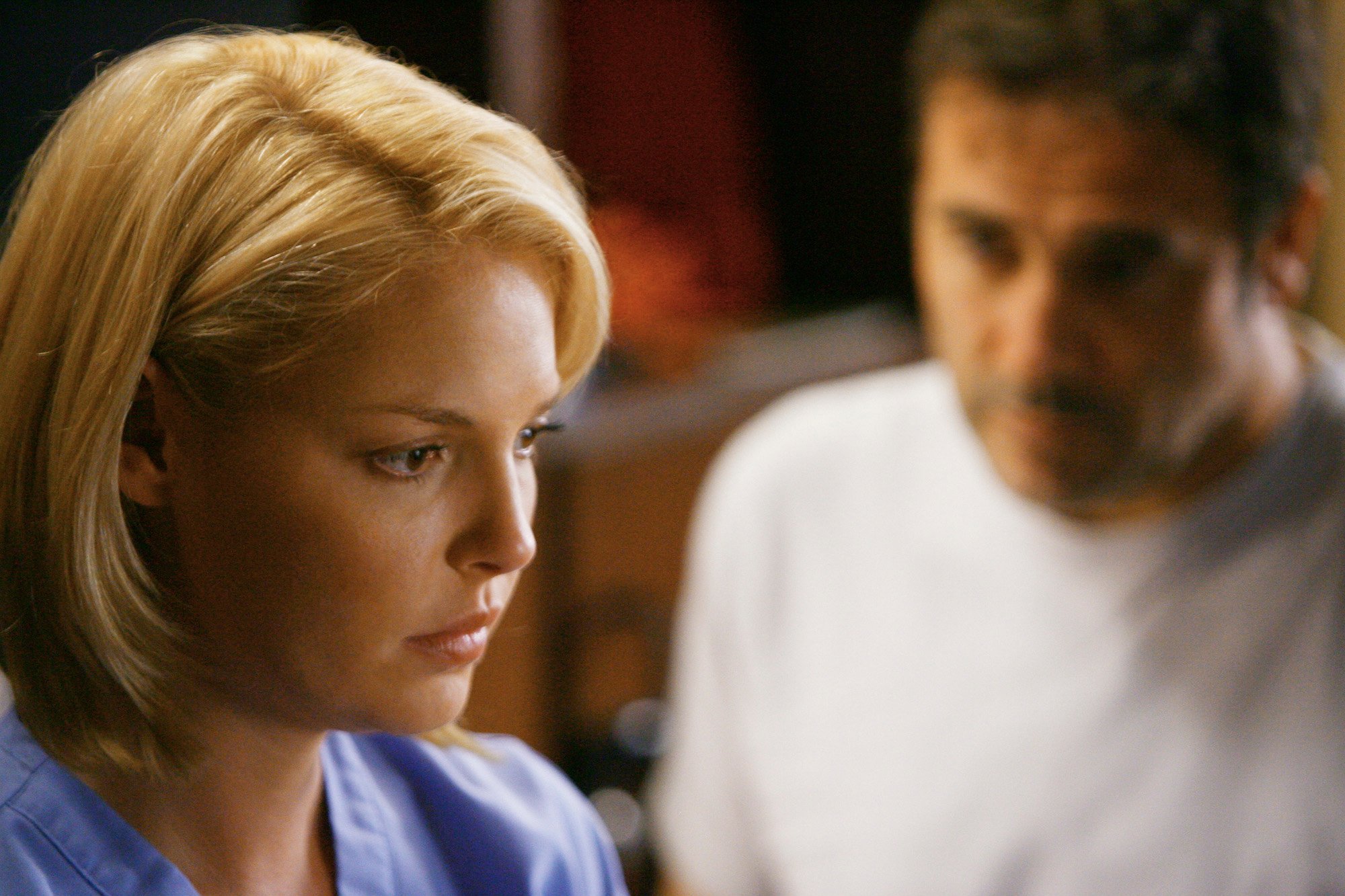 There is no denying that Grey's Anatomy is still very popular, but even some die-hard fans are starting to get a little tired. Many have speculated that the show is circling the drain and will face cancellation soon, but the series has survived such rumors before.
Fans have pointed to the fact that the "shock value" of the show is no longer shocking. There are only so many tragedies you can manufacture before they start to feel, well, manufactured. On top of that, the actors themselves seem to have grown a little weary of their roles, and the revolving door of main characters killed off with dramatic fanfare has grown stale.
All of this has left fans longing for the good old days of the early seasons. One of the reasons fans turn to the older seasons is to see some of their favorite cast members and characters. Katherine Heigl's Izzie is among those beloved past characters. The list also includes T.R. Knight's portrayal of George O'Malley, Sarah Oh's role as Cristina Yang, and — of course — Patrick Dempsey's time as Derek "Dr. McDreamy" Shepherd.
Izzie was a fan favorite on 'Grey's Anatomy'
RELATED: 'Grey's Anatomy': People Actually Liked Owen Until He 'Became the Very Thing He Hated'
Izzie Stevens was a fan favorite on the show, and she was there from the very beginning. Appearing on Season 1 as a surgical resident at Seattle Grace, she was among the team of young doctors-in-training that fans fell in love with from the start.
A big part of Izzie's story revolved around her dramatic love life. She had an on-again, off-again relationship with co-worker Alex Karev. She also fell hard for a cardio patient named Denny Duquette. 
Izzie's relationship with Denny became a central focus of Season 5, and fans have been criticizing it ever since. Denny and Izzie fell for one another — hard and fast. Some fans took issue with how quickly the relationship seemed to progress.
The critics got even louder when Izzie broke protocol and cut Denny's ventricle line in order to ensure that he got a transplant heart that had just become available rather than the person who was next in line. Denny survived the controversial procedure, but then tragically died of a stroke shortly after.
Heartbroken, Izzie confessed what she had done before leaving her job. She would later return, but faced more hardships including a fight against a devastating cancer diagnosis, a rekindled romance with Alex, and an eventual departure from the hospital and the show. 
Fans look back on Izzie's story fondly
While Izzie's story was definitely melodramatic and a little over-the-top, fans now look back on it fondly. In a Reddit thread dedicated to taking "a walk down memory lane," fans reflect on this period of the show and Izzie's story. People were impressed with Heigl's performance and thought the entire plot was skillfully handled — except for one thing. 
"I liked her and the storyline so much (the sex ghost apart), she handled it so graciously," one commenter wrote. Another added, "Except that ghost sex this cancer plot was really nicely done."
The "ghost sex" is referring to a scene in which Izzie reunites — and has sex — with Denny through a traumatic hallucination. That particular bit jumped the shark a little too high even for the most dedicated fans, but the rest of Izzie's story is remembered well.