'Grey's Anatomy': Fans Are Outraged Over the 'Cheap Twist' with Amelia's Baby and Begging For A Paternity Test
Fans of television's longest-running medical drama should be used to the twists by now. However, the latest plot-line turn of events with Amelia Shepherd (Caterina Scorsone) has viewers distraught. Let's take a look at the new surprising details on Grey's Anatomy this week. 
[Warning: Grey's Anatomy Season 16 spoilers ahead]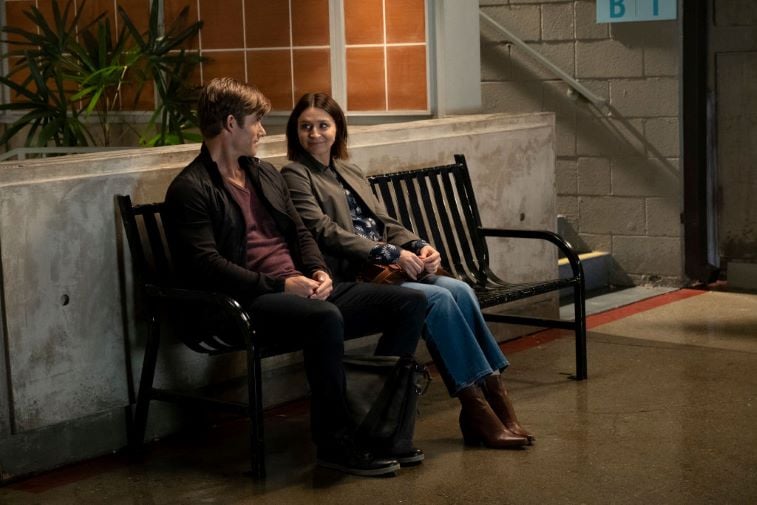 Amelia finally told Linc the updated news with her baby
Viewers found out in the midseason finale back in November 2019 that Amelia's baby might not be Linc's (Chris Carmack). However, a new turn of events happened when she broke the news to the excited soon-to-be father this week.
"Linc, I hate this," Amelia began. "I promise you that no blood test can change the way I feel about you. I am more pregnant than I thought, which means there is a chance that you aren't the father. It took me a few days to work up the nerve to tell you."
Fans were pleasantly surprised that she didn't drag out the news until the end of the episode. However, that gave Linc more time to think about the entire situation. Amelia does not want to get a paternity test, and at first, Linc is on board with that.
"I don't need a paternity test to know I want to be with you," Amelia tells him. "I love what we have. I love your kindness. I love our ease. I love that you make me laugh all the time and you have let me cry. I'm in love with you, and genetics don't matter." 
Will Linc ask Amelia to get a paternity test? 
After the colossal bomb Amelia dropped on Linc, he confides in his longtime friend, Jo Wilson (Camilla Luddington). She cannot believe that he would agree not to get a paternity test. Jo also cannot believe how calmly Linc is taking the entire thing. 
"You can love her and be mad at her at the same time," Jo tells Linc. "Both things can be true."
Linc thinks about what Jo said to him and came to the conclusion that he does want to know whether or not he is the father.
"There are a bunch of people involved in this, and they deserve to know." Linc tells Amelia. "I deserve to know."
The surgeon continues by telling her that he wants to be the guy who doesn't care who the father is, but he can't predict how he is going to react when he hears the truth. The bottom line is that he wants her to get a paternity test.
Fans hate that the baby might not be Linc's
"I am pissed that they ruined Amelia's storyline by making the baby possibly her ex's," one fan wrote on Reddit. "Linc is SO excited, and so was she. Let her have that damnit!"
Many other fans of Grey's Anatomy agree. They wish the producers could give Amelia a chance to be happy.
"Totally agree. Cheap is the right word," another Redditor added. "I will never understand why and how these writers start potentially good storylines and completely ruin them by cheap twists. They HAVE to know this is not only very unpopular but also completely useless."
Viewers have come up with an excellent idea for how they would like Amelia and Linc to determine who the father is. Fans are also committed to making sure that Owen is not the father of Amelia's baby.
"Being Owen's is not an option," one fan insists. "Telling Owen it might be his is not an option. Therefore Amelia has to steal Owen's DNA to get her paternity test done. OK, it would be easier to just test Linc, but where is the fun in that?"
Fans agree that with Jo that Linc needs to find out the true paternity of the baby. However, they hope it is not Owen's baby. Find out next week when Grey's Anatomy returns on Thursday at 9 p.m. ET on ABC.