'Grey's Anatomy' Fans Can't Handle This Heartbreaking Callback to Lexie and Mark
Shonda Rhimes is known for creating many entertaining television shows. Private Practice, Scandal, and How to Get Away With Murder are just a few. More recently Rhimes has been in the headlines for her new upcoming Netflix show, Bridgerton, that is set to premiere later this year. Rhymes' fans and followers are anxiously looking forward to the launch of the showrunner's newest series. However, none of Rhimes' shows quite compare to Grey's Anatomy.
The ABC drama launched back in 2005, and became an instant television sensation. Currently, the series is preparing to air its 17th season. The premise of Grey's Anatomy is centered around a group of surgical interns as they work together to navigate their professional and personal lives. Ellen Pompeo, Chandra Wilson, Kevin McKidd, and Jesse Williams are just a few of the talented and beloved actors and actresses who make up the cast of Grey's Anatomy.
Over the years the audience and fans of the series have closely followed the drama and storylines of the characters that they love so dearly, and there is one in particular that still strikes a chord with many. 
'Grey's Anatomy': Most memorable moments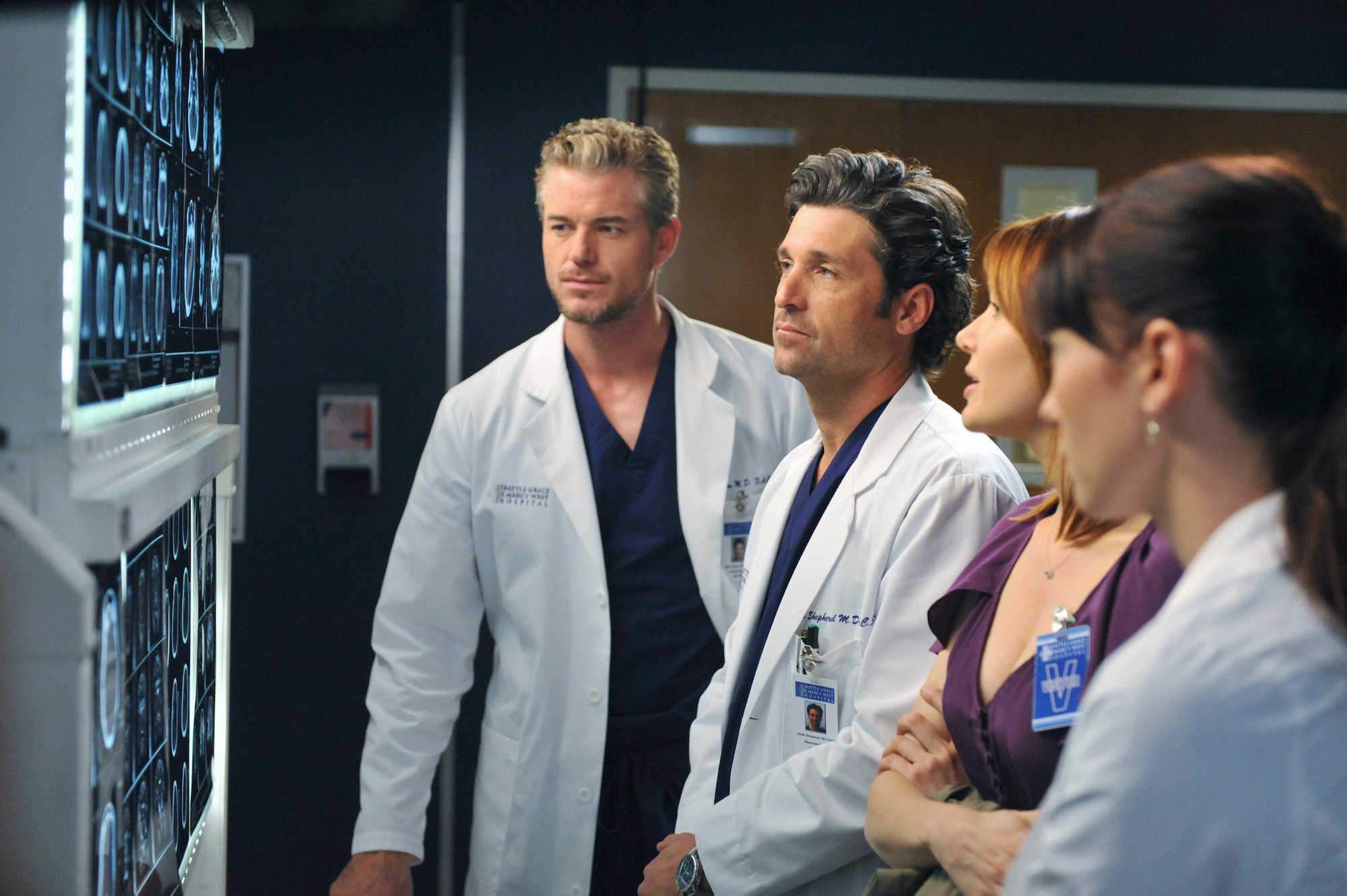 After airing for 16 seasons, it is safe to say fans and viewers of Grey's Anatomy have seen their fair share of drama. Throughout the seasons some of the storylines probably stick out more than others. It was early on in the series during season three when Cristina Yang and Preston Burke's relationship and wedding came to a crashing halt.
A few seasons later and the fans tragically had to say goodbye to Dr. George O'Malley after he pushed a pedestrian out of traffic only to get hit by the bus himself. The love story between Izzie Stevens and Denny Duquette, a sick heart patient, was another compelling storyline with a tragic ending.
The infamous plane crash and McDreamy's death can be added to the list. When it comes to drama and heartbreak, the writers and producers of Grey's Anatomy are actual professionals. 
Lexie and Mark on 'Grey's Anatomy' were relationship goals
RELATED: 'Grey's Anatomy' Fans Demand the Return of the 'Most Underrated Intern'
Of all the past storylines and memories that have taken place on Grey's Anatomy there is one in particular that many fans and viewers still struggle with.
A Reddit thread recently shared an image of Lexie Grey and Mark Sloane together cuddling in a hospital bed. After a sexual encounter gone wrong, Mark found himself with an excruciating penis injury.
Though a humorous instance, in the photo Lexie is seen playing with Mark's hair, and the caption of the photo reads, "I'm going to stroke your hair, because that's what i'd like to have done to me when I'm hurt." The sweet moment that took place between the two characters stirred up a lot of feelings for fans and viewers. 
People still aren't over Lexie and Mark
It is obvious that fans of Grey's Anatomy still aren't over the tragic ending that both Mark Sloan and Lexie Gray faced. During season 11 a horrendous plane crash caused both doctors to lose their lives.
The pair would never get the proper ending to their love story that so many of them were hoping for. When the photo of them together was posted in the thread, many people began sharing their unresolved feelings. One user commented, "ok unnecessary roughness on this Tuesday afternoon ouch."
Many others joked about the unexpected feels and tears that the photo brought on. Though fans and viewers of Grey's Anatomy should be used to tragic endings by now, it still doesn't seem to make it any easier, especially in the case of Mark and Lexie.