'Grey's Anatomy': Fans Never Forgave Derek for 'Slut-Shaming' Meredith Grey
Grey's Anatomy first debuted in the spring of 2005. Since then, the ABC medical drama has aired 17 seasons — the 17th season premiered in November 2020 — and picked up nearly 40 Emmy nominations.
In its current form, only three main characters from the show's first season are still part of the cast: Meredith Grey (played by actress Ellen Pompeo), Miranda Bailey (Chandra Wilson) and Richard Webber (James Pickens Jr.). However, a major star has made a surprise guest appearance in the current season: Grey's deceased husband Derek Shepherd (Patrick Dempsey).
Shepherd's return has reminded audiences of all the times he slut-shamed Grey throughout their 11-season story arc.
'Grey's Anatomy' may continue its record-breaking run on ABC
Grey's Anatomy follows the personal and professional lives of surgical interns and doctors at the fictional Grey+Sloan Memorial hospital in Seattle, WA. Back in 2019, it made TV history, breaking the world record previously held by fellow TV medical drama ER to become the longest-running primetime medical drama ever.
"Yes, it's still on," explains The Hollywood Reporter. "The series, worth an estimated $4 billion — yes, billion — shows no signs of slowing down." 
While lead star Pompeo's contract initially ended at the conclusion of season 17, leading fans to worry that the 17th season may be the drama's last, rumors hint that the TV series may continue its record-breaking stretch.
According to Deadline, Grey's Anatomy's showrunner Krista Vernoff recently signed a new multi-year deal with ABC. "Closing a new big two-year pact with Vernoff represents a key piece of the complex effort to bring Grey's Anatomy back for Season 18," reports the outlet. "The other is closing new pacts with original cast members Ellen Pompeo, Chandra Wilson and James Pickens Jr.. Negotiations with the trio continue, and there have been promising signs."
While Grey's on-screen partner Shepherd is no longer part of the show, he left an indelible mark on the series' first 11 seasons with many considering the Grey-Shepherd relationship one of the show's main draws. 
Grey and Shepherd kissed in the very first episode of 'Grey's Anatomy'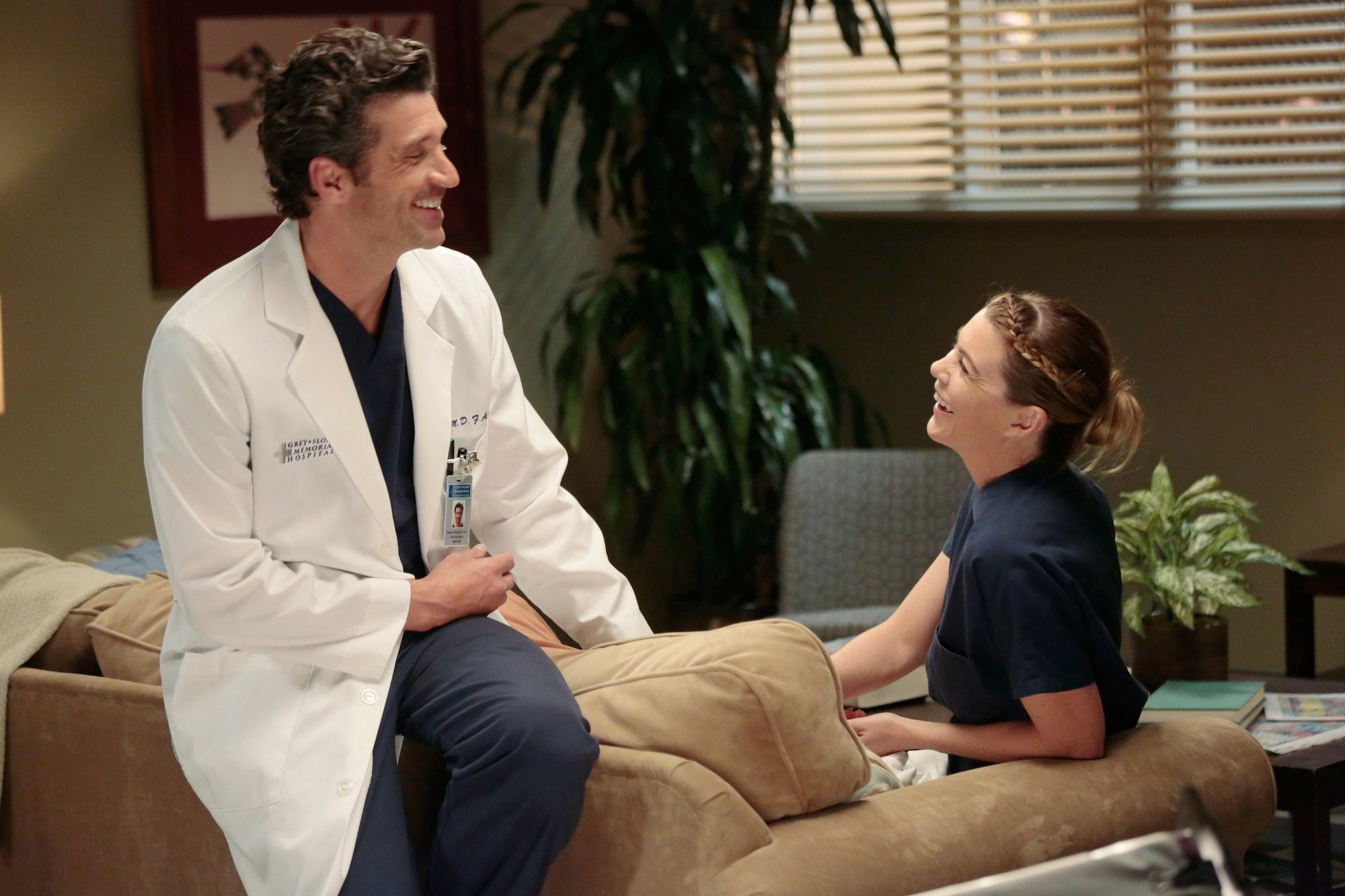 Although she's now a doctor, audiences first meet Grey when she's a surgical intern. Meanwhile, Shepherd arrives in season one as the hospital's new head of neurosurgery. Despite their differences (and the fact that Shepherd was married), the two immediately hit it off. 
"The very first time we meet Meredith Grey, she's waking up next to Derek Shepherd in her living room," explains Entertainment Weekly. "From then on, Derek wasn't going anywhere—whether Meredith liked it or not."
The dramatic relationship between Grey and her then-boss sucked in viewers. "Their will-they-or-won't-they fueled the drama of the series for seasons and seasons until Meredith and Derek finally decided to get together," notes Bustle. "Meredith and Derek were meant to be, their love lasting through three children, a shooting, a plane crash, a messed-up clinical trial, and more, all until he was killed off at the end of Season 11."
However, Grey has visions of her deceased lover in season 17 while she's struggling to survive a bout of COVID-19. And fans are also having visions of all the times he mistreated Grey.
Despite being off the show for years, fans still haven't forgiven Shepherd for his mistreatment of Grey
While Grey and Meredith hit it off right away, and would later get married, their relationship was on the rocks in the second season of Grey's Anatomy.
"Meredith began dating Finn after Derek decided to work on his marriage to Addison," explains Screen Rant. Shepherd hears about this, and learns the two have started sleeping together. "He starts treating her with hostility," reports the site, calling it one of the 10 worst times someone on Grey's Anatomy slut-shamed another character. He even went so far as to joke that Grey "gets around a lot."
"I make no apologies for how I chose to repair what you broke," Grey retorted, as quoted in IMDb. "You don't get to call me a whore." 
Years later, fans still agree with Grey. "I was proud of her for standing up to him despite how she felt about him," said Reddit user OkGuitar3773. Another user replied in agreement, saying: "Me too! Slut shaming makes me so angry!"
On another Reddit thread, username EllidaIsabella wrote, "I love Derek but his behaviour is [expletive] disgusting. He left Meredith, treated her like crap, and yet kept on flirting with her (even at one point when she told him to stop because it was hurting her). "He has the audacity to slut-shame her and act jealous."
Whether the two have a final confrontation in Grey's visions remains to be seen. The current season is set to air its finale in mid-2021.