'Grey's Anatomy' Fans Predict Jo and Jackson Twist in the Season 17 Finale; Camilla Luddington Responds
Jo and Jackson's casual relationship ends with Jesse Williams' 'Grey's Anatomy' exit. Could there be a twist? Camilla Luddington shares her thoughts.
With just a few episodes of Grey's Anatomy Season 17 remaining, fans predict what twists and turns await its central characters. Now that Season 18 is definitely happening, could there be an exciting development for Jo Wilson? Camilla Luddington responds to one fan theory.
Jesse Williams and Camilla Luddington star in 'Grey's Anatomy'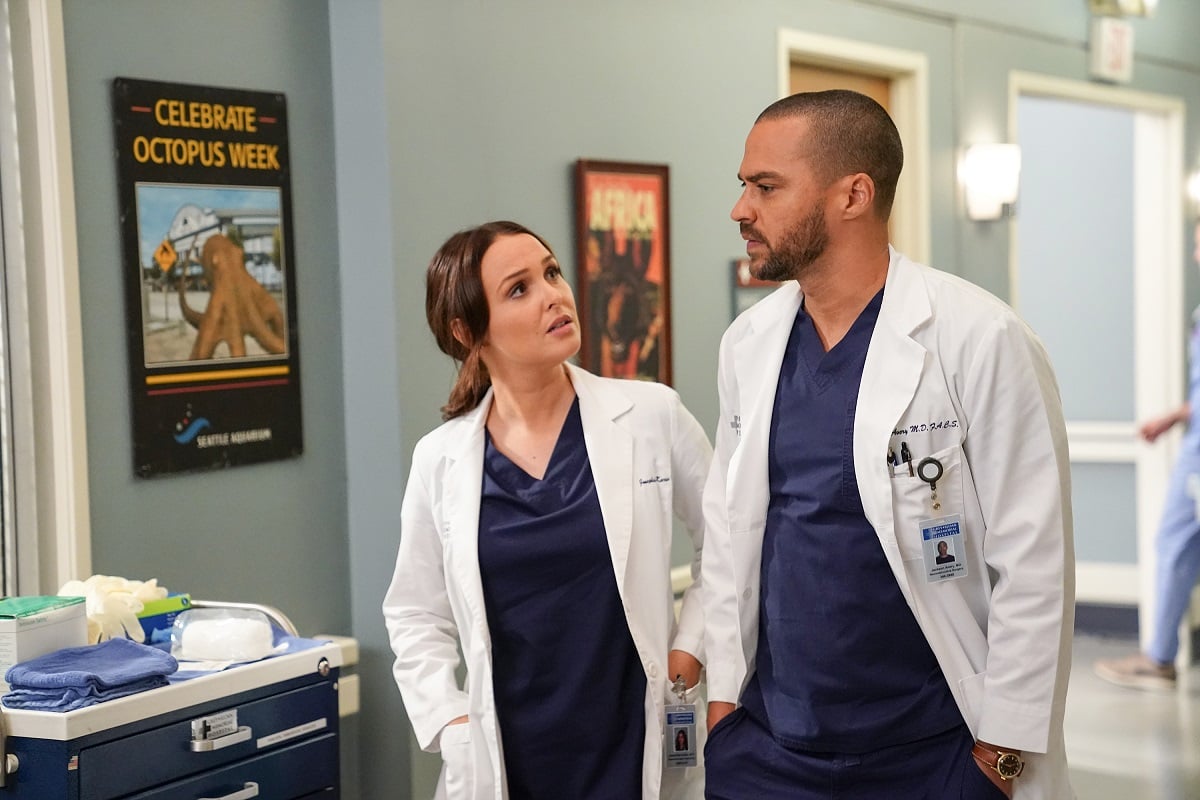 Jesse Williams first appeared in Grey's Anatomy in season 6 as Jackson Avery. He joined what was then Seattle Grace Hospital with the rest of the Mercy West residents when the two hospitals came together. Avery goes on to be a skilled plastic surgeon and an essential member of the Grey Sloan Memorial staff.
Luddington joined years later, with season 9. Part of a new class of interns, Jo Wilson's most prominent relationships are those with eventual husband Alex Karev and mentor Meredith Grey. She becomes a general surgeon attending in season 16.
Jo and Jackson began a sexual relationship in Season 17
When Justin Chambers left Grey's Anatomy in season 16, Jo was left without a love interest. Much of her arc over the past year has been about her career, but the writers also wanted to allow her to move on from her now-ex-husband without giving her a complicated love story.
Enter Jackson. He and Jo have been friends and co-workers for years. After sharing an awkward kiss, Jo proposes they have sex so she can get her first encounter post-Alex out of the way. This doesn't work out at first, but then, in trying to repair their friendship, they sleep together. This continues for a few episodes.
Williams leaves 'Grey's Anatomy' in Season 17 Episode 15
The show put aside Jackson and Jo's friends-with-benefits arrangement to focus on more pressing issues. Amid the coronavirus (COVID-19) pandemic and the rise in protests following George Floyd's death in mid-2020, Jackson realizes that he needs to create systemic change from the top down.
In Grey's Anatomy Season 17 Episode 14, "Look Up Child," Jackson gets advice from his father and his ex-wife, April Kepner (guest star Sarah Drew). He decides to move to Boston to run the Catherine Fox Foundation, bringing April and their daughter, Harriet, with him. Williams' final episode airs May 20, 2021.
Luddington reacts to fan predictions about the finale
With two episodes remaining in the season after Jackson's farewell, there's more time for new Grey's Anatomy twists. The episode description for the series finale, "Someone Saved My Life Tonight," reads, "Jo makes a life-changing decision." All signs point to this relating to her recent arc of considering a switch in specialties to obstetrics.
However, one person had something else in mind. "Uh…watch Jo be pregnant with Jackson's kid lmao," they tweeted. "I seriously love this fandom because the ep description comes out and there is no way in hell you guys aren't gonna try and guess alllllll the possibilities," Luddington replied.