'Grey's Anatomy': Why Some Fans Think April 'Never Deserved' Jackson
Grey's Anatomy Season 17 will reunite fan-favorite couple, April and Jackson. The pair began dating in season 8.
For 17 seasons, Grey's Anatomy has paired up the doctors at Grey Sloan Memorial. Some of the notable characters, such as Meredith (Ellen Pompeo) and Derek (Patrick Dempsey), Cristina (Sandra Oh) and Owen (Kevin McKidd), and Callie (Sara Ramirez), and Arizona (Jessica Capshaw), became a few of the show's fan-favorite couples. Many viewers also rooted for doctors April Kepner (Sarah Drew) and Jackson Avery (Jesse Williams). However, several supporters believe Japril should've never happened.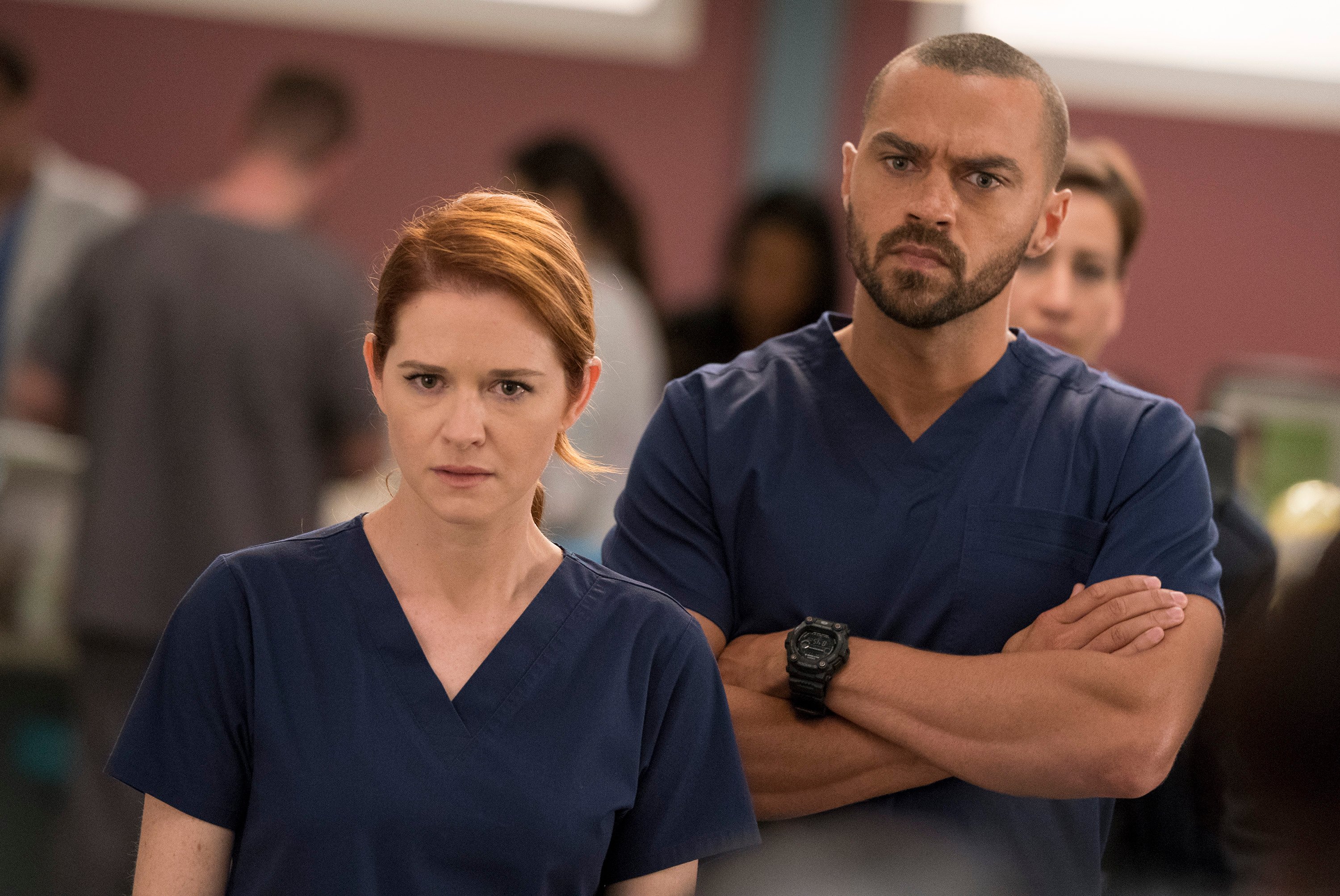 A brief look at the relationship between April and Jackson on 'Grey's Anatomy'
In season 6 of Grey's Anatomy, April and Jackson joined the medical drama. At first, the friends were transfers from Mercy West, a competing hospital. Eventually, each of them found their footing. After failing her board exams, Kepner became a trauma surgeon and helped Owen run the ER at Grey Sloan. Jackson delved into plastic surgery under the guidance of Sloan. 
Although their professional lives were thriving, April and Jackson had personal issues. In season 8, the pals decided to have sex, which was April's first time. Overwhelmed with guilt, she pushed Jackson away and agreed to marry paramedic Matthew Taylor. Jackson also started dating a resident named Stephanie Edwards (Jerrika Hinton). However, he eventually professed his love for April at her wedding to Matthew. The two eloped the following day and returned to work as a married couple. 
Shortly after they married, Japril ran into disagreements regarding their religious beliefs. Additionally, Jackson's family legacy affected the couple's finances. In season 11, April became pregnant with their first child, Samuel. Unfortunately, Samuel died of a rare disease hours after April gave birth. Soon, she left Jackson to travel to Jordan, and the couple separated in season 12. The same day their divorce finalized, April learned she was pregnant again. This time, the pair welcomed a baby girl, Harriet. However, the surgeons decided to remain divorced and raise their daughter as friends. 
'Grey's Anatomy' fans say Jackson deserved better than April
In season 14, April went through a crisis of faith. During that time, Jackson was in a new relationship with Meredith's sister, Maggie Pierce (Kelly McCreary). However, he supported April and helped take care of Harriett. 
Toward the end of the season, April found a renewed faith in God. At the same time, she and Matthew started dating again. When Grey's showrunner Krista Vernoff fired Drew in 2018, April married Matthew. Her ex and best friend, Jackson, was by her side for the big day.
Despite the couple ending amicably, some Reddit fans wanted more for Dr. Avery. Some Grey's watchers believe April "never deserved" to be with Jackson. However, several supporters argued that Jackson was insufferable in the relationship. 
"Even though he is exceedingly rich, his personality is not that of what one would expect growing up so rich. He's incredibly smart and talented," one fan said of Jackson. "April never deserved him, but she truly was the love of his life, evident in his deep regret in the timing of his faith as he knows his lack of it is what ruined his relationship with her)." 
"I love him to death in the earlier season, and then Japril happened (I like them together but as a fling, and I never thought they would go that far anyway), and they lost their baby," another viewer argued. "After that, he's never been the same since. He's so broken and cold. To the point that he's so dead inside."
What's next for Japril on 'Grey's Anatomy' Season 17?
In March 2021, Deadline announced that Drew is returning to Grey's Anatomy as April Kepner. Since then, she and Williams have teased fans with videos of them together.
Although Grey's confirmed that April comes back to Grey Sloan, her purpose is unknown. In a season 17 episode, "Sign O' the Times," Jackson drives away into the night. Some fans think he might lean on April while he figures out his life.