'Grey's Anatomy' Fans Think Maggie and Winston's Whirlwind Romance Is Totally 'Bland' and Pointless
One more season of Grey's Anatomy is in the books, and fans are still talking about what happened in the finale. One storyline was focused on the relationship between Maggie Pierce (Kelly McCreary) and Winston Ndugu (Anthony Hill), and for them, season 17 ended on a romantic high note.
But not all viewers are in love with their love.
'Grey's Anatomy': A season finale wedding happens on the second try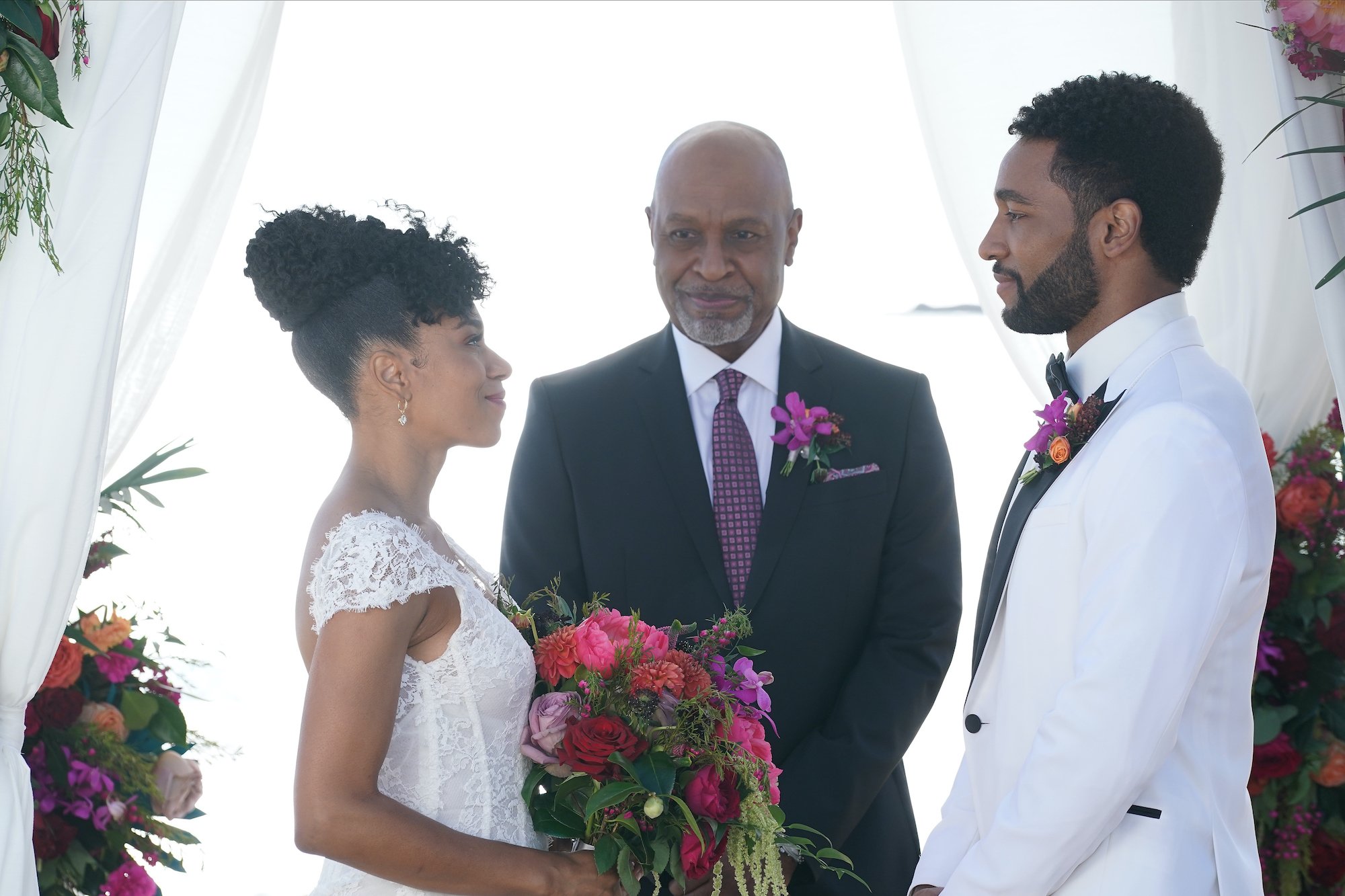 After one false start, Maggie and Winston managed to tie the knot. It's an unusual way for a couple's romance to be tied up at the end of the season. The high-drama series usually prefers to leave viewers in anguished suspense, counting the days to the next season.
Of course, as Vulture reports, their path to the altar wasn't without anxiety. Their first attempt at a wedding was stopped by Maggie's dad and Winston's grandmother. They felt that the couple deserved a real wedding, not a tiny backyard affair.
They got their wish, and Maggie and Winston had a real wedding, with friends and family on the beach. It was a picturesque way for them to begin their happily ever after.
But viewers aren't that impressed.
Fans think the relationship was 'super rushed'
In a discussion on Reddit, people objected to the relationship, saying that it happened so fast that it never had time to get interesting.
"Yeah, it's super rushed," one person said. "Grey's usually loves the slow burn for romances so idk why we get the first whirlwind since Japril and it's this bland."
Another agreed, saying, "they are cute couple but their story got no build up from any kind just popped from nowhere probably just to wrap maggie's story later on."
Some people felt that the problem was Winston, who hasn't been around long enough to become interesting.
"Winston has no personality trait except being Maggie's hot, nice new husband," one commenter pointed out.
"Yeah I just dont get it," another agreed. "Dude comes out of nowhere and suddenly shes all marrying him. I was really expecting the other shoe to come plummeting about him in the finale but nope. Its way too creepy for someone to be this bland and perfect in a shondaland show. He has to be evil or about to die, just has to."
Are they wrong?
According to Hill, there are good reasons for the couple's fast pace. As he told Bustle, although they've only been dating exclusively for a few months, their relationship goes back much farther than that. They knew each other in medical school, and they worked together at Tufts after that.
On top of that, it was mentioned when he was introduced to the show that Winston's mom had died of cancer. Hill says he learned from that experience not to hesitate, especially when it comes to love.
At this point, he says, things just seem right for both characters.
"He's in a position in his life where he knows what he wants, and [Maggie] is in a position in her life where she finally knows what she wants," Hill explained. "She's weeded out a lot of past trouble in her relationships, in her dating life, and this finally clicks and it works. They get each other and they make each other better."
Perhaps this is the beginning of a truly rare thing on Grey's Anatomy: a happy, healthy relationship. If so, perhaps viewers will get a chance to warm up to Winston and his marriage to Maggie. Or, if the disgruntled Reddit commenters are right, maybe this is the beginning of something terrible.
RELATED: 'Grey's Anatomy' Fans Want Winston and Hayes to Be BFFs