'Grey's Anatomy' Fans Think 'Petty' Link Needs to Get Over Amelia
Grey's Anatomy Season 18 started with one couple breaking up. Dr. Amelia Shepherd (Caterina Scorsone) and Dr. Atticus "Link" Lincoln (Chris Carmack) broke up because he wanted marriage, and she didn't. The newest episode showed Link's petty side, and fans don't like it.
[Spoiler alert: This article contains spoilers from the Grey's Anatomy episode "Put the Squeeze on Me."]
Link becomes 'petty' on 'Grey's Anatomy'
RELATED: 'Grey's Anatomy': Who Is Dr. Kai Bartley? Fans Think E.R. Fightmaster Is Playing Amelia's New Love Interest
The new episode "Put the Squeeze on Me" shows Link has moved out of Jo Wilson's (Camilla Luddington) home, and they miss each other. Amelia later tries to talk to him about putting Scout on a waitlist for preschools, but he blows her off. 
He then talks to Jo and says it's Amelia's fault their friendship got weird. "Well, because I decided everything is Amelia's fault," he said. "She's found a way to ruin every good thing in my life." Jo said they're not ruined but best friends who decided to protect their friendship.
"I think I like petty Link," Jo joked. Link said Amelia is turning him into his father. Then Jo pointed out his father got back together with his mother.
Later in the episode, Amelia talks about working on a patient together. He agrees but stops her from making small talk. Amelia reminds him that he doesn't want to end up like his parents for Scout. But he says, "I need to hate you for a little while, right or wrong, because when I don't hate you, I love you and can't have that, right?" Amelia looks like she's about to cry after this and walks away.
Link later asks Jo if she wants to go to Joe's. But she already made plans with Todd Eams (Skylar Astin).
'Grey's Anatomy' fans think Link needs to get over Amelia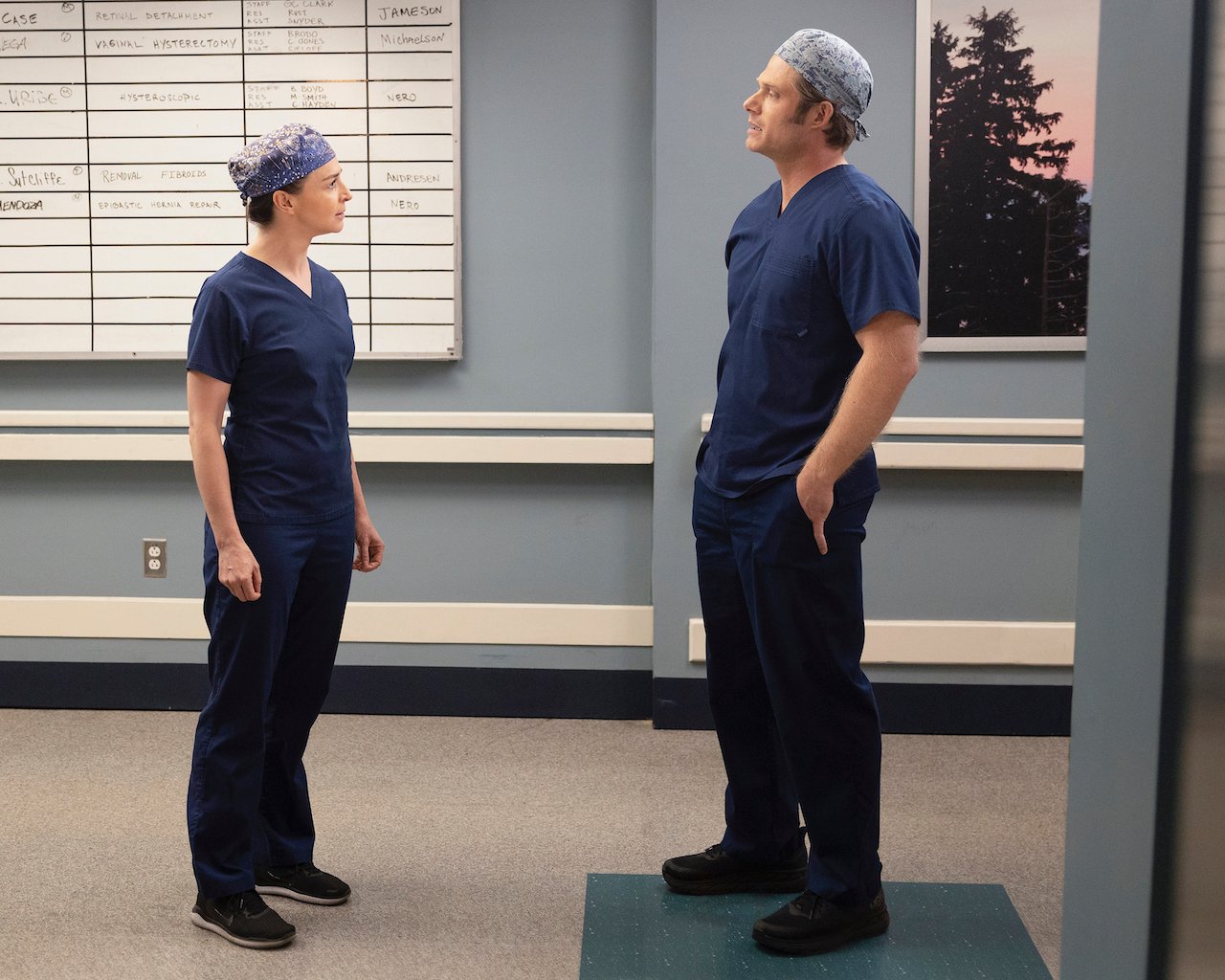 RELATED: 'Grey's Anatomy': Dr. Kai Bartley Will Be a Recurring Character, What Does This Mean for Amelia?
Fans shared their reactions to the episode on Reddit. Previously many fans were upset about Amelia moving on to Dr. Kai Bartley (E.R. Fightmaster) soon after their breakup. But now it looks like they're ready for Link to move on.
"I know Link is salty, but like get over it," one fan wrote.
"Link is incredibly annoying. How dare she move on? After you had clearly broken up. How rude of her," someone commented.
"Link, you are the problem," one fan wrote.
"Link- Amelia is not responsible for your choices," another person added.
Is there still hope for Link and Amelia?
RELATED: 'Grey's Anatomy': Amelia and Link Hooked up but What Did Her Words Before It Mean?
It previously seemed like Link and Amelia were done for good. Amelia started a new relationship without looking back. Link also attempted to move on by sleeping with Jo, and then it seemed like they were developing feelings for each other.
But Jo's comment about his parents getting back together might foreshadow some hope for the co-parents to get back together. 
It's obvious Link still has strong feelings for Amelia. But does she feel the same way? She did sleep with him on Thanksgiving, but their differences over marriage could be too significant for her to look back. There might be some hope if Link genuinely says he's OK with just a relationship.