'Grey's Anatomy': Fans Top 3 Most Hated Characters In Season 16
With the title of longest-running medical drama on television, Grey's Anatomy is sure to have some fan-favorite characters. However, where there are favorites, there are also those hated story lines.
Many of the veterans are gone and fans complain about who is still here. Let's take a look at the top three most hated characters on this season of Grey's Anatomy. We will count them down from three to one.
[Warning: Grey's Anatomy Season 16 spoilers ahead]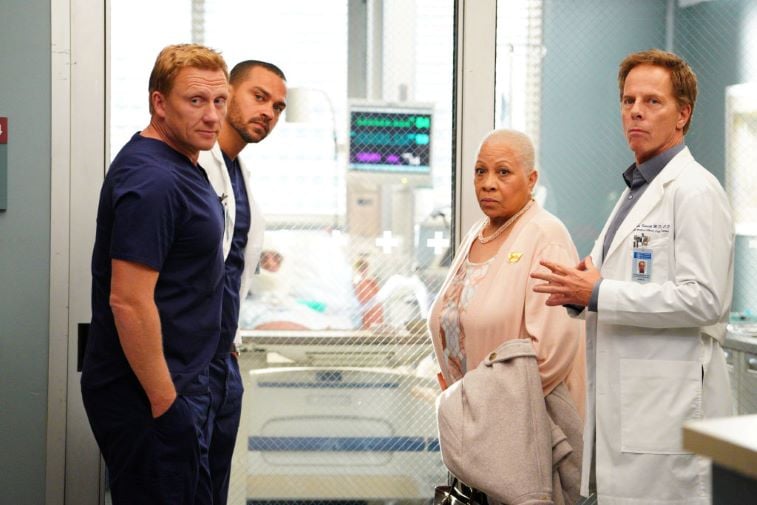 Fans used to love Teddy, but her story line went downhill recently
A lot of the hate for Teddy (Kim Raver) stems from her current plotline as a new mom. Last week, she and Owen (Kevin McKidd) spent the entire episode searching for her lost engagement ring. It turned out their child swallowed it.
"I used to love her character," one fan wrote on Reddit. "Now she's a shell of her former self. An entire episode of her being an airhead looking for her lost engagement ring, SERIOUSLY? Is this not the same woman who gave such a powerful episode(s) when her husband died? Ugh."
Other fans agree that the writing is the problem with Teddy. 
"Teddy's character went from GI Jane to Attachment Barbie, in the extreme," another fan added. "WTH are these writer's thinking?"
The new mom had a strong story line when she came into the series as Owen's former colleague in the Army. However, now that she is finally with Owen, many fans complain that her personality has changed.
Viewers rarely — if ever — liked Owen Hunt on 'Grey's Anatomy'
Speaking of Owen, fans often mention him as one of the most hated characters. Dating way back to his time with Cristina Yang (Sandra Oh), fans dislike his actions towards women.
"I don't like how he treats women, and I am tired of his 10-year arc of wanting a baby," one Redditor wrote.
In a recent episode, he openly flirts with a new potential doctor to Pac North. Fans are outraged that he tried to woo someone else now that he finally has Teddy and a new baby at home. 
"All the manipulative sh*t he's done and his awkward PTSD moments made me skip his scenes since circa season 6," added another fan of the show. "I spent 10+ years of active duty in the army and can tell all of y'all he is a terribly written character and has been from the start."
Very few fans defend Owen, and he is often brought up as the most hated character on Grey's Anatomy.
Maggie is the true most hated character on 'Grey's Anatomy' Season 16
However, as often as Owen is brought up, Maggie (Kelly McCreary) receives the most hate out of any character. There are often debates over who is worse; Owen or Maggie. 
"Out of the hundreds of characters this show has given us, Maggie is the worst," wrote one viewer on Reddit. "Tell me I'm wrong. She whines. She is a complete b*tch."
The latest Maggie scenes reveal that she is entering a very dark place in her life. She feels responsible for the death of her cousin, Sabie. The surgeon believes that everyone should hate her for what happened to Richard's niece.
"I feel like the plot where the family member operation goes wrong has really opened us up to a Maggie who isn't perfect. She was arrogant and made a grave error in judgment due to her arrogance, who has to confront the extreme consequences of making a poor ethical decision in performing the operation," added another Redditor. "I feel like we have a lot of material to go on with her right now, and I'm interested to see how it plays out."
Maybe the writers will redeem Maggie with her latest story line? We will have to watch ABC Thursday night at 9 pm ET to find out. 
Read more: 'Grey's Anatomy': Fans Hate This One Character No Matter How Many Times He Says Something Sweet