'Grey's Anatomy': George and Arizona Never Met on Screen — but Maybe They Should Have
George and Arizona never met on 'Grey's Anatomy' even though there was some overlap before George died.
George O'Malley (played by T.R. Knight) is always going to be remembered as a Grey's Anatomy character that was both fan-favorite and gone before his time. He only appeared in the show for five seasons but made a lasting impression on fans. He departed the show tragically at around the same time as Arizona Robbins (Jessica Capshaw) joined the set and became Callie Torres' (Sara Ramirez) new love. For many fans, this adds to the disappointment because Arizona and George never officially met "on screen" despite their common bond.
Arizona replaced George as Callie's love interest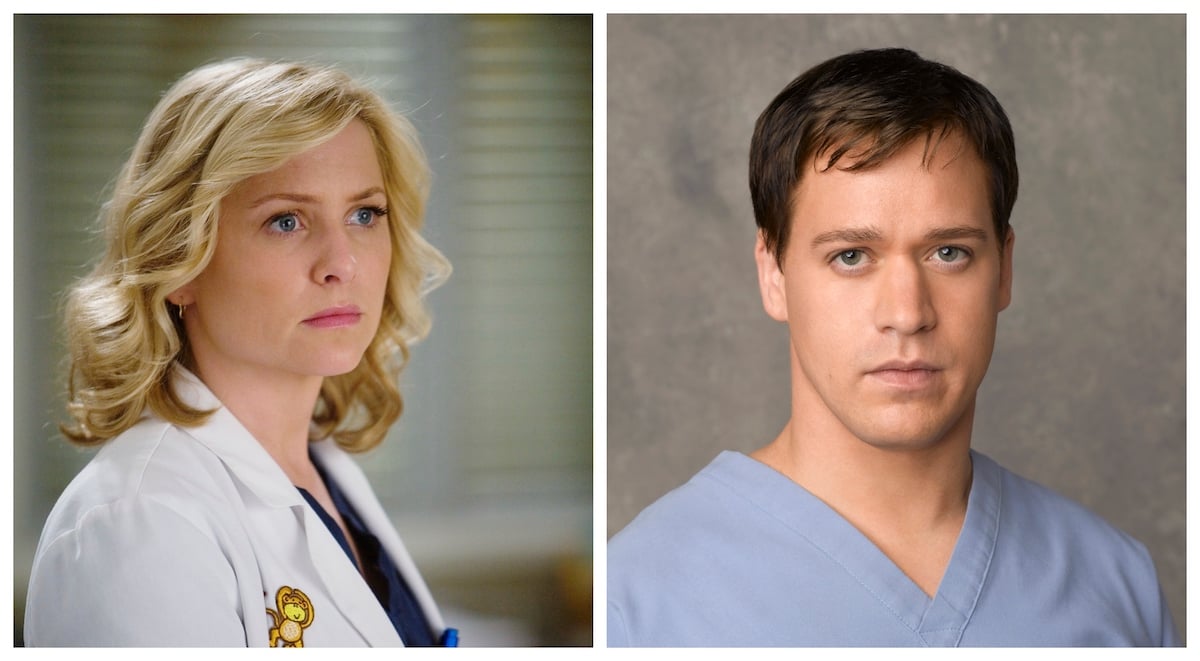 O'Malley and Torres had a complex and bittersweet whirlwind romance that is fueled by innocence. It came right after O'Malley's devastating night with Meredith Grey (Ellen Pompeo), causing him to be hesitant to jump into confessions of love with Torres. In fact, it takes a plague quarantine with Derek Shepherd (Patrick Dempsey) to get the confessions of love to flow. Then it's off to a quick Vegas wedding when George's dad dies suddenly from cancer, after which George cheats on Callie with Izzy Stevens (Katherine Heigl).
As Callie and George go their separate ways, we begin to see that Callie is bisexual when she connects with Erica Hahn (Brooke Smith) for a short time. However, it is Arizona Robbins that comes in to replace George as Callie's love interest. The "Calzona" relationship is very steamy, and the sparks are visible from practically the first time they meet.
Why didn't George and Arizona ever meet on 'Grey's Anatomy'?
When most people think of this transition for Callie, we often picture in our minds that it occurred after George died. However, this is not true. George leaves the show and Arizona joins in season five. There are instances where the characters are presumably in the same area, but they do not actually meet.
This is somewhat disappointing to fans who feel that George should have had at least some reaction to Callie joining the LGBTQ community, which also enabled Ramirez to "liberate" herself publicly. Many fans feel that George could have helped Arizona and Callie connect, come together, and perhaps could have made them stronger.
The truth is, George was already fading out as a character when Callie and Arizona connected. There was chemistry between George and Lexie Grey (Chyler Leigh), but after George's lack of interest, Lexie moved on to Mark Sloan. George just kind of blended into the background, tying up loose ends, until his departure from the show.
'Grey's Anatomy' always keeps us guessing
For about four seasons, Calzona goes through a lot. They commit to one another fully, despite Callie becoming pregnant with Mark's baby. Callie battles her family to get them to try and respect her love for Arizona. Then, Arizona loses her leg after a plane crash that kills Mark and Lexie, which does cause the couple many problems. However, they seem like a couple that can survive anything as they begin to reconnect.
That is until Callie is once again cheated on. Arizona is wooed by Lauren Boswell (Hilarie Burton) in an elevator, which then leads to a quick one-night stand. We see Callie again trying to forgive the affair, as she had done with George and Izzy, but ultimately it becomes too much to bear.
After a counseling session that stipulates Arizona and Callie not to talk or be intimate for 30-days, Callie rediscovers herself. It leads to a nasty child custody case and a lot of hurt feelings as the two characters part ways. This is spurred by Callie finding yet another new love interest, Penny (Samantha Sloyan), and wants to move across the country with her.
True to Grey's Anatomy twists and turns, Arizona Robbins leaves the show in season 14. It comes on the tail of Arizona deciding to send their daughter, Sofia Robbin Sloan Torres (played by Eva Ariel Binder) back to live with Callie. Arizona and Callie are once again friendly in their talks and Penny is no longer with Callie, so Arizona leaves Grey Sloan Memorial Hospital to presumably rekindle her relationship with Callie.
Related: Why Did Jessica Capshaw Leave 'Grey's Anatomy' as Arizona Robbins?