'Grey's Anatomy': Hal Holbrook's Episode Still Breaks Fans' Hearts Every Time
Since its debut on ABC in 2005, many famous guest stars have appeared on Grey's Anatomy, tugged at our heartstrings, and often left us sobbing. In 2017, Season 13, Episode 17 featured Hal Holbrook, a star of stage and screen famous for his award-winning performance as the legendary writer Samuel Clemens, better known as Mark Twain.
By that time, at the age of 92, Holbrook had seen his share of love and loss in real life, surviving a difficult childhood, two divorces, and the death of his third wife. His heartfelt performance as the retired surgeon and devoted husband Dr. Lewis Clatch is a must-see.
Hal Holbrook finds his people and signature role
Harold Rowe Holbrook Jr. was born in 1925 in Cleveland Ohio to Vaudeville dancer Aileen Davenport, who left her young family to pursue her career. His father, Harold Rowe Holbrook Sr., struggled with debilitating mental illness, leaving young Holbrook and his two sisters to be raised by their paternal grandparents. After the death of his grandfather, Holbrook, 12, was left, in the words of LA Times theater critic, Charles McNulty, "at the mercy of cruel boarding school teachers and a grandmother who would oppressively dote on her "blue-eyed baby boy" while egregiously neglecting his sisters."
To fulfill his beloved grandfather's dying request, Holbrook attended Culver Military Academy, the unlikely place where SunSigns reports he took a drama course and developed a love for acting. After serving in the army during WWII, Holbrook returned to Denison University in Granville Ohio where he continued to study theater arts. On the stage, Holbrook finally found the family he wanted. "I chose to belong to a bunch of people who were eccentric and daring and fun to be with, show people who had taken me in," Holbrook said in his autobiography, Harold: The Boy Who Became Mark Twain.
With the help of his mentor at Denison, Ed Wright, and aspiring actress, Ruby Johnson, the first of his three wives, Holbrook first appeared onstage as Twain in An Encounter With an Interviewer. In 1954 Holbrook honed his skills on the soap opera Brighter Day. His solo performance that same year in Mark Twain Tonight! at Pennsylvania's Lock Haven State Teachers College caught the eye of variety show host Ed Sullivan, and led to an international tour as Twain. In 1966 the Broadway production earned him a Tony award for Outstanding Single Performance by an Actor in a Leading Role.
On Holbrook's IMDb page, the Filmography by Year category lists 520 film and television titles to his credit, notably as Martin Sheen's love interest in a controversial TV movie, That Certain Summer in 1972, and the mysterious Deep Throat in All the President's Men in 1976. In 2008 at the age of 82, Holbrook earned an Oscar nomination for his supporting role in Into the Wild, becoming the oldest male actor to do so.
Among his 62 television series appearances, you may remember him as Reese Watson on Designing Women. The chemistry he had with Dixie Carter's character, Julia Sugarbaker was real. The two met on the show and were married for 25 years, until her death in 2010.
'Til I hear it from you' breaks hearts on 'Grey's Anatomy'
This episode, which a Reddit user described as "so matter of fact and so utterly heart-wrenching," was named for a song by The Gin Blossoms. In it, Holbrook teamed up with 87-year-old actress June Squibb as a couple married for 60 years who've fallen while hiking. Elsie Clatch, also a retired surgeon, has sustained a head injury and the two must come to terms with her grim prognosis.
Their relationship serves to mirror those of the doctors at Grey Sloan Memorial Hospital who have spent seasons falling in and out of love. While Elsie and Lewis fight for more time together, Owen and Amelia fight about their failing marriage. On the other hand, Ben and Bailey hold hands while watching Elsie's craniotomy and imagine growing old together.
A glimmer of hope appears as Elsie wakes from her surgery, only to be snatched away when she dies suddenly with her husband by her side. "16:22," he says with an air of resignation. Her time of death.
Fans commenting on Shonda Rimes' Twitter post applauded the performance, calling it moving and adorable. "Hal killed me at the end walking off," said of his crestfallen exit from the hospital. After a lifetime together, we can only wonder how his character will fare without his one true love.
Holbrook's incredibly touching performance opposite Squibb is available to stream on Netflix. You can also rent or purchase the episode through Amazon Prime.
Holbrook's net worth is surprising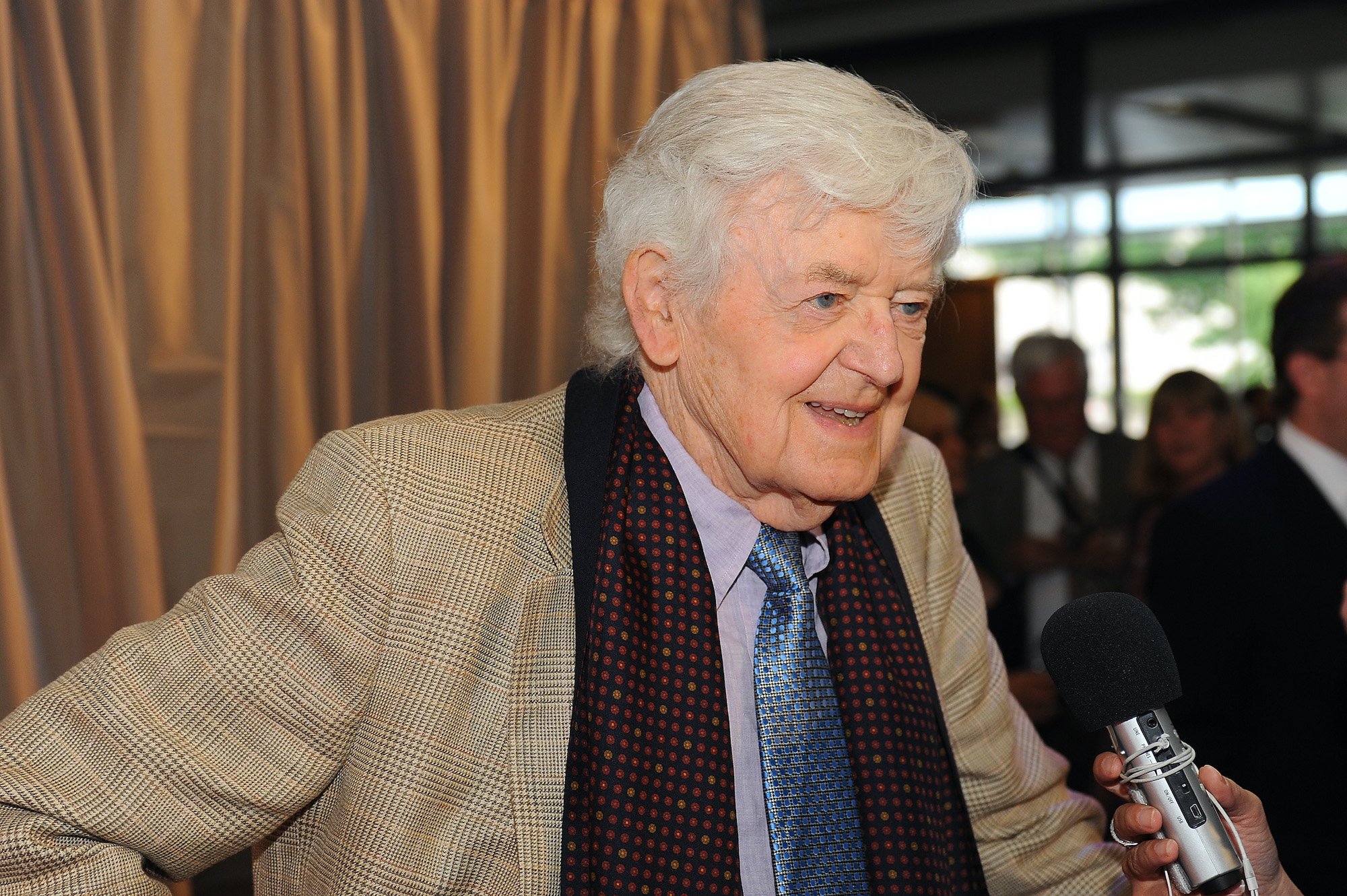 As reported by Entertainment Tonight, the greatest roles of Holbrook's extraordinary life were as a father and a husband. It's plain to see in the YouTube clip that Holbrook and Carter had found the love of their lives in each other.
Holbrook passed away at the age of 95 in his home in Beverly Hills on January 23rd, 2021. He left behind three children, two by his first wife and one with his second, Carol Eve Rosen, and an estate valued at $5 million, according to The List and Net Worth Post.
That figure may seem incredibly low for a star whose career spanned 63 years, especially when compared to the net worth of others with similar careers, like Kirk Douglas. When he died at 103, his estate was valued at $61 million according to Wealthy Genius. Holbrook's former costar, Martin Sheen's net worth may be as high as $60 million according to the figures supplied by Celebs Money. The likely reason behind this difference is that Holbrook was primarily a stage actor and film actors are paid more.
The Street reported that as of 2017, Broadway actors were paid based on their role and experience, saying, "a famous actor or actress in a lead could receive $100,000 or more a week, especially if their contract calls for a percentage of ticket sales." It appears that Holbrook, who performed as Twain until 2017, was not paid that much. One thing we can be sure of is that the body of work he left us to enjoy for posterity is priceless.
RELATED: 'Grey's Anatomy': Ameilia Shepherd Fans Say One of Her Moments Was 'Sadder Than Derek's Death'