'Grey's Anatomy': How Many Times Has Owen Been Divorced?
Shonda Rhimes is the brilliant creator behind the hit series Grey's Anatomy. The medical-based drama revolves around a close-knit group of professionals who live in Seattle. In between saving their patients and making monumental career moves, the surgical interns, residents, and doctors have plenty of romance. ABC first launched the television show back in 2005. Sixteen seasons later and Grey's Anatomy is still a huge success.
The compelling characters and cast are one of the many reasons the series has so many fans and viewers. Meredith Grey, Alex Karev, Miranda Bailey, and Richard Webber are just a few of the names and faces that have become staples of the beloved series. Owen Hunt is a character who joined the cast several seasons into the series but has still managed to win over fans and viewers with his complex and charming personality. Find out who the famous actor is that plays the popular surgeon and just how many divorces Owen Hunt has gone through.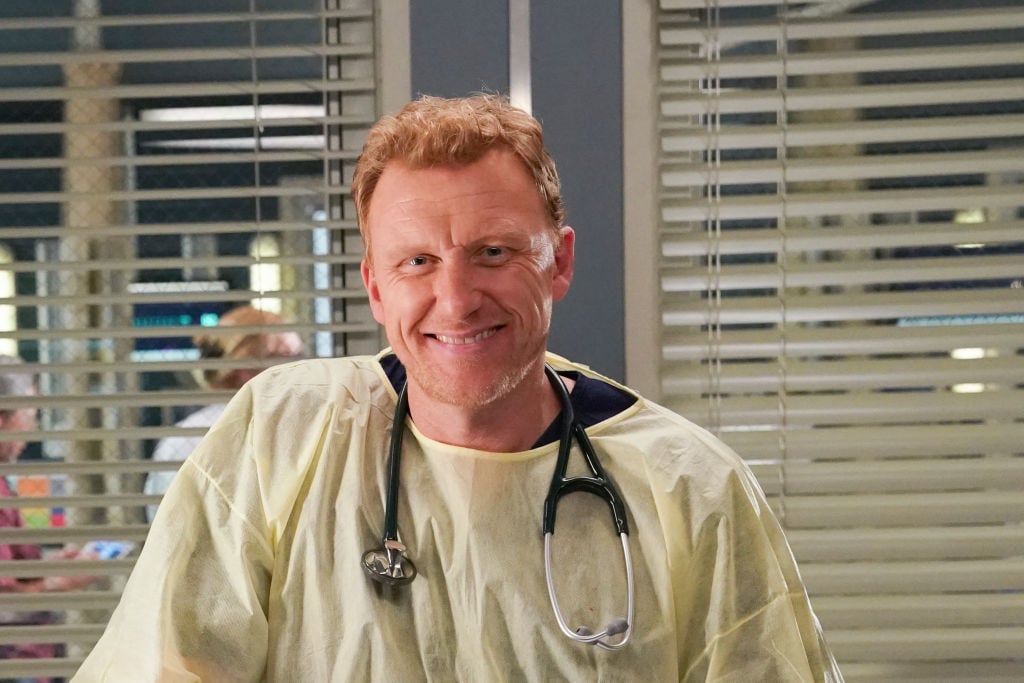 Who plays Owen on 'Grey's Anatomy'?
Kevin McKidd is the talented actor who landed the role of Dr. Owen Hunt on Grey's Anatomy. McKidd was born and raised in Scotland and was interested in theatre at a young age. While in college studying engineering, he decided to drop out and pursue his dreams of acting. McKidd's career as an actor began on stage performing titles such as The Silver Darlings. Small Faces and Trainspotting were the first productions to break McKidd into screen-based projects, according to IMDb. McKidd is typically associated with Lucius Vorenus, his character on the television series Rome, and for films such as Made of Honor. In 2008 the actor was cast as Dr. Hunt on Grey's Anatomy. Being a regular on the medical drama series has boosted the actor's success and reputation. 
A look back at Owen's storylines on 'Grey's Anatomy'
Dr. Owen Hunt was first introduced to viewers during season five of Grey's Anatomy. Hunt's work as a trauma surgeon for the army was what led him to Seattle Grace. It immediately became obvious that Hunt and Christina Yang had a connection. The two shared their first kiss after Hunt was forced to pull an icicle out of her body. Eventually, Hunt was offered a full-time position at the hospital, and the pair begin dating. Yang was one of the many love interests the doctor has had on Grey's Anatomy. 
Hunt's PTSD was another element of his storyline that the character is well-known for. After witnessing the death of his whole platoon, Hunt was honorably discharged, and many of the initial episodes featuring his character are centered around unpacking Hunt's intricate and delicate past. In the more recent seasons, fans and followers watched him adopt a baby. His impulsive nature has gotten him into a few situations, but, ultimately, Hunt always means well. 
How many times has Doctor Owen Hunt been divorced on 'Grey's Anatomy'? 
Doctor Owen Hunt is known for his love for love. Many of his storylines have revolved around the idea of settling down and starting a family, but in the case of Doctor Hunt, that is easier said than done. Owen's character has been engaged a total of four times and divorced twice. The audience learns of a past engagement to a girl named Beth that Hunt ultimately ended up calling off. Christina Yang and Hunt do get engaged and married, but when they are unable to see eye-to-eye, the couple officially ended things. Amelia Shepherd was Owen Hunt's next romantic pursuit. They, too, got engaged and got married, but eventually their dynamic and relationship shifted. Hunt wound up divorcing Amelia as well.
When Owen finally gets together with his long-time best friend Teddy it seems to be a done deal. The two gave birth to a child together and were set to get married when Hunt discovered that Teddy was actually cheating on him with her ex. Hopefully, Owen Hunt's love life will take a more promising turn in the new upcoming season of Grey's Anatomy.