'Grey's Anatomy': Was Izzie Ever Really Jealous of Jo? Here's What Katherine Heigl and Camilla Luddington Say
Alex Karev (Justin Chambers) had two great loves on Grey's Anatomy. At the beginning of the series, the surgeon's heart belonged to Dr. Izzie Stevens (Katherine Heigl). However, he met and fell in love with Dr. Jo Wilson (Camilla Luddington) in season 9 after divorcing Izzie. 
Ultimately, Alex and Izzie turned out to be endgame. However, was Izzie ever envious of Jo?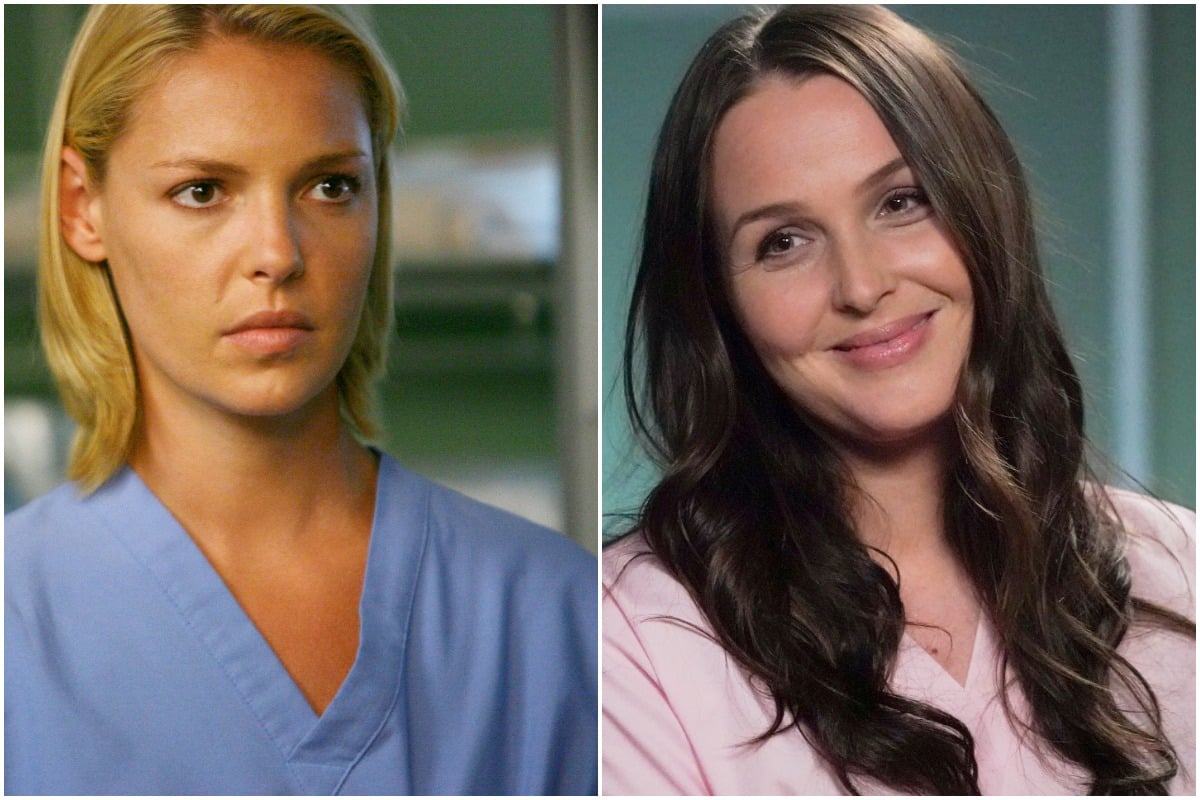 What happened between Izzie, Jo, and Alex on 'Grey's Anatomy'?
In season one of Grey's Anatomy, Alex Karev was the character fans loved to hate. Although he often teased other interns, such as George O'Malley (T.R. Knight), Alex developed a soft spot for Izzie early on. After supporting her through her boyfriend, Denny Duquette's (Jeffery Dean Morgan) death, Izzie and Alex became closer. By season 5, the pair were dating and professing their love to each other. However, their relationship soon changed when Izzie got diagnosed with stage 4 metastatic melanoma. 
RELATED: 'Grey's Anatomy': Alex's Exit Feels Even More Infuriating After a Series Rewatch
During Grey's Anatomy's 100th episode, "What A Difference A Day Makes," Alex and Izzie decided to get married as her cancer worsened. Following their wedding, though, the couple started to argue. When Izzie got fired due to the hospital's merger, she blamed Alex and left Seattle. After she returned, Alex asked Izzie for a divorce. 
Following their split, Alex met Jo when he was a surgical fellow and she was an intern. The pair bonded over their rough childhoods and slowly became good friends. However, they eventually started dating in season 10. 
Katherine Heigl believes Izzie was jealous of Jo but happy for Alex
RELATED: 'Grey's Anatomy': Izzie Did Terrible Things — But So Has Every Other Main Character
As Grey's Anatomy progressed, many fans fell in love with Alex and Jo, or "Jolex." For several seasons, they faced ups and downs, including a return from Jo's abusive ex-husband. Finally, the couple walked down the aisle in season 14, with Alex's best friend, Meredith (Ellen Pompeo), as the officiant. 
In 2018, TVLine informed Heigl about Alex and Jo's marriage. Although the Knocked Up star stopped watching the show after her 2009 exit, she said Izzie wouldn't like seeing Alex marry someone else. 
"If she has moved on, then I would expect Izzie to be very happy for him," Heigl began. "She would want him to be happy. She'd be jealous [of Jo] for sure, right? She'd want him to hold out for her."
'Grey's Anatomy' star Camilla Luddington only has pleasant things to say about Izzie
Since Heigl's exit, fans have often compared Jo to Izzie. Nonetheless, Luddington has only said positive things about the character. After Heigl's comments about Jo and Alex's wedding, the Californication alum predicted that Izzie had a pleasant life following their divorce.
RELATED: 'Grey's Anatomy' Season 17: Will Jo Wilson Change Careers? Camilla Luddington Opens Up About Her Character's Future
"That's really cute!" Luddington stated. "What I imagine is for Izzie is she kind of thinks in terms of how Alex thinks about her. In our 300th episode, he discussed that he hopes she has this amazing life. I hope Izzie is living her best life, and she's hoping the best for Alex."
In season 16, Chambers left Grey's Anatomy. The Wedding Planner actor said he planned to work on other projects. Amid Chambers' exit, Grey's' writers reunited the character with Izzie. After reaching out to Izzie to help Meredith keep her medical license, she told him that she secretly gave birth to their twins, Alexis and Eli. Ultimately, Alex chose to be with Izzie and their two children and divorced Jo.
Grey's Anatomy airs Thursday nights on ABC.