'Grey's Anatomy': Were Jackson and April Meant to Be Together? Justin Bruening Doesn't Think So
Nobody does romance quite like Grey's Anatomy, and the love story between Jackson Avery (Jesse Williams) and April Kepner (Sarah Drew) is the only proof you need. The couple formed a relationship after developing a strong friendship. They also faced numerous hardships, including the heartwrenching loss of Samuel Norbert Avery. So when Jackson and April did not end up together upon the trauma surgeon's exit in Grey's Anatomy Season 14, some fans were left in an outrage. 
Now, it's been a hot minute since April decided to leave Grey Sloan Memorial with Matthew Taylor (Justin Bruening). So with time, the fandom has calmed down in regards to Japril. But Bruening recently revealed viewers are still caught up with the relationship. And while the actor admitted April and Jackson had an epic romance, he believes April received her happily ever after with Matthew.
Jackson Avery and April Kepner did not end up together on 'Grey's Anatomy'
RELATED: 'Grey's Anatomy': Are Jesse Williams and Sarah Drew Friends in Real Life?
Grey's Anatomy fans were introduced to April and Jackson when Mercy West merged with Seattle Grace. The pair formed a close friendship until they slept together before taking their medical boards exam.
As time went by, April and Jackson had a few ups and downs. There was clearly a spark. But after a pregnancy scare, it seemed the two would go their separate ways. Then eventually, April met Matthew and the couple got engaged.
At April and Matthew's wedding, Jackson confessed his love for his ex. Then in a turn of events, April left her fiancé at the altar to run away with Jackson. They eloped.
Later, April and Jackson revealed they were expecting a child. They named the baby Samuel. However, he was born at 24 weeks and only lived a few short hours. This caused the couple to spiral and April even left Seattle. In the end, the lovers decided to divorce.
Nevertheless, this wasn't the end of Japril. When signing the divorce papers, Grey's Anatomy fans learned April was pregnant. Naturally, when Jackson found out, there was some drama. But when that subsided, the couple decided to co-parent their daughter, Harriet Kepner-Avery.
As mentioned, Grey's Anatomy Season 14 was April's final season. But she did not end up with Jackson. Instead, the ABC medical drama brought back April's first fiancé, Matthew. The two reconnected, started dating, and got married. April also left Grey Sloan Memorial. But she continues to reside in Seattle and co-parents Harriet with Jackson — just offscreen.
Justin Bruening discusses Jackson Avery and April Kepner's love story on 'Grey's Anatomy'
When speaking with Entertainment Weekly, Bruening opened up about his experience playing Matthew on Grey's Anatomy. The actor has since moved on to other projects, such as Sweet Magnolias, but fans still bring up his time on Grey's. Nevertheless, Bruening revealed viewers often tell him they preferred seeing April and Jackson together.
"It's funny, the show has such a wide-reaching fan base," Bruening said. "I got stopped at a grocery store recently. They can't place where they recognize me from. I'll say, 'Well, it's probably Grey's,' and then they'll get wide-eyed and ask, 'Who are you?' I'll say Matthew. And they're like, 'Oh yeah, we love you… but to be honest, we want Jackson and April together.'"
He continued, "I take it as a compliment. I did my job. My purpose the first time was to get Jackson and April back together, and my purpose the second time was to give April the happy ending she truly deserved."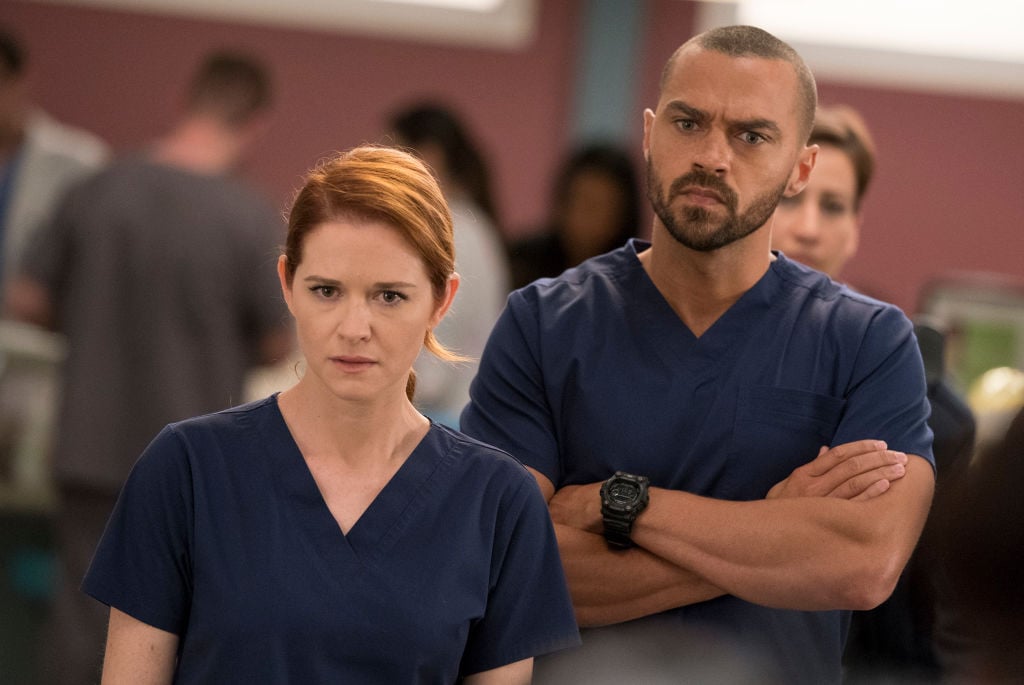 Bruening then admitted Jackson and April had a great love story on Grey's Anatomy. He also acknowledged April's relationship with Matthew didn't hold up to the Japril romance.
"I know where I stand, all right," Bruening said. "I guess there was some Mapril people. There's a lot of sympathy for my character because he is so nice. In their minds, Matthew did all the right things. But an attraction is an attraction. You can't fight that. I'm more than happy to take the back burner to Japril. That's the love story."
But just because April and Jackson had an epic romance, doesn't necessarily mean they should have ended up together.
"It's Romeo and Juliet," Bruening said. "Two people that shouldn't be together want to be together, and that's completely fine, even though I'm married to her now. So technically, I won."
RELATED: 'Grey's Anatomy': Will April and Matthew Ever Return? The Door Is Still Open