'Grey's Anatomy': Jesse Williams Isn't Leaving Jackson Avery Behind for His Broadway Debut
Krista Vernoff answers whether Jesse Williams will leave 'Grey's Anatomy' because of his Broadway debut on 'Take Me Out' in April 2020.
After Justin Chambers' sudden departure as Alex Karev midway through season 16, Grey's Anatomy fans have grown wary in regards to the Shondaland drama's end date — or even worse — the exit of more major characters. Recently, Jesse Williams, who plays Jackson Avery in Grey's Anatomy, was cast in the Take Me Out Broadway revival. But given the current atmosphere within the fandom, some viewers have been worried about Williams' series regular status moving forward. However, showrunner Krista Vernoff ensured fans Jackson won't be leaving Seattle anytime soon.
'Grey's Anatomy' star Jesse Williams will star in Broadway's 'Take Me Out'
On May 30, Playbill announced Williams will play the lead, Darren Lemming, in a revival of Richard Greenberg's Take Me Out. Directed by Scott Ellis, the Tony Award-winning play is expected to preview on April 2 and open on April 23 at Second Stage's Hayes Theater. Williams will star alongside Suits alum Patrick J. Adams and Modern Family star Jesse Tyler Ferguson.
In a statement to Entertainment Weekly, Williams expressed his thoughts on the Broadway production. He said:
I'm excited as hell to be back on stage and returning home to NYC. Honored to inhabit such a compelling character while navigating storytelling that's as resonant as the day it was written. To be able to collaborate and learn from our director Scott Ellis, an insanely talented cast and the 2nd Stage crew is the dream. Truly. I'm exactly where I want to be right now. And grateful. And terrified in the best way!
Will Jesse Williams leave 'Grey's Anatomy' as Jackson Avery?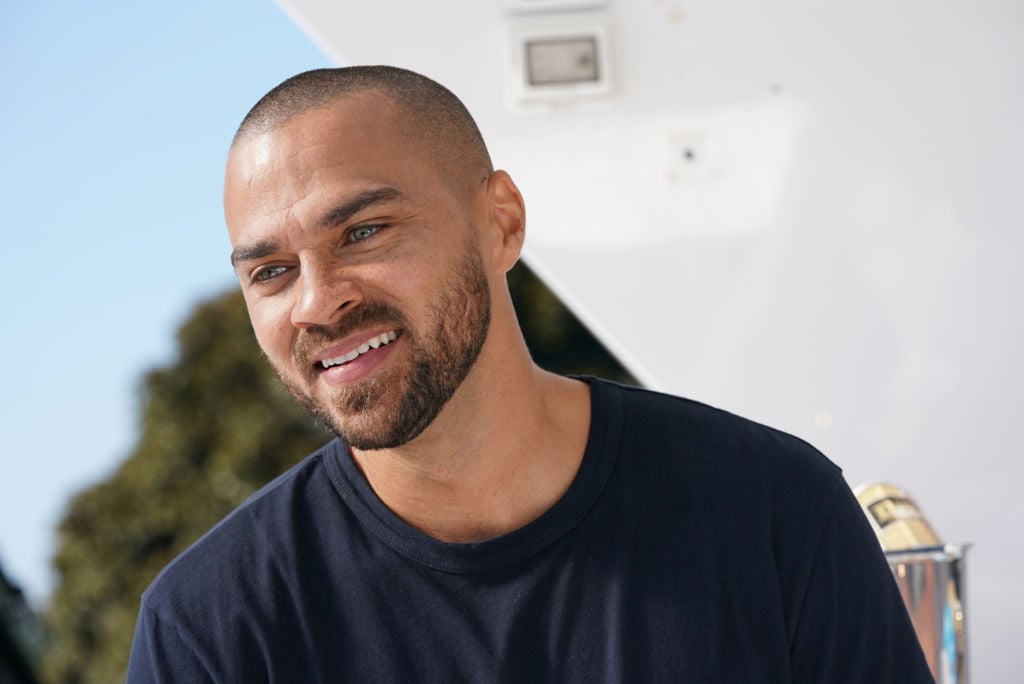 There are two things Grey's Anatomy fans typically contemplate when an actor picks up another gig — location and timing. We know Grey's Anatomy is filmed in California. Then in Williams' situation, Take Me Out will take place in New York. Meanwhile, TVLine explained Grey's Anatomy Season 16 will still be in production when Take Me Out previews begin April 2. 
Nevertheless, Vernoff confirmed Williams will not leave the cast of Grey's Anatomy and she was able to arrange a storyline fitting to the actor's new schedule.
"I've known since the beginning of the season and I've been able to plan [Jackson]'s storyline [accordingly]," Vernoff said. 
The showrunner also explained how production will work. And although Williams will have a packed schedule, holding onto both projects seems paramount.
"Jesse is able to fly back one day a week; we're just making it work [because] this was important to him," Vernoff said.
When will 'Grey's Anatomy' end?
Naturally, Grey's Anatomy fans will be relieved to hear the ABC drama is planning around Williams' schedule. However, Chambers' exit still has fans on their toes. Now, only three original characters remain: Meredith Grey (Ellen Pompeo), Miranda Bailey (Chandra Wilson), and Richard Webber (James Pickens Jr.).
That said, ABC renewed Grey's Anatomy through season 17 in May 2019. Of course, this means viewers still have plenty of time before potentially saying goodbye. Meanwhile, Pompeo revealed how the Grey's team will know when to end the Shondaland series for good.
"Obviously I never anticipated the show still being the no. 1 show on the network," Pompeo told People. "How do you walk away from a hit?"
She continued: "The fans will dictate when the show ends. As much as we think we're in control, we're not. It's the fans' show at this point. They control how long the show goes. We'll see. I kind of just take it year by year and see."
Read more: 'Grey's Anatomy': Cristina Yang's Cameos and 'The Package' She Sent Meredith Get Better Every Week