'Grey's Anatomy': These Jo and Alex Theories Explain What Happens to the Karevs After Justin Chambers Leaves
Alex Karev (Justin Chambers) has one of the best character arcs on Grey's Anatomy. After 16 seasons of growth, Alex went from evil spawn to Meredith Grey's (Ellen Pompeo) person and supportive husband of Jo Karev (Camilla Luddington) — aka Jo Wilson. However, Chambers recently announced his departure from the show. And Alex's last appearance in the 350th episode on Nov. 14 is reportedly Chambers' final episode. So what will happen to Jo and Alex on Grey's Anatomy moving forward? Fans tried to give JoLex an ending they truly deserve while making sense of the current storyline.
Alex will die in 'Grey's Anatomy'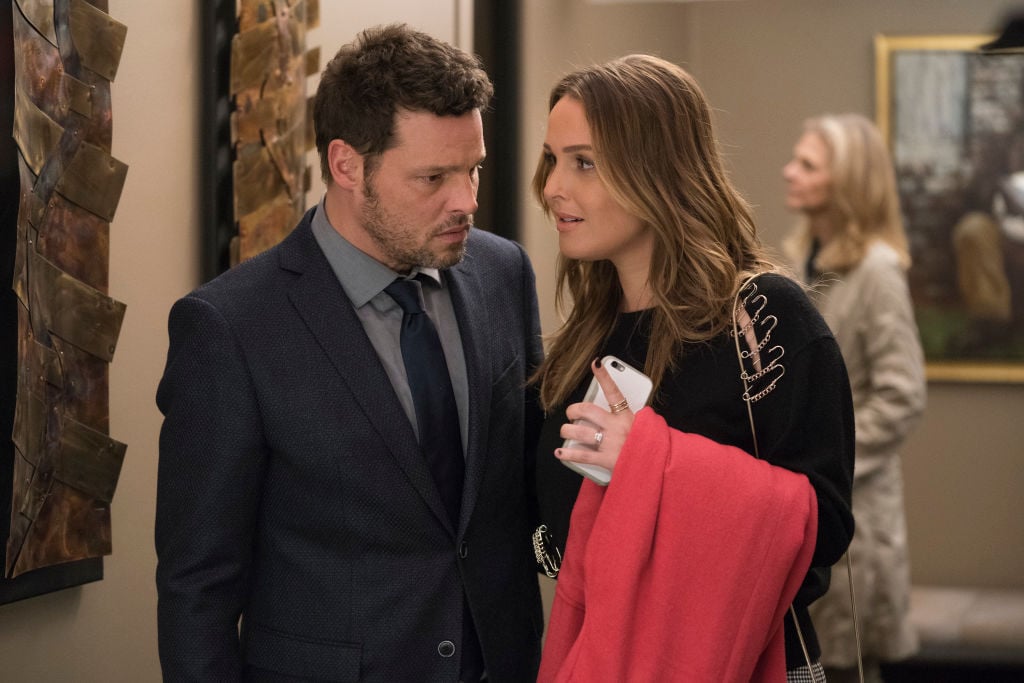 As Grey's Anatomy Season 16 stands now, Alex and Jo's story seems unfinished. Fans last saw the character defending Meredith during her medical license hearing. Alex also didn't show up in the midseason finale, as he was taking care of his mother in Iowa.
Meanwhile, the couple has been in a good spot recently. Alex supported Jo throughout season 15. The topic of having children has also been teased on the show. And before the hiatus, Jo stole a baby from the firehouse. But basically, fans don't think Jo and Alex will break up or get divorced anytime soon.
That said, the up-in-the-air storylines and Alex's abrupt departure from Grey's Anatomy have fans speculating Alex's death in the winter premiere.
"It's almost definite that they killed him off-screen during the car accident," a Reddit user wrote. "His final scene was already shown and the last scene was the car crashing into Joe's. I can see them pulling a George and having Alex saving someones life but dies and all we see is a body covered by a sheet."
Now, everyone wants Jo and Alex to receive a happy ending. But if Alex does die, then some fans suggested Jo will undergo some major development on her own, possibly giving her "more angst for next season."
Jo and Alex will move away together for a big opportunity
Now, most Grey's Anatomy fans are hoping for Jo and Alex to receive a happily ever after — even if it happens offscreen. And multiple individuals suggested that the couple will receive a big opportunity for their career, similar to what happened with Cristina Yang (Sandra Oh).
"I wouldn't be surprised if they make it so Jo or Alex gets a once in a lifetime offer and they move away sort of like what they did with [Cristina]," a fan on Reddit wrote. "It's the most graceful departure this show can do."
Meanwhile, another fan offered another theory that could bring Callie Torres (Sara Ramirez) and Arizona Robbins (Jessica Capshaw) back.
"I just can't picture Alex and Jo not be together, not after everything they been through already," a fan wrote. "Let them move to New York, where Alex can take over a children's hospital, with Jo working at the same hospital as Callie. They'll work alongside Callie and Arizona. Alex would never walk out on Jo, so the option is to either have her leave as well, or let him die."
They continued: "First option would mean happy ending for them. But now we might not get to see him as a dad, unless they adopt the firestation baby. They move away, with Jo revealing that she's pregnant. Happy ending for Alex, with a great new job, wife and kid/kids. Maybe this is why he has been underused all season."
Jo and Alex will move closer to Alex's mom and start a family
As mentioned, Alex is caring for his mother, whose health has worsened, in the Grey's Anatomy Season 16 midseason finale. And some fans think this throwaway line outlines what happens to Jo and Alex when the show returns.
"My hope is that Jo is gonna tell everyone that Alex's mom is sick and he's gonna stay there to take care of her indefinitely," a Reddit user wrote. "Later on, Jo will decide to move to Iowa with him and start a new life there."
The fan also predicted Jo will still have to deal with the consequences of stealing the baby. So the couple will do long-distance for some time. But eventually, Jo will reunite with Alex and the two will start a family in the midwest.
"Depending on what the aftermath is with her stealing the safe haven baby, she'll take the baby with her and they can be a family," the fan continued. "Or they'll decide they want to start their family in Iowa away from Seattle. At least this way, we'll know that they're parents even if it's not on screen."
No matter what happens to Jo and Alex on Grey's Anatomy, it's going to be heartbreaking. The two characters have been through so much during their lifetimes on the show. So it'll be difficult to see how Alex's departure affects things moving forward. Regardless, we're excited to see what showrunner Krista Vernoff has planned. Grey's Anatomy Season 16 returns on Thursday, Jan. 23. So stay tuned.
Read more: 'Grey's Anatomy': This Owen Theory Will Make You Scream With Glee or Anger — There Is No In-Between