'Grey's Anatomy': Camilla Luddington Says Jo and Jackson Would Be a 'Really Fun Couple'
'Grey's Anatomy' Season 17 star Camilla Luddington teases her throughts on a future romance between Jo Wilson and Jackson Avery (Jesse Williams).
Grey's Anatomy fans have mixed feelings about a potential romance brewing between Jo Wilson (Camilla Luddington) and Jackson Avery (Jesse Williams). The couple hooked up in season 17. However, they've since put boundaries on their relationship and simply want to be friends with benefits. But even so, Luddington thinks Jo and Jackson could make a "fun" couple on Grey's Anatomy — just not right now.
'Grey's Anatomy' Season 17 teases Jo Wilson and Jackson Avery together
In the Grey's Anatomy Season 17 premiere, Jo asked Jackson to be her "sex bridge" after her husband, Alex Karev (Justin Chambers) unexpectedly divorced her to be with Izzie Stevens (Katherine Heigl). However, when Jackson accepted Jo's proposal, she realized she wasn't ready. This left their relationship strained. But the awkwardness faded after Jo and Jackson had a conversation and decided to be friends.
Finally, Jo ripped off the band-aid in Grey's Anatomy Season 17 Episode 4 — titled "You Never Walk Alone." The couple hooked up. Then both parties admitted they weren't ready to be in a relationship.
Jackson said he couldn't be in a relationship now because he's been through a lot with Maggie Pierce (Kelly McCreary), April Kepner (Sarah Drew), and Station 19's Vic Hughes (Barrett Doss). "I should probably take some time to sort things out," Jackson said. "I don't want to do anything to hurt you or our friendship."
Meanwhile, Jo felt the same way. "Jackson, my husband left me the same year that we got married for a second time," she said. "I am super broken. Like 'virtual therapy three times a week' broken. And now, I have to put myself back together in a world I no longer recognize, one that is sad and lonely and depressing."
She continued, "So what I need is friendship and sex. I am not, like really not, looking for a relationship, especially with someone like you. You know, Mr. Can't Be Alone But Sometimes Skips Town To Go On Nature Journeys. No thanks."
Why 'Grey's Anatomy' star Camilla Luddington thinks Jo and Jackson could make a good couple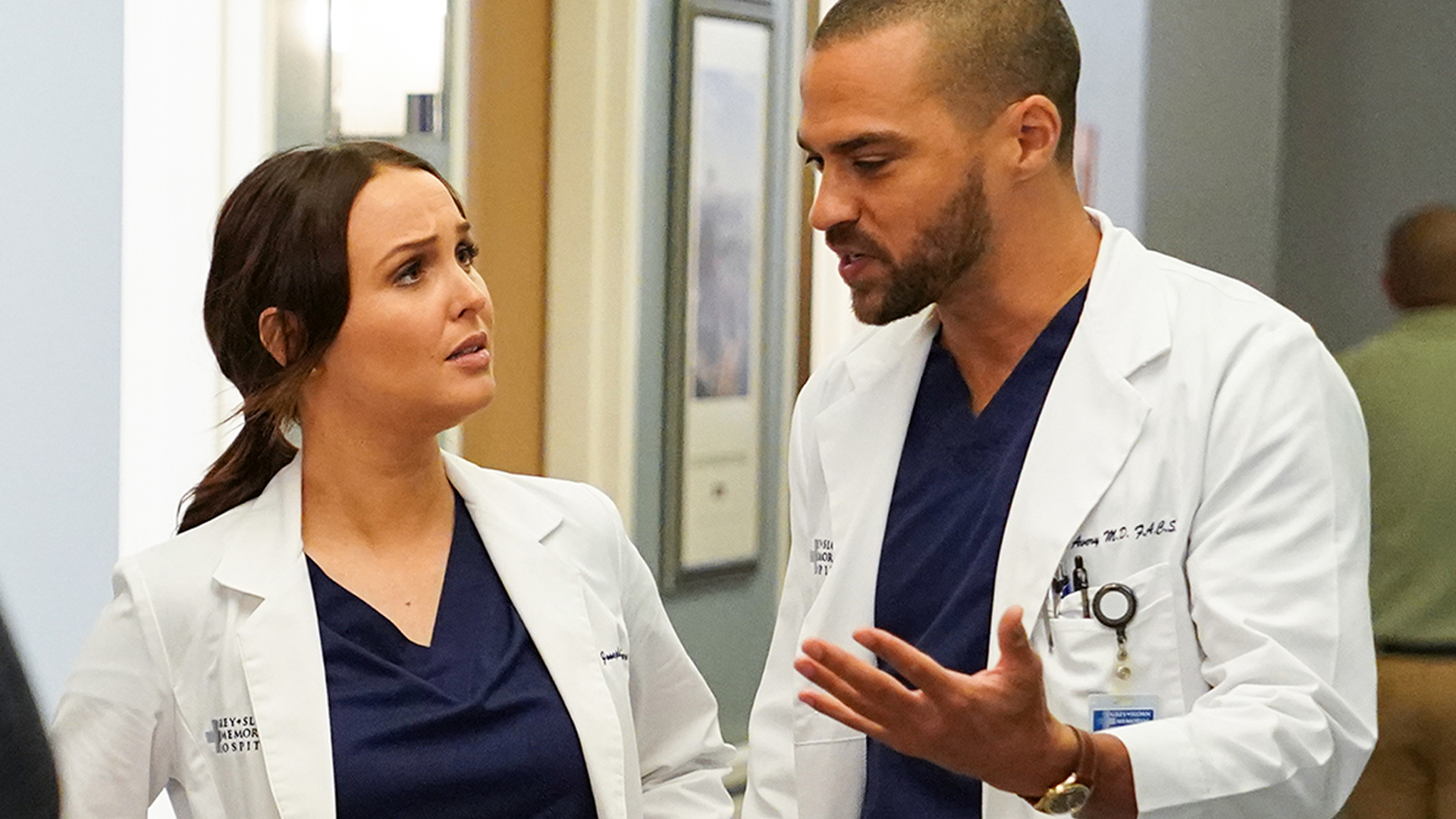 Clearly, Jo and Jackson aren't together at this point on Grey's Anatomy. However, many viewers are wondering whether the relationship will turn up the romance down the line. But if it does, it appears Luddington believes the pairing could be a good match.
"I actually think that they would be a really good couple," Luddington told Entertainment Tonight in December 2020. "I think that they would have that banter back and forth of making fun of each other, which you will see in the episode we're about to shoot right now, actually. We're shooting next week. You kind of see that happening between them already. So think that they would be that very jokey couple with each other."
The actor also hinted Jo and Jackson's ability to communicate is a bonus. 
"Hopefully, because they've had things happen between them that are very intimate and vulnerable, they would be open with talking about their feelings," she said. "They already had a conversation that was pretty awkward to have at the door, where he was like, 'I'm not ready.' Then he explained why. She said the same thing and explained why, too."
Nevertheless, it doesn't look like Luddington wants Jo and Jackson to get together just yet. And for now, she's looking forward to seeing single Jo make waves on Grey's Anatomy Season 17.
"I have mixed opinions on it," Luddington said. "Yes, because I love working with Jesse. And yes, because I think Jackson is a good guy. But also, I want to see [Jo] play the field a little bit."
She later added, "I would love to see what single Jo is like."
Check out Showbiz Cheat Sheet on Facebook!