'Grey's Anatomy': Will Jo and Link Get Together? Fans Don't Want a New Romance Right Now
With Alex's (Justin Chambers) exit looming over Grey's Anatomy Season 16, fans across the nation are wondering what will happen to Jo (Camilla Luddington). Alex has been MIA since the 350th episode, and he's ghosting everyone — namely Jo and his person, Meredith (Ellen Pompeo). Now Jo is promptly freaking out about Alex's whereabouts. But at least she has her own person, Link (Chris Carmack), to lean on. However, with Link's relationship with Amelia (Caterina Scorsone) crumbling, some viewers believe a new romance is on its way. But will Jo and Link get together on Grey's Anatomy? Fans hope the pair's friendship remains the same.
[Spoiler alert: Grey's Anatomy Season 16.]
What happened to Jo and Link in 'Grey's Anatomy' Season 16?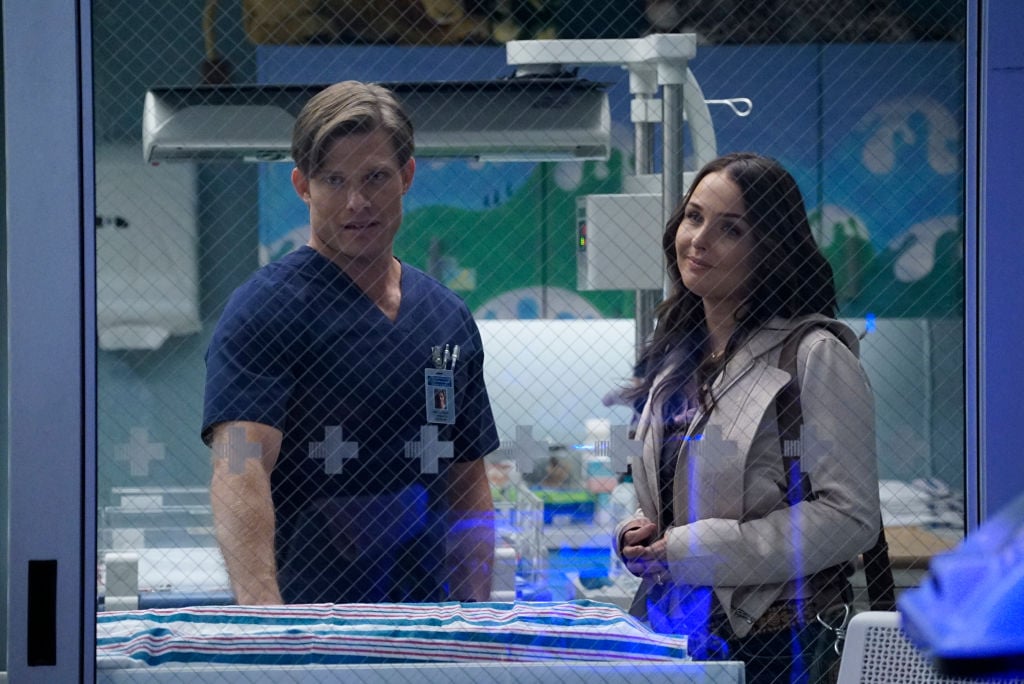 A lot has happened to Jo and Link in the second half of Grey's Anatomy Season 16. At the start of the season, Link is excited about starting a family with Amelia. But as viewers discovered in the fall finale — titled "Let's All Go to the Bar" — Amelia doesn't know who the father is. It could be Link's baby. Or maybe Owen's.
When Amelia finally tells Link the truth, the Shepherd sister reveals she doesn't want to know the paternity of her child. At first, Link is fine with the decision. But then he realizes he isn't. Link asks her to take a paternity test and it seems like the situation is resolved.
Eventually, Amelia reconsiders. She wants to be with someone who loves her and the unborn child unconditionally, regardless of DNA. As a result, Amelia breaks up with Link. And in the next episode, Link is in shambles.
Meanwhile, Jo is torn over Alex. In the Grey's Anatomy Season 16 winter premiere, it's presumed Alex is in Iowa to take care of his mom. However, as time goes by, Jo becomes more and more suspicious. She wonders whether Alex left her for somebody else.
Then Jo reaches her breaking point. After being ghosted by her husband, Jo calls Alex's mom. She reveals Alex isn't in Iowa — and never was. In a heartbreaking scene, Jo crumbles into tears, believing her greatest fears came true.
All the while, Jo and Link are supporting one another with their relationships. Like Meredith and Alex, they are each other's designated persons. However, by the end of Grey's Anatomy Season 16, Episode 15 — titled "Snowblind" — both Link and Jo are in complete shambles over Amelia and Alex, respectively. And at this point, who knows where this might lead.
'Grey's Anatomy' fans predict Jo and Link will get together
In all honesty, Alex and Amelia's behavior in Grey's Anatomy Season 16 seems suspicious. If Alex left Jo with no explanation, it would feel like the character regressed back to the jerk he was in season 1. Meanwhile, Amelia's actions could be seen as reminiscent of how she was before the tumor.
Regardless, both Alex and Amelia have been called out by the fandom in recent episodes. Then in a Reddit thread on Feb. 20, one Grey's Anatomy viewer suggested a reason why the writers are choosing to go down this path.
"I'm getting the feeling they destroyed Alex and Amelia's characters and totally tanked both relationships just so Jo and Link can get together," the fan wrote.
And then after Link consoled Jo in "Snowblind" on Feb. 27, more fans saw the connection. "The way the last ep ending. I think Jo and Link will get together," a fan wrote on Twitter.
That said, it seems most Grey's Anatomy fans aren't on board with the match. "If Teddy stays with Tom, Owen and Amelia end up back together and Jo and Link become a thing I will never forgive this show," a fan tweeted.
"Nobody wants Jo and Link together!!! Don't do that!!! #GreysAnatomy" another fan wrote.
Meanwhile, a Grey's Anatomy fan on Reddit gave a lengthy reason why Link and Jo shouldn't be together. But for the most part, it boils down to the pair's supportive friendship, noting "Jo + Link is probably the only consistent, healthy friendship on the show right [now]." And ultimately, if Alex does, indeed, leave Jo, then what she needs is a friend, not another lover.
Nevertheless, there are still some fans who want to see where a relationship between Link and Jo leads. "If Alex really left Jo and Amelia really dumped Link then the only acceptable outcome is for Link and Jo to get together," a fan wrote. "I said what I said #GreysAnatomy."
No matter what happens to Jo and Link as Grey's Anatomy Season 16 continues, we have confidence the ABC drama will deliver something extraordinary. So stay tuned. The Shondaland series airs Thursday night at 9 p.m. EST.
Read more: 'Grey's Anatomy': Is Richard Webber Leaving? Fans Are Worried About the Character's Future