'Grey's Anatomy': Why Camilla Luddington Doesn't Think Jo Wilson Needs Alex Karev to Come Back
'Grey's Anatomy' Season 17 star Camilla Luddington discusses Jo Wilson's future and why she doesn't think Alex Karev needs to come back for her character.
Grey's Anatomy fans were gutted when Jo Wilson (Camilla Luddington) and Alex Karev (Justin Chambers) did not end up together. The couple got married, not once, but twice. However, the relationship ended in heartbreak. Now, some viewers hope Alex will come back for Jo one day. But even so, Luddington doesn't think a "JoLex" reunion is necessary — here's why.
Why did Alex Karev leave Jo Wilson on 'Grey's Anatomy'?
In Grey's Anatomy Season 16, Alex contacted his ex-wife, Izzie Stevens (Katherine Heigl), for Meredith Grey's (Ellen Pompeo) medical license hearing. When the exes reconnected, Alex found out Izzie used the embryos they made when she had stage IV metastatic cancer. She gave birth to twins, Alexis and Eli. So Alex, who wanted nothing more than a family, left Jo for Izzie. 
Now, Alex lives on a farm in Kansas with Izzie and the twins. He also divorced Jo and left her his shares at Grey Sloan Memorial. Then as the Shondaland series continued, Jo started to move on from her ex-husband. She hooked up with Jackson Avery (Jesse Williams) in Grey's Anatomy Season 17 to help her move on. Jo currently has a "friends with benefits" relationship with Jackson and seems to be enjoying the single life.
Why Camilla Luddington doesn't want Alex Karev to come back for Jo Wilson on 'Grey's Anatomy'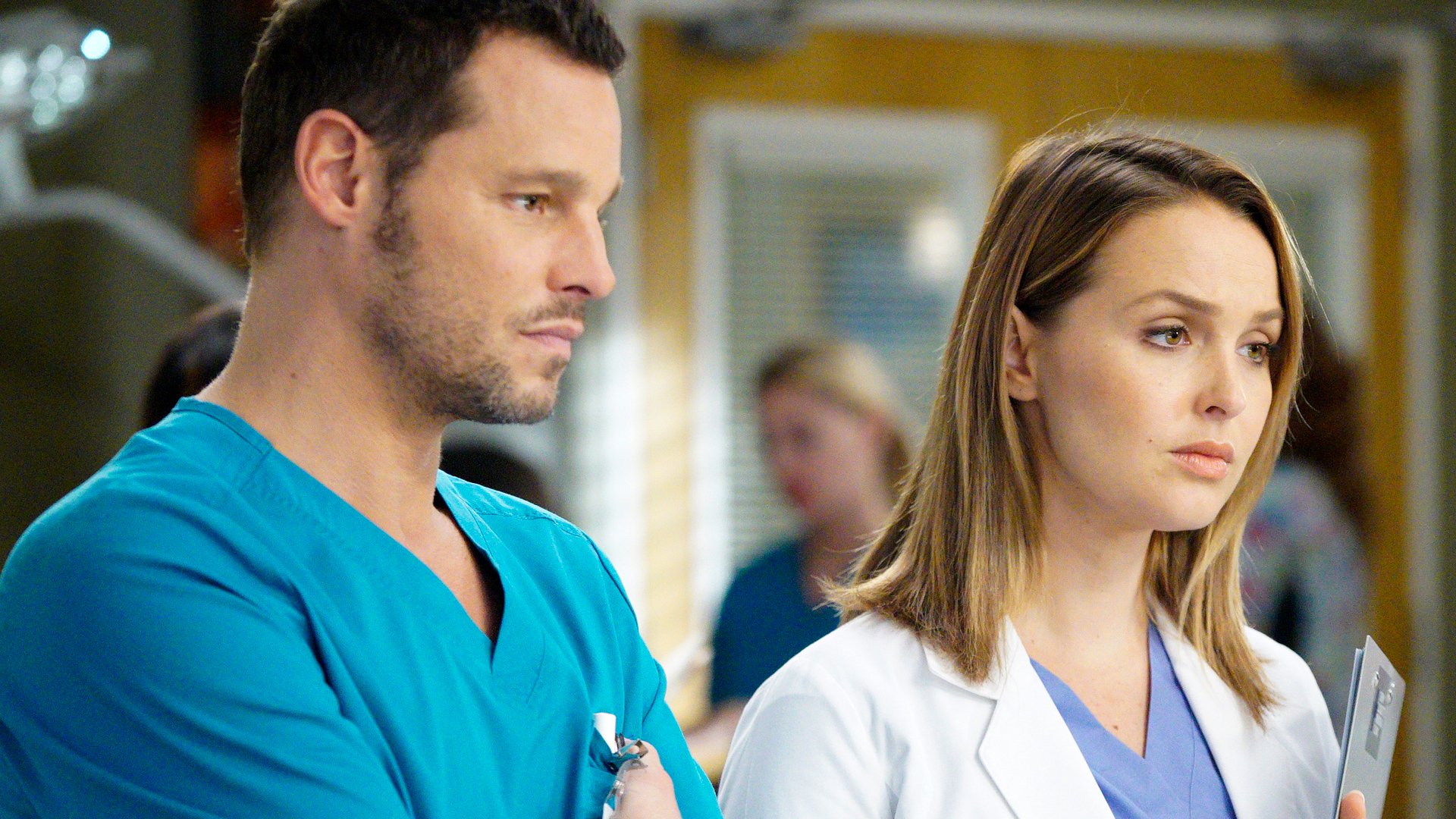 When speaking with Entertainment Tonight in December 2020, Luddington opened up about Jo's upcoming storyline in Grey's Anatomy Season 17. But it doesn't look like the character's storyline will include a reunion with her ex anytime soon. The publication asked whether Alex could potentially return on Grey's Anatomy. However, Luddington pointed out that Jo has had enough surprises from ex-husbands, alluding to Paul Stadler's (Matthew Morrison) appearance in seasons 13 and 14.
"Can we please not have another ex-husband for Jo show up?" she said. "This poor girl. I just feel like… how many are there?"
Luddington also believes Jo and Alex's breakup was "empowering" for her character, as Jo must find a way to move forward on her own. She said:
I think the reality for a lot of people is that they don't get that moment when they are speaking to their ex. So I think it's real to show that sometimes you have to move on without having the sitdown conversation. She talked about being in therapy. I actually like that she's able to work through it. It doesn't depend on whether he picks up the phone, call her, and wants to discuss it. It's a very empowering storyline for her.
Is Jo Wilson is still in love with Alex Karev by 'Grey's Anatomy' Season 17?
Whether Alex ever returns to Grey's Anatomy in the future, Luddington hopes Jo moves on and finds happiness elsewhere. When speaking with Good Housekeeping in November 2020, the actor  said she was "rooting" for Jo to finally find her "true love." She also shared her hopes for the character.
"I really want Jo to have a family," Luddington said. "I think that's something she's craving, and I think that it's something that she loves the idea of. So I would like to see her happy with a partner, whoever that is … and maybe some kids."
As as for Jo's progress on Grey's Anatomy Season 17, it seems the character is starting to find her way. Her "friends with benefits" relationship with Jackson seems to be working out just fine. Meanwhile, in the above interview with Entertainment Tonight, Luddington revealed Jo isn't in love with Alex anymore. However, she's still stuck on the idea of their future together.
"At this point, I don't think she's in love with him anymore," Luddington said. "That would be my guess. She's not in love with him anymore. But she was in love with the life they had and the idea of the future they had together. And I think that might be more painful to let go of for her. So I think it's not the person anymore. I think it's what they had."
Check out Showbiz Cheat Sheet on Facebook!