'Grey's Anatomy': Katherine Heigl Totally Faked Her Audition for Izzie Stevens
Katherine Heigl left Grey's Anatomy in 2010 after six seasons as Izzie Stevens on the long-running medical drama. Did the star's true colors come out after her faked audition so many years ago?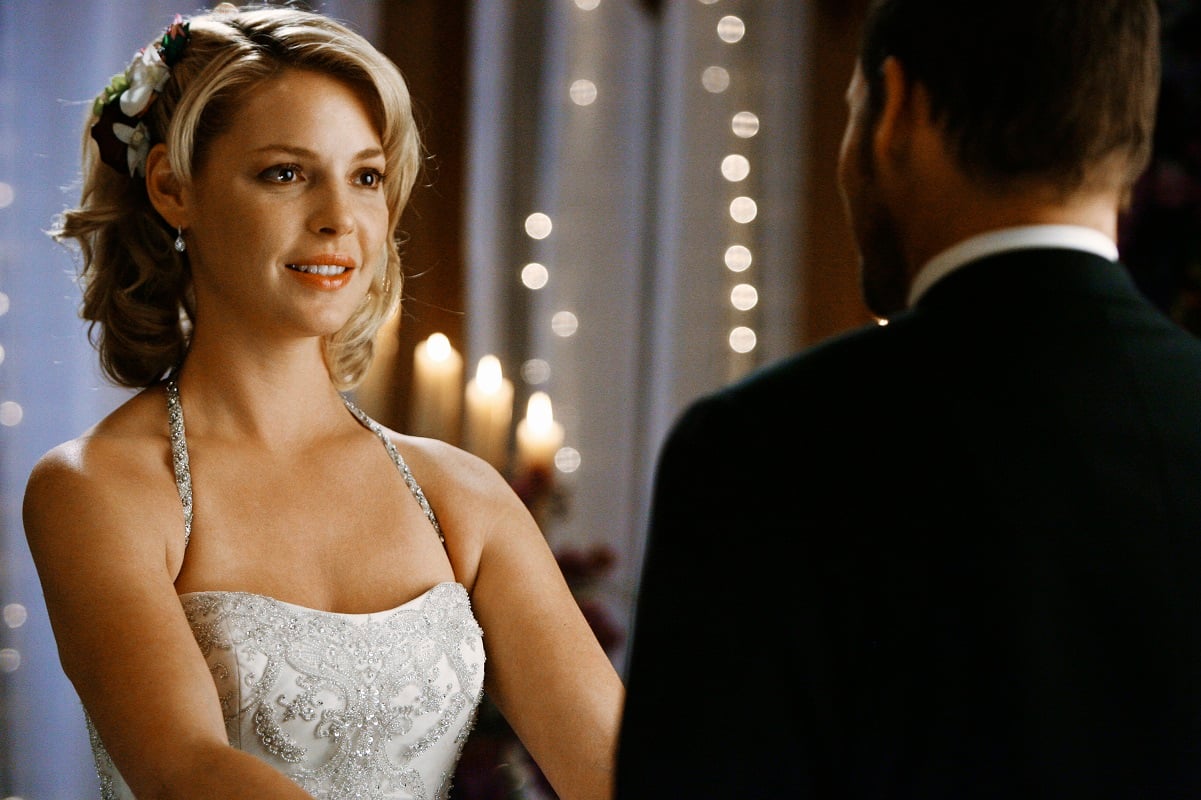 Why did Katherine Heigl leave 'Grey's Anatomy?'
Only two years into Grey's Anatomy, Heigl was the first actor to win an Emmy for the show. She also starred in Knocked Up and 27 Dresses because of her newly found fame with Grey's. However, when Heigl was nominated for another Emmy, she pulled out of the running, unexpectedly.
"I did not feel that I was given the material this season to warrant an Emmy nomination. In an effort to maintain the integrity of the academy organization, I withdrew my name from contention," the star said at the time. "In addition, I did not want to potentially take away an opportunity from an actress who was given such materials."
The Grey's Anatomy cast felt the move was an insult to the creator and producer of the show, Shonda Rhimes. There were reports at the time about tension on set. Then on March 11, 2010, the Suits star didn't show up for work, and Rhimes released Heigl from her contract.
On March 11, 2010, Heigl reportedly did not show up for work on the show, and Rhimes reached an agreement to release Heigl from her contract immediately.
How did Katherine Heigl fake her audition for Izzie Stevens?
In an interview at the Paley Center for media, Heigl spilled all the juicy details about her audition for Izzie.
"I went in and read the script and loved the role," Heigl told the panel. "I loved the idea that I could go in and play something that was so against the type that I generally get cast as."
Before Grey's Anatomy, Heigl played mostly small parts. She starred in the TV series Roswell in 1999 as Isabel Evans. She was the sister of Max Evans, and was romantically connected to Alex. The star spent a lot of time starring in romantic comedies.
"I put my glasses on," she continued. "I put my hair back, and I didn't wear any makeup, and I put a sweatshirt on. [Heigl] tried to be all, 'I'm really smart.' I could be a surgeon. They totally bought it."
Heigl even wanted to dye her hair brunette to become Izzie, but it was requested that she keep her natural color. During the panel, Heigl makes everyone laugh with her comment. However, looking at what happened between her and Rhimes, it seems like Rhimes regrets hiring Heigl at all.
What happened to Izzie Stevens on 'Grey's Anatomy'?
During season 6, episode 12, Izzie divorced Alex and left Seattle, Washington. She didn't get the send-off episode that many others did. However, many years later, fans finally got closure for Izzie's storyline.
Alex Karev (Justin Chambers) reached out to Izzie for help in Meredith Grey's (Ellen Pompeo) medical license hearing. When he spoke to her, he found out that his ex-wife became a surgical oncologist in Kansas. Plus, she now has twins, which are his.
RELATED: 'Grey's Anatomy': Does Alex Karev End Up With Izzie Stevens and 2 Children?
During season 5 of Grey's, Izzie and Alex froze embryos before undergoing chemotherapy for stage IV metastatic melanoma. Izzie revealed that she used those embryos to give birth to twin boys who are now five years old — Alexis and Eli.
In Chambers' final episode, fans discover that Alex moved to Kansas to be with Izzie and his children. He sent letters to Jo Wilson (Camilla Luddington), Miranda Bailey (Chandra Wilson), and Meredith to let them know what happened.