'Grey's Anatomy': Katherine Heigl Worried the Show Wouldn't Last After McDreamy's Death: 'It's So Hard to Picture'
'Grey's Anatomy' stars Katherine Heigl and Patrick Dempsey played Izzie Stevens and Derek Shepherd. The 'Knocked Up' actor shared why the show couldn't go on without McDreamy.
Katherine Heigl played Izzie Stevens on Grey's Anatomy from seasons 1-6. Her character was a surgical resident during her run and worked alongside Dr. Meredith Grey (Ellen Pompeo). However, Izzie got written off the show amid Heigl's real-life exit. 
Although she left Grey's in 2009, Heigl continued to answer questions about the long-running medical drama. In 2015, she shared her thoughts on the shocking death of Dr. Derek Shepherd, aka McDreamy (Patrick Dempsey)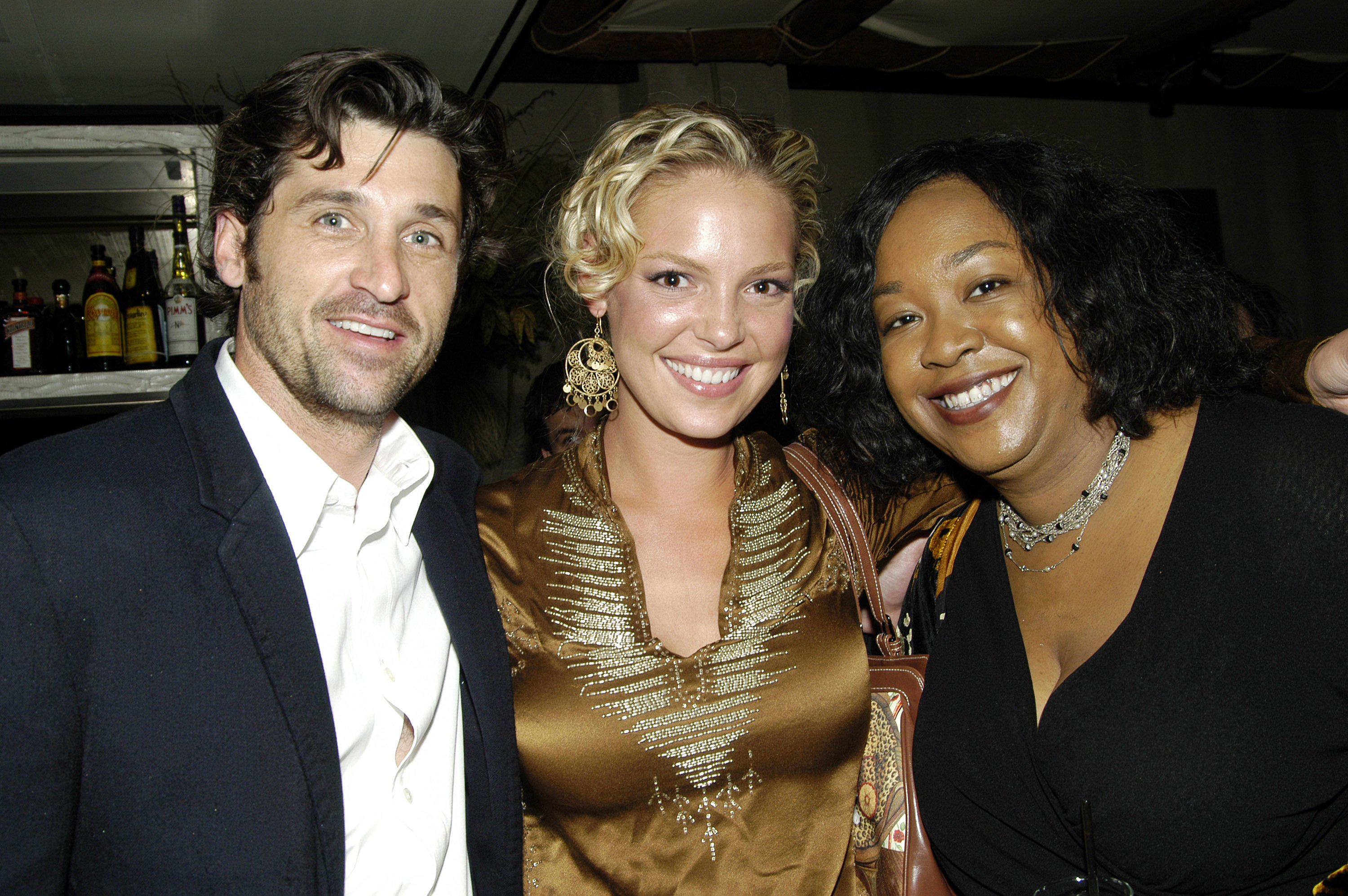 Katherine Heigl couldn't imagine 'Grey's Anatomy' surviving without McDreamy
Grey's Anatomy aired its pilot episode, "A Hard Day's Night," on March 27, 2005. It was then that viewers first watched the love story between Derek and Meredith. The couple met the night before Meredith's first day as a surgical intern at Seattle Grace Hospital. After their sexual encounter, she found out that Derek is her boss. 
Meredith and Derek survived a pop-up from his estranged wife, Addison (Kate Walsh) a post-it marriage, and two kids throughout the series. However, the couple was seemingly headed for trouble in season 11 when Derek got a job offer in Washington. Eventually, though, they decided to work on their marriage, and Derek declined the offer. Unfortunately, in Season 11, Episode 16, "How to Save A Life," he died after getting hit by a truck while saving several car crash victims. 
Derek Shepherd's death remains one of the most heartbreaking moments in Grey's history. When asked about the episode, Heigl told Entertainment Tonight that she couldn't fathom seeing the series without the love of Meredith's life. 
"I just can't imagine the show without McDreamy," she said. "It's just so hard to picture."
Katherine Heigl's last episode on 'Grey's Anatomy' 
As Izzie, Heigl played a caring medical resident who worked as a model to pay her way through medical school. During the first six seasons of Grey's, Izzie couldn't balance being a hardcore surgeon and her natural kindness. However, she completely crossed her boundaries when she fell in love with her patient, Denny Duquette (Jeffery Dean Morgan). When Denny died in season 2, Izzie found support in Meredith and their friends Cristina Yang (Sandra Oh), Alex Karev (Justin Chambers), and George O'Malley (T.R. Knight). 
In season 5, Alex and Izzie went from good friends to a steady couple. During the same season, Izzie received a cancer diagnosis. Izzie and Alex decided to get married when they thought she wouldn't survive. However, the honeymoon ended after Izzie got fired due to the hospital's merger. After blaming Alex, she left Seattle. When she returned in season 6, episode 12, "I Like You So Much Better When You're Naked," Alex asked Izzie for a divorce. Heigl left the series following the episode's release. 
Have Heigl or Dempsey returned to 'Grey's'? 
Grey's Anatomy shocked fans in 2020 when Chambers announced he was leaving the series after 16 seasons. In a statement, the actor said he wanted to move on to work on other projects. For Alex's final episode, viewers discovered the surgeon left his wife, Jo Wilson (Camilla Luddington), for Izzie. Additionally, Izzie secretly gave birth to the couple's twins, Eli and Alexis. Although the characters were the focus of Alex's farewell episode, neither of them appeared physically, so the show displayed their earlier scenes. 
Since Heigl's exit, there haven't been any plans for her to return to Grey's. As for Dempsey, he reprised McDreamy during season 17. When Meredith contracted coronavirus (COVID-19), Derek joined her on her dream beach in several episodes. 
Heigl currently stars in Firefly Lane on Netflix.