'Grey's Anatomy': Kevin McKidd Says Teddy Cheating on Owen Is 'Karmic Payback' for What He Did to Cristina
Whether you love him or hate him, Owen Hunt (Kevin McKidd) has had quite the journey on Grey's Anatomy. The trauma surgeon first appeared in the fifth season as Cristina Yang's (Sandra Oh) love interest. But his actions consistently proved he was not her perfect match. Then as time went on, Owen continued to screw up his relationships with Amelia Shepherd (Caterina Scorsone) and his best friend, Teddy Altman (Kim Raver). 
Now, the tables have turned for Owen after Grey's Anatomy Season 16. The character thought he would finally receive his happily ever after with Teddy. Nevertheless, Owen caught Teddy cheating with Tom Koracick (Greg Germann). But after everything Owen put Cristina through, even McKidd sees Teddy's infidelity as "karmic payback" for his character.
Teddy cheated on Owen with Tom in 'Grey's Anatomy' Season 16
In Grey's Anatomy Season 8, Cristina had an abortion and Owen held the decision against his wife, even having an affair. Eventually, Cristina forgave Owen for cheating. But in the end, the couple faced too many differences. Cristina knew she didn't want children, whereas Owen desperately wanted a family. So they divorced and tried to discover happiness elsewhere. 
Following Cristina's exit in Grey's Anatomy Season 10, Owen found love again with Amelia. But once again, Owen seemed to pressure his new partner into having kids and the pair split. And while Owen and Amelia briefly got back together amid a love triangle with Teddy, Owen ultimately chose his best friend.
During the Grey's Anatomy Season 16 finale, Teddy and Owen were supposed to get married. However, Teddy was also sleeping with Tom. She also said she was still in love with him. Meanwhile, the cheating couple accidentally left an explicit voicemail for Owen during one of their hookups. So Owen didn't show up at his wedding and claimed he was pulled into a last-minute surgery. Now, fans must wait to see the aftermath when Grey's Anatomy returns for season 17.
Kevin McKidd discusses Owen's history with cheating on 'Grey's Anatomy'
During the Quaranstreaming: Comfort TV That Keeps Us Going panel published on July 21, McKidd joined Grey's Anatomy showrunner Krista Vernoff and Chandra Wilson, who plays Miranda Bailey, to discuss the Shondaland series. Then midway through the segment, McKidd revealed working with Oh was one of his high points on the show. 
"We had a lot of episodes, Sandra and I, where we would sort of lock ourselves into therapy rooms and into our apartment and we would try and work through all of that stuff that cheating brings up," McKidd said. "Just to get to work those scenes with Sandra in such an intimate way, with such a brilliant actress, was such a gift for me. And I learned so much as an actor."
McKidd also touched on the stark parallels between Owen's relationship with Cristina and the character's romance with Teddy in Grey's Anatomy Season 16. But now, Owen is in Cristina's shoes.
"It's interesting where Owen's character is right now because that episode was not meant to be our finale. And now, it's like Owen finds out that Teddy is cheating on him," he said. "I remember the season where Owen cheated on Cristina. And this is kind of karmic payback, I think, for Owen's cheating."
What will happen to Teddy and Owen in 'Grey's Anatomy' Season 17?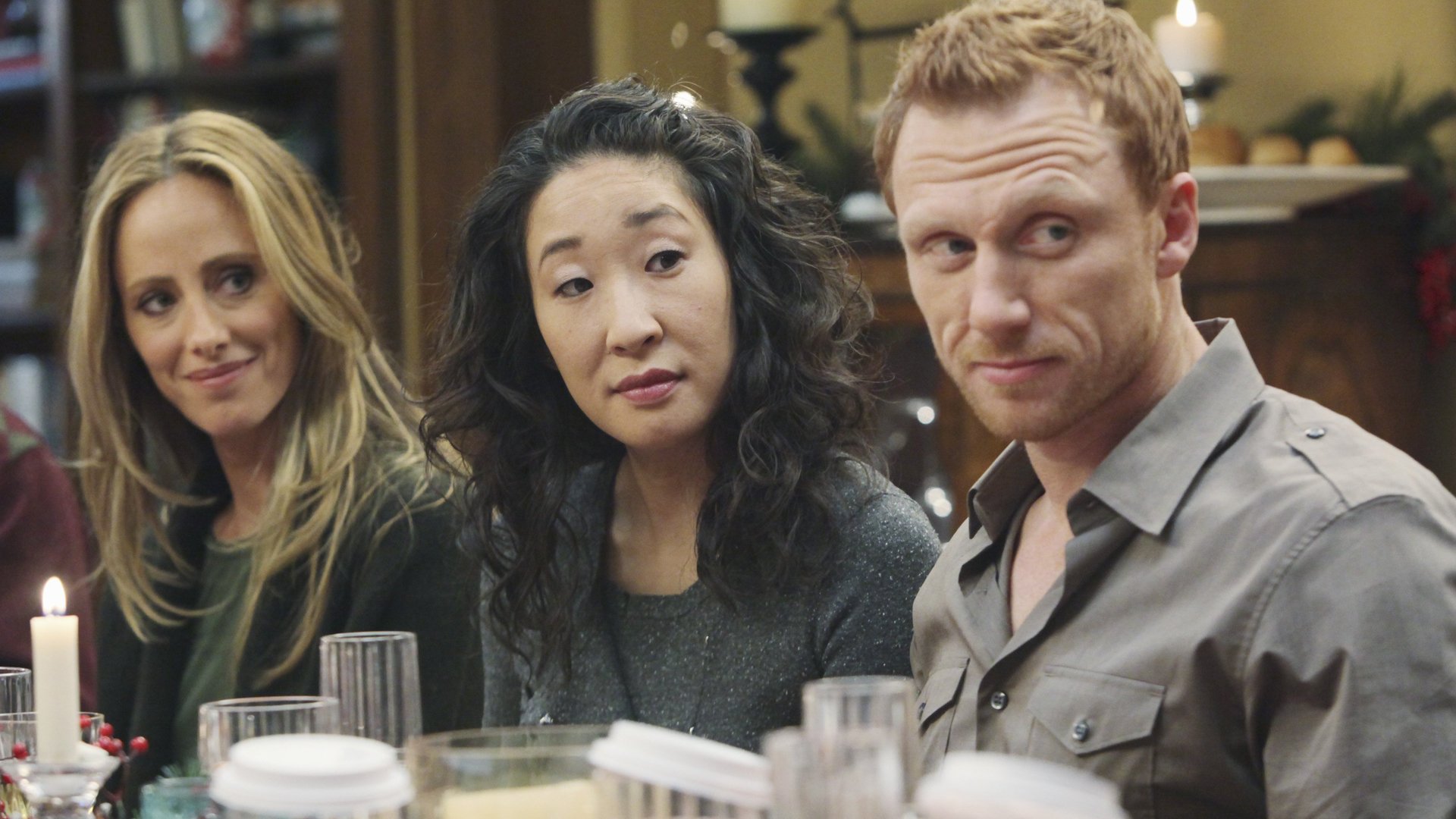 As McKidd mentioned, Owen's discovery of Teddy and Tom's affair wasn't supposed to be part of the Grey's Anatomy Season 16 finale. The season was cut short due to the coronavirus (COVID-19) pandemic. So it's possible the Owen, Teddy, and Tom love triangle would have been resolved by the original finale. 
"That [triangle] was very prevalent in the back half of this season, and certainly prevalent in what was going to be the next four scripts," Vernoff told TVLine in April 2020. "I feel a little badly for Kim Raver that we had to end the story where we did.  I feel like she is going to absorb a lot of fan hate all summer."
Even so, McKidd will have to tap into what he learned from sharing a screen with Oh during Grey's Anatomy Season 8 because the cheating storyline will continue in the 17th cycle. But will things end for Owen and Teddy as they did with Cristina? That's up in the air for now.
"All three of them feel like whole, rich and conflicted human beings," Vernoff said. "My empathy and sympathy changes from week to week and scene to scene. I think it's a really beautiful story. And I don't know where it ends."
Check out Showbiz Cheat Sheet on Facebook!