'Grey's Anatomy': Kim Raver Was So Embarrassed She Asked To 'Get Under the Table' During the Table Read in Season 17
While Grey's Anatomy was on winter break, Kim Raver and the rest of the cast got together for a live reunion on Stars in the House. During the live question and answer session, the actor who portrays Teddy admitted she was so embarrassed by her lines in season 17 she asked to "get under the table."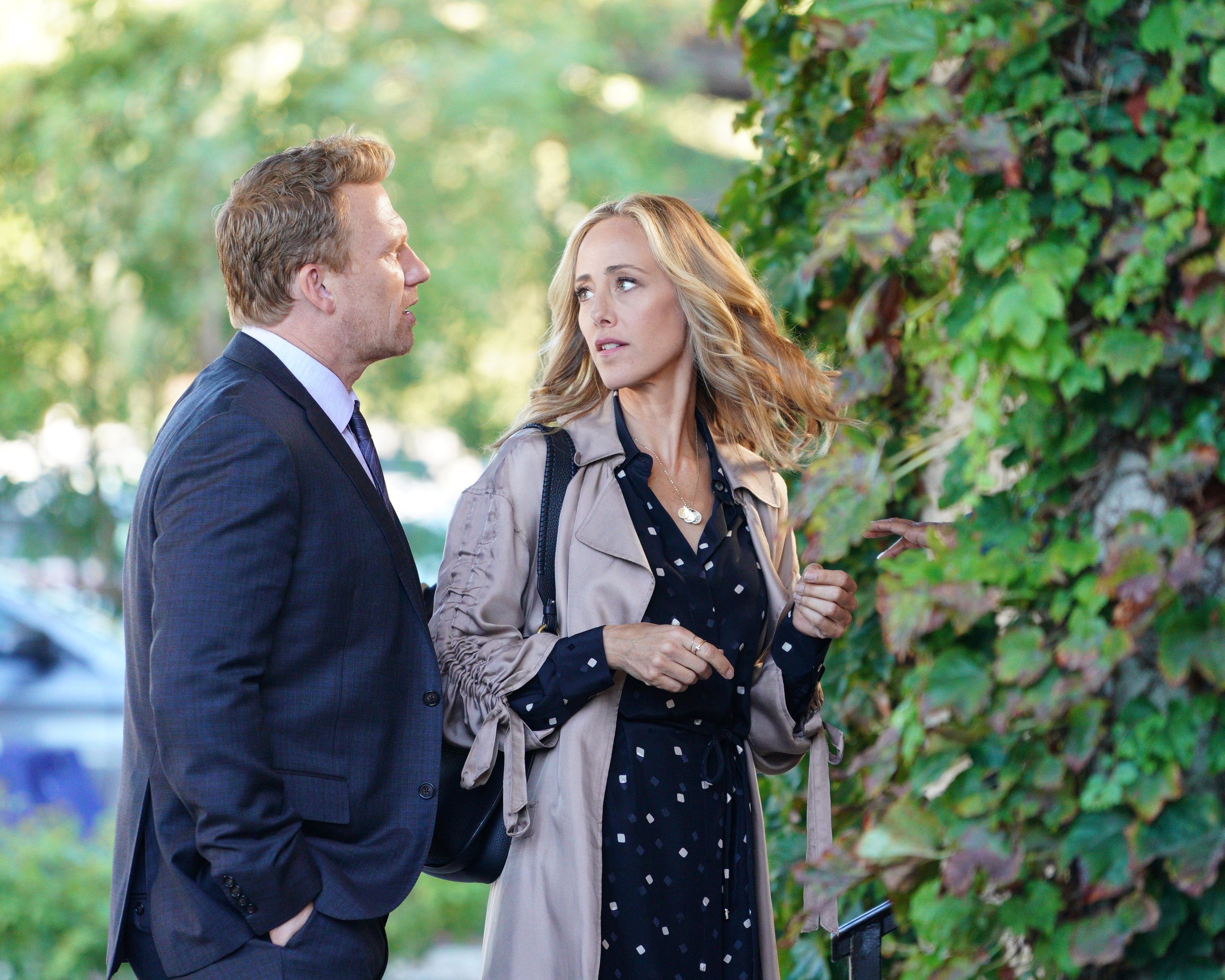 'Grey's Anatomy' star Kim Raver is not happy with Teddy's storyline in season 17
Raver's character, Teddy Altman, was cheating on Owen Hunt (Kevin McKidd) on Grey's Anatomy. However, she still planned to marry Owen. On the day of her wedding, she had sex with Tom Koracick (Greg Germann) one last time but told him that things were over. Little did she know, her phone recorded the entire thing in a call to Owen, played in the operating room where he was working.
"I know the fans are so upset about it," Raver told Stars in the House. "I'm upset about it too, but it's peeling back the onion of who we are."
Although Raver is not happy about the storyline, she knows that healing will come from her mistakes. 
"I think this is the quintessential Grey's, showing the complexity of human beings," Raver added. "It's not perfect people doing perfect things all the time. For me, it's that we are flawed. She has stepped into a really bad cycle in her life and what's going to be amazing is how she reaches out to the other people in the hospital for her healing." 
Raver was so embarrassed she asked to 'get under the table' while reading her lines
Before the actors film Grey's Anatomy, they get together for a table read of the episode. As a seasoned actor, Raver is accustomed to this part of the process. However, there was one moment in season 17 she did not want to read.
"At the table read, I was like, can I get under the table?" Raver told the outlet. "I had to make those noises over and over again."
As if reading the lines, making sex sounds, wasn't mortifying enough, Raver described another moment that was worse.
"They have speakers everywhere," she added. "They do playback, and they didn't gauge the sound, and there were like 500 of me or of Teddy having that moment."
The actor described it as one of the most embarrassing moments of her career.
Kevin McKidd believes that Teddy and Owen will 'be fine'
During the cast reunion, one fan asked whether or not Teddy and Owen will get back together. 
"Teddy and Owen have been through so so much," McKidd responded. "Owen has not been a saint, so people in glass houses, ya know. Owen is really hurt, and I think they are going to be fine. I think there is going to be some healing going on."
Grey's Anatomy fans have followed Teddy and Owen's story since season 5, and they know how much the best friends have been through.
"They have been through war together, so they can get through this," McKidd added.