'Grey's Anatomy': Krista Vernoff Addresses Alex Karev's Last Episode
Regardless of what happened on Thursday, March 5, Grey's Anatomy fans knew they would have a hard time watching Alex Karev's (Justin Chambers) last episode. But when the final goodbye aired on ABC, viewers were even more overwhelmed than expected. Ultimately, most people were disappointed with how Alex left. That said, it seems the Grey's Anatomy team was aware of how the fandom would react to Alex's departure. After "Leave a Light On" made its debut, showrunner Krista Vernoff issued a statement that truly captured the essence of the episode — there is no good way to say goodbye.
[Spoiler alert: Grey's Anatomy Season 16, Episode 16.]
How was Alex Karev written out of 'Grey's Anatomy'?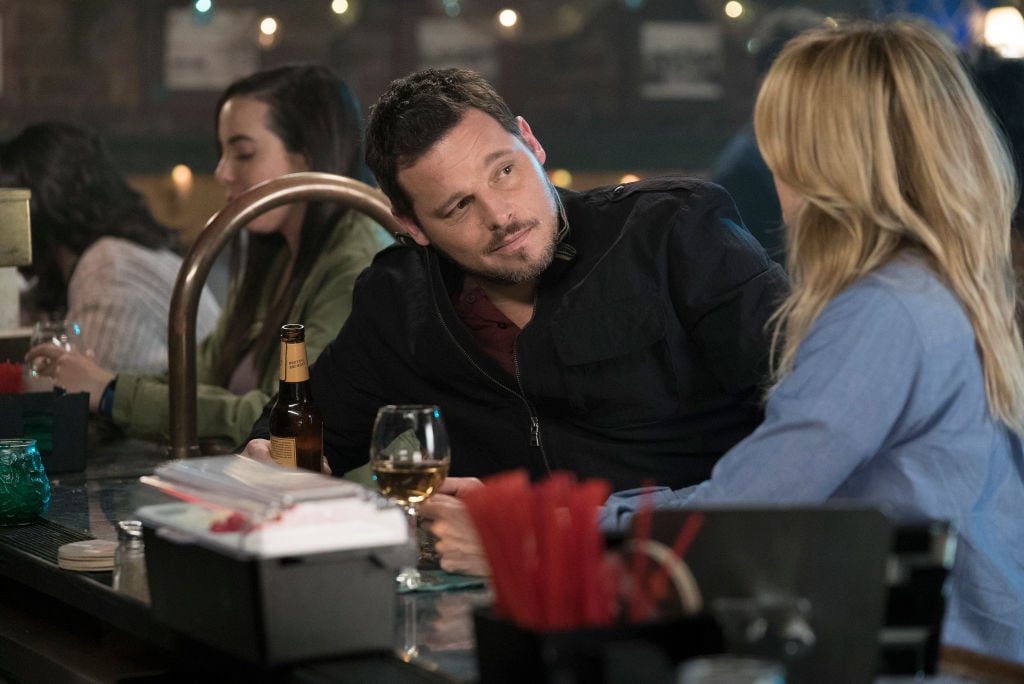 On Jan. 10, Chambers released a statement announcing his departure from Grey's Anatomy after 16 seasons.
"There's no good time to say goodbye to a show and character that's defined so much of my life for the past 15 years," Chambers said, per Deadline. And then Chambers' statement ruminated throughout Alex's last episode on Grey's Anatomy.
Chambers hasn't appeared in a new episode since the 350th special in November 2019. So the writers excused his character's absence, noting Alex was in Iowa to take care of his mom. But even so, the 49-year-old's voice made a cameo in the March 5 episode.
In "Leave a Light On," Alex sent letters to Meredith (Ellen Pompeo), Jo Wilson (Camilla Luddington), Miranda Bailey (Chandra Wilson), and Richard Webber (James Pickens Jr.). And each letter was narrated by Chambers.
In the letters, everyone discovered Alex's true fate. Apparently, the peds surgeon reconnected with Izzie Stevens (Katherine Heigl) after contacting her for Meredith's hearing in the 350th episode. During their conversation, Alex learned Izzie had kids. And get this — they're his kids. Remember the couple had frozen embryos from when Izzie had metastatic melanoma.
Eventually, one thing led to another and Alex chose to stay with Izzie and raise their family together in Kansas. Thus, leaving everyone — including his person, Meredith, and wife, Jo — behind. "I'm finally exactly where I should be," Alex said.
Then at the end of the Grey's Anatomy episode, Meredith's narration loomed over the remaining characters as they continued living on. "There's really no good way to say goodbye," she said.
'Grey's Anatomy' showrunner Krista Vernoff on Alex Karev's last episode on March 5
Following "Leave a Light On," Vernoff addressed the Alex's last episode on Grey's Anatomy. The showrunner thanked Chambers for his portrayal and what Alex has done for fans across the globe in the 15 years onscreen. Vernoff also touched on how difficult it was to let the character go.
"It is nearly impossible to say goodbye to Alex Karev," Vernoff wrote on Twitter. "That is as true for me and for all of the writers at Grey's Anatomy as it is for the fans. We have loved writing Alex. And we have loved watching Justin Chambers' nuanced portrayal of him."
She continued: "For 16 seasons, 16 years, we have grown up alongside Alex Karev. We have been frustrated by his limitations and we have been inspired by his growth and we have come to love him deeply and to think of him as one of our very best friends. We will miss him terribly. And we will always be grateful for his impact, on our show, on our hearts, on our fans, on the world."
It's difficult to imagine how Grey's Anatomy continues without Alex. As Vernoff — and the March 5 episode — told us, there wasn't really a good way to say goodbye, given the situation. So for now, we'll look towards the remaining characters to help us move forward.
When speaking with Variety before "Leave a Light On" aired on ABC, Vernoff explained how Alex's departure will affect Jo. And from the sounds of it, Jo will still remain strong. However, it might take some time.
"Jo went through so much pain and so much grief just last season that I wanted to be careful," Vernoff said. "And so it's a bit of a mystery [what's going on with Alex], so that we don't watch Jo in the same place that we watched her in last season. We did it as carefully as we could. But it takes a while to get there."
Read more: 'Grey's Anatomy': Is Richard Webber Leaving? Fans Are Worried About the Character's Future