'Grey's Anatomy': Are Meredith and Alex Still Friends After the Big Season 16 Exit?
Grey's Anatomy Season 16 has officially dropped on Netflix, which means more members of the fandom have access to Alex Karev's (Justin Chambers) grand exit. The episode titled "Leave a Light On" answered what happened to the character. However, viewers were left heartbroken for Alex's wife, Jo Wilson (Camilla Luddington), and his person, Meredith Grey (Ellen Pompeo). Of course, it's safe to assume Jo is on her way to moving on. But are Meredith and Alex still friends after Grey's Anatomy Season 16? Here's where the two left things.
How Alex left Meredith in 'Grey's Anatomy' Season 16
In Grey's Anatomy Season 16 Episode 16, Alex sent Meredith, Jo, Richard Webber (James Pickens Jr.), and Miranda Bailey (Chandra Wilson) letters to explain his departure. Then in his letter to Meredith, Alex admitted his person could have talked him out of leaving — but that's not what he wanted.
"The thing is, I can't come back," Alex wrote. "I can't face you. I deserve the guilt and to be called an a**. But I don't want to be set straight. I don't want you to say the right thing because the one perfect thing isn't in Seattle, not anymore."
Later, Alex revealed he was with Izzie Stevens (Katherine Heigl). Apparently, when the pediatric surgeon called his ex-wife about Meredith's medical license hearing, he found out Izzie used their embryos that were made when she had cancer. Now she lived in Kansas with their twins. So Alex realized he was still in love with Izzie and moved to be with her and the kids.
For the most part, Meredith's face as she read the letter looked like everyone watching from home — confused. But then Meredith lit up once Alex gushed over his children. And finally, Alex told her she could be her own person.
"You always said Cristina was your person. Then I was your person. But you've always been your own damn person, a force of freaking nature," Alex wrote. "You've never needed anyone but you … Mer, you are my best friend and I will miss the hell out of you. But I'm finally exactly where I should be."
Despite the heartwrenching goodbye, it seems the door is still open between Meredith and Alex on Grey's Anatomy. When he signed off his letter to his former person, Alex hinted he still wanted Meredith in his life.
"I hope you do come here one day, but not to ask me to leave," Alex wrote. "I hope you come to meet my kids and they get to call you 'Auntie Mer' because you'll love them and they'll love you. And until you're ready to do that, try not to hate me too much."
'Grey's Anatomy' showrunner discusses the possibility of Alex's return in the future.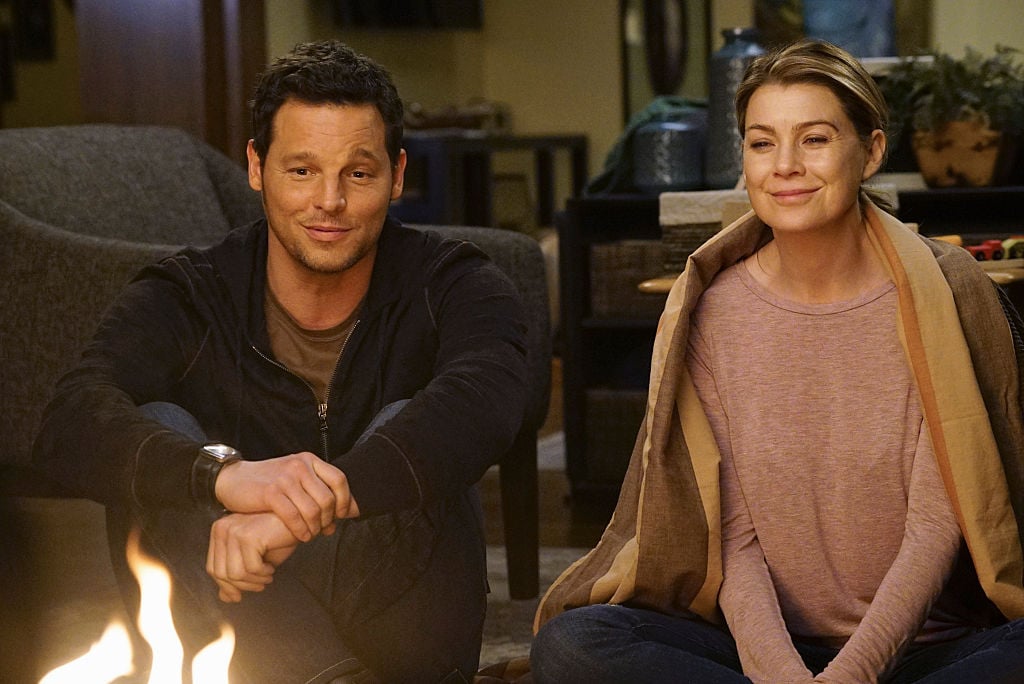 All of the flashbacks of Meredith and Alex in Grey's Anatomy Season 16 Episode 16 showed the strength of their relationship. And while ditching his person without a word could have potentially destroyed all that development, it seemed Alex's final remarks in the letter indicated the two friends will be just fine with time.
Meanwhile, Alex's ending on Grey's Anatomy leaves the door open for the character's return in the future. And in an interview with Deadline released in April 2020, showrunner Krista Vernoff answered whether there was a chance Chambers or Heigl would reprise their roles.
"When I left the show in Season 7, people asked me if there was any chance of me ever coming back, and I was smart enough to say, 'Never say never,'" Vernoff said. "Here I am, so who knows?"
Now, if Meredith and Alex can maintain their friendship on Grey's Anatomy, fans hope the peds surgeon will turn up via text. This is something we've already seen with Cristina Yang (Sandra Oh). However, when asked about Alex's virtual presence during an interview with Variety, Vernoff stated things still need to be discussed as the show moves into its 17th season.
"Oh, gosh, I just don't know," the showrunner said. "I think we should talk again in May after I've had a few weeks with the writers."
Well, it's been a month and Vernoff recently spoke with TVLine, confirming pre-production for Grey's Anatomy Season 17 will start soon. "I'm going to start up the writers' room in May, but it's going to be 'Zoom room,'" Vernoff said. "The hope is that we will be able to start production when we usually do, which is in July. But we have to wait and see how this thing plays out, obviously."
As the Grey's Anatomy team prepares for next season, it'll be interesting to see whether they continue Meredith and Alex's friendship going via text. But no matter what happens, we're excited to see what the medical drama has planned moving forward.
Read more: Why 'Grey's Anatomy' Fans Believe the Series Finale Will Pay Tribute to Meredith and Derek