'Grey's Anatomy': Meredith And Derick's Most Romantic Moments Ranked
Meredith's (Ellen Pompeo) romance with Derek (Patrick Dempsey) is easily one of the best in the history of Grey's Anatomy. Their epic relationship started as a one-night stand and evolved into something that lasted until Derek's tragic passing in Season 11. Here's a quick ranking of all of Meredith and Derek's most romantic moments on Grey's Anatomy.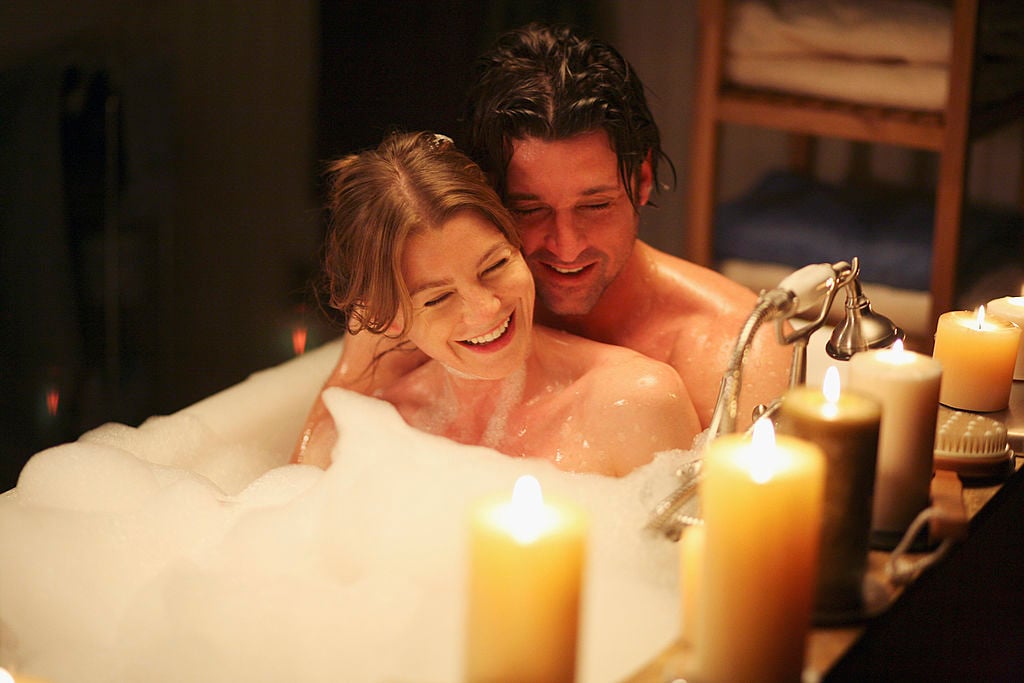 8. Start of a lasting romance
This list would not be complete without mentioning how Meredith and Derek's romance began. After enjoying what they thought was a one-night stand, it was clear to fans that the two shared some real chemistry. Little did Meredith know that her steamy hookup was actually her boss at Grey Sloan Memorial. Fortunately for us, the two got past their awkward moments and sparked up something truly memorable.
7. Meredith's epic speech
In Season 2 of Grey's Anatomy, Derek was having a difficult time choosing between Addison and Meredith. To help make things crystal clear, Meredith put her heart on the line and gave him one of the most heartfelt talks in the history of the show. Towards the end of the speech, she even admitted that she loved him. Derek may not have picked Meredith at the time, but he eventually realized the error of his ways and won her back.
6. A proposal we'll never forget
Once their relationship was on solid ground, Derek knew it was time to pop the big question. Derek picked the perfect spot for the engagement and one we will never forget. Derek got on bended knee in the elevator that he and Meredith had spent so much time together over the years. He even decorated the tiny space in X-rays from cases they had done. Needless to say, it didn't take much convincing to get Meredith to say yes.
5. Meredith almost dies
Back in Season 3, Meredith experienced a close brush with death when she almost drowned. Luckily, Derek was on hand to rescue her from the cold waters. Even though his actions were heroic, Meredith still almost died at the hospital. If it had not been for Derek's quick thinking, there is a very real possibility that Meredith would have perished in that lake.
4. The candle house
The candle house in Season 4 of Grey's Anatomy might be one of the most romantic scenes in the history of Meredith and Derek's relationship. In an unexpected gesture, Meredith surprised Derek by using over a hundred candles to outline the home they were planning to build for each other. According to ABC, Meredith then told Derek that they could do extraordinary things, but only if they are together.
"I don't know if I trust you," Meredith shared. "But I'm going to try because I believe we can be extraordinary together rather than ordinary apart."
3. The post-it note scene
We are pretty confident that Meredith and Derek's vows would have been amazing in front of a large crowd, but it would have been hard to beat the post-it note version we saw in Season 5. The two wrote out their vows on blue post-it notes in a heartfelt moment, not to mention that they actually saved a lot of wedding money in the process.
2. Derek almost dies
In Season 6 of Grey's Anatomy, Derek suffered a serious gunshot wound at the hands of a vengeful person inside the halls of Seattle Grace. But instead of waiting to get Derek into the operating room, Meredith took things into her own hands and offered to sacrifice herself to the gunman. Even though Derek was not conscious to see it happen, Meredith's actions were one of the bravest points of their relationship.
1. The adoption
Derek was always open about his desire to have children with Meredith, and he finally made it happen in Season 7. In what proved to be an inspiring moment, Derek and Meredith adopted a baby daughter named Zola, who could not have been cuter. Two seasons later, Derek learned that Zola was about to become a big sister after Meredith dropped the news that she was expecting her first.
Derek and Meredith remained close until Dempsey's departure from the show after Season 11. Pompeo, of course, is still on the medical drama and is gearing up for Season 16 of Grey's Anatomy.