'Grey's Anatomy': Will Meredith Grey and Andrew DeLuca Get Back Together in Season 17? Giacomo Gianniotti Opens Up About the Romance
'Grey's Anatomy' Season 17 star Giacomo Gianniotti on the Meredith Grey, Andrew DeLuca, and Cormac Hayes (McWidow) love triangle who will end up together.
Buckle up, Grey's Anatomy fans — the love triangle between Andrew DeLuca (Giacomo Gianniotti), Meredith Grey (Ellen Pompeo), and Cormac "McWidow" Hayes (Richard Flood) is far from over. 
At the end of last season, viewers were left wondering whether Meredith would end up with DeLuca or McWidow. Technically, DeLuca broke up with the general surgeon midway through the cycle, and she started flirting with the newcomer. But even so, Meredith proved time and time again she still cared for the surgical resident. 
Now, will Meredith and DeLuca get back together in Grey's Anatomy Season 17? Recently, Gianniotti teased the couple's storyline moving forward. And there's a lot to unfold when the ABC medical drama returns.
Meredith Grey and Andrew DeLuca did not end up together in "Grey's Anatomy' Season 16
As mentioned, Meredith and Andrew split in Grey's Anatomy Season 16. Throughout the season, the surgical resident struggled with his mental health. Then when Meredith confronted her boyfriend about his behavior, he ended the relationship. 
"I don't need this and I don't need you," he said. "So we're done."
A few episodes later, Meredith told DeLuca she still loved him, hinting things weren't really over between the two. However, the romance took a back seat to DeLuca's mental health storyline. Then in the Grey's Anatomy finale, DeLuca broke down in front of Meredith after saving Richard Webber (James Pickens Jr.).
"I don't know what's going on," DeLuca said, crying as Meredith got him on his feet and brought him home.
Giacomo Gianniotti teases Meredith Grey and Andrew DeLuca's storyline in 'Grey's Anatomy' Season 17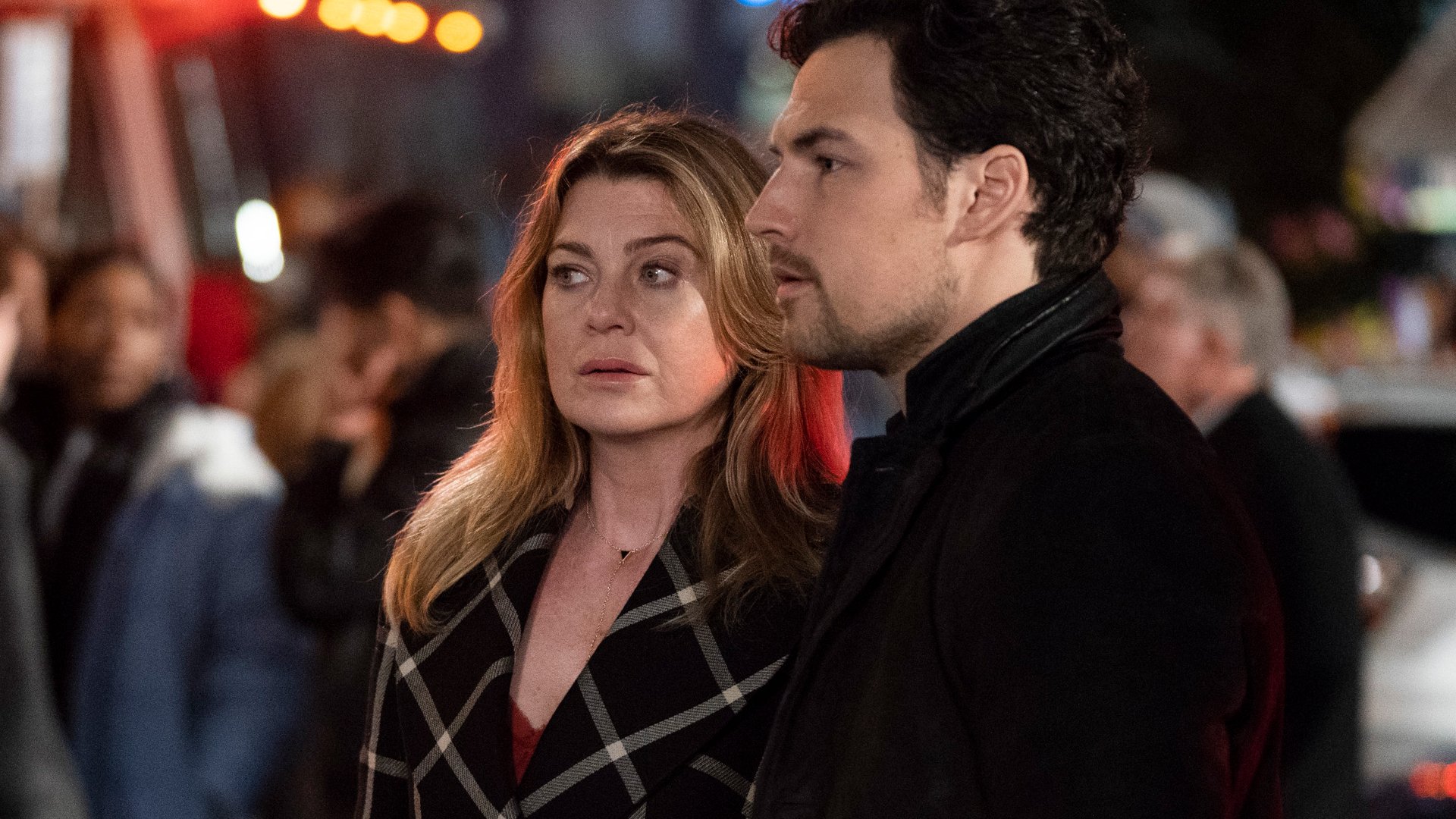 In an interview with Entertainment Tonight published in August 2020, Gianniotti revealed DeLuca's mental health storyline will "continue to be explored" in Grey's Anatomy Season 17. The actor also hinted his character will try to make amends with Meredith.
"I think this season will feature a lot of DeLuca trying to make up for his wrongs, things he said, things he did 'cause he's unstable," Gianniotti said. "And Meredith, trying to reconcile that or not."
That said, McWidow will still be vying for Meredith's heart. Gianniotti suggested the new character is in it for the long haul, as Flood was recently upped to a series regular.
"I think it's something that we still are interested in," Gianniotti said. "We still want to play that. It's fun to watch. That's why they [promoted] him to series regular. So we could really have him around for a while and really tell that story — and not have to tell it in a short time. But have a season or so to tell that."
Giacomo Gianniotti explains why Meredith Grey and Andrew DeLuca are a good match on 'Grey's Anatomy'
Still speaking with Entertainment Tonight, Gianniotti delved deeper into the love triangle between McWidow, Meredith, and DeLuca on Grey's Anatomy. 
"In the beginning… I think it was clear [DeLuca] was having a hard time getting his foot in the door in that triangle," Gianniotti said. "And by the end of it, because of DeLuca's mental health, he really did not do any great favors for himself or for Meredith in terms of their relationship."
The actor also pointed out this caused Flood's character to appear "much more desirable and stable and more of a compatible partner." Though it seems Gianniotti believes Meredith and Andrew could still make a good match in Grey's Anatomy Season 17. 
"They definitely have a great compatibility," he said. "I definitely think they have a lot of chemistry… I think of them as people who are opposites but you're attracted because of that. You sort of complement each other or fill each other's gaps."
He continued, "They're yin and yang in the sense that they're in different places in their lives. They've had different experiences in their lives, and these are the things that complete each other. But I think that they have a good shot."
Whether or not Meredith and DeLuca get back together when Grey's Anatomy comes back for season 17, it seems like the love triangle with McWidow won't be resolved anytime soon. So stay tuned. This one's going to be interesting.
Check out Showbiz Cheat Sheet on Facebook!