Why 'Grey's Anatomy' Fans Don't Believe in Meredith Grey and Andrew DeLuca's Romance
It's hard not to get invested in Meredith Grey's (Ellen Pompeo) love life after 16 seasons of Grey's Anatomy. Early on, the Shondaland series introduced an epic — and often complicated — romance between Meredith and Derek Shepherd (Patrick Dempsey). Then long after Derek died in Grey's Anatomy Season 11, Meredith found love again with Andrew DeLuca (Giacomo Gianniotti). 
Although hesitant, viewers were excited about Meredith and DeLuca's potential, especially since the roles were flipped from the lead character's story with Derek. But now it seems Grey's Anatomy fans still aren't convinced by Meredith and DeLuca's romance, noting it continues to pale in comparison to the general surgeon's extraordinary chemistry with McDreamy. 
Meredith Grey says she loves Andrew DeLuca after their breakup on 'Grey's Anatomy'
DeLuca has been struggling with his mental health throughout Grey's Anatomy Season 16. According to Meredith, the resident hasn't been sleeping, eating, or acting like himself. He has also been making risky decisions when it comes to his patients. Then in the 14th episode, DeLuca broke up with Meredith after she confronted him about his behavior.
"I don't need this and I don't need you," he said. "So we're done. I'm done."
Four episodes later, DeLuca was suspended for calling out a suspected human trafficking case. And as a result, the character tried to quit Grey Sloan Memorial. But Meredith went after him.
"I'm not your business anymore, Meredith," DeLuca said. "I don't work for you and I don't love you."
Meredith replied: "But I love you. You went to jail for me. You saved me from myself. I cannot let you walk away from this. Just take some time, take the suspension. But come on. This is not how this ends."
'Grey's Anatomy' fans aren't convinced by Meredith Grey and Andrew DeLuca's romance
DeLuca's current storyline on Grey's Anatomy Season 16 centers around mental health versus his relationship with Meredith. However, the scene illustrates how much Meredith cares for him and hints things may not be over even after their breakup. But even so, many fans don't see the spark between Meredith and DeLuca. And in a thread on Reddit, they explained why.
"The chemistry she had with Dempsey was too good," a fan wrote. "No other character they try to force feed us will match that dynamic. If I were Shonda I wouldn't try so hard. Just let Meredith be an independent woman who bangs all the time for fun."
"I think it's just that Patrick Dempsey is so incredibly charismatic, sexy, and could potentially have chemistry with a broken lamp if asked," another fan wrote. "I mean, it's not a knock on Ellen, without her brilliance, the show would have been dead years ago. It's just a tall order and would be if Mer was the one that died and Derek was all alone."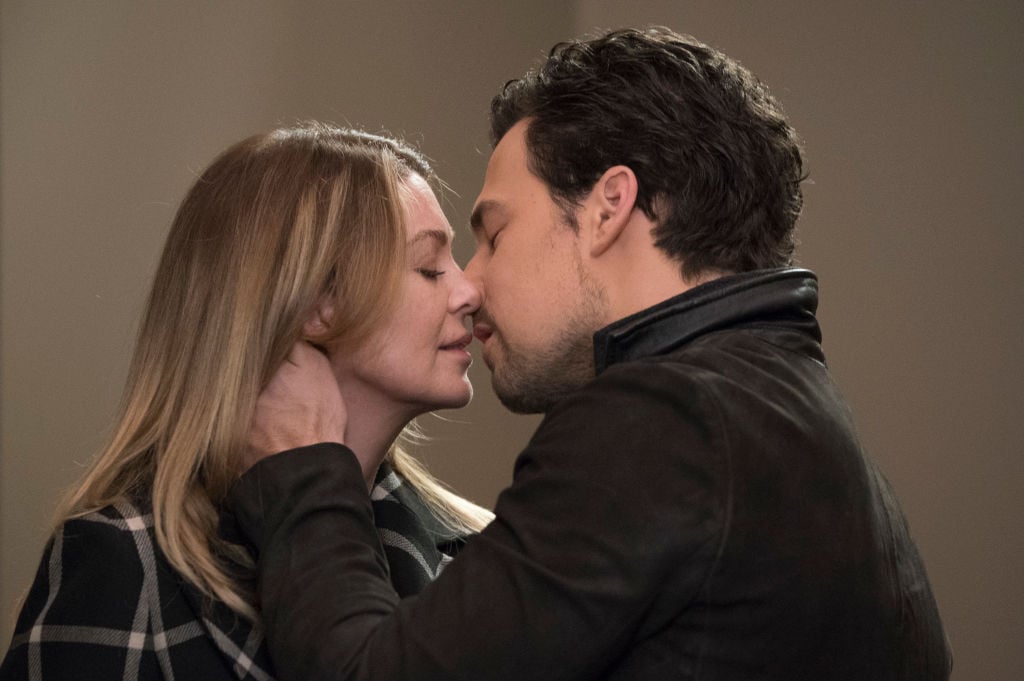 Other fans also pointed out Meredith and DeLuca are in different places in their lives and careers. But for the most part, people are rooting for Meredith to be with someone of her calibre. Meanwhile, some viewers could see Meredith start something new with Cormac Hayes (Richard Flood) — aka McWidow — over maintaining the spark with DeLuca. One fan wrote:
I feel like while MerDer was a once in a lifetime chemistry, you have to admit there were problems in the relationship. No relationship is perfect but with her and Derek, the chemistry was blazing and I don't think Grey's is trying to recreate that with anyone new, it'd be a disservice to the effort the put in to make that fairytale romance. I like the direction they're taking with McWidow because it seems like that romance won't be as crazy, as head over heels, etc., but more of a realistically beautiful relationship of two people who happen to be in similar places in their lives.
Giacomo Gianniotti opens up about Meredith Grey and Andrew DeLuca's relationship on 'Grey's Anatomy' 
When speaking with Us Weekly in March 2020, Gianniotti reminded fans DeLuca wasn't brought on to become Meredith's new love interest on Grey's Anatomy. However, showrunner Krista Vernoff saw something between the two characters and wanted to give it a try.
"I was like, 'Meredith Grey, that's not what I was brought on the show for. I'm just the new intern,'" Gianniotti said of his casting. "And then I totally put my foot in my mouth because years later Krista Vernoff, our showrunner, came to me and said, 'I want to explore a romance between you and Ellen. I think it would be really great. You guys are such good friends. I always see your chemistry on set, you guys fooling around with each other and playing pranks with each other and just having a good time.'"
That said, the MerLuca romance is an important story, as it flips the narrative. "It's always the much older man with a much younger woman," Gianniotti said. "We've seen it time and time again. So it's cool to see that flipped on its head and to not really draw attention to it. To just be like, "This is normal.'"
The actor also acknowledged DeLuca's romance with Meredith would be challenging for his character for the same reason.
"I think for my character it's been complex because it's how do you handle a woman that's that powerful? As a young man, it's intimidating," Gianniotti said. "She's so accomplished in her career as a surgeon. She has an ex-husband she was widowed by, she has children. This is a lot for a character who is roughly 30 years old, like I am, to take on."
Now it's clear DeLuca's insecurities translated to viewers at home. So if Grey's Anatomy continues the MerLuca romance, we hope the couple can grow together. After all, we've watched Meredith for 16 seasons and we just want to see her with the best.
Read more: The 'Grey's Anatomy' Season 16 Finale Promo Questions Richard's Diagnosis