'Grey's Anatomy': Meredith Grey and Derek Shepherd's Last Scene Hits Harder After Patrick Dempsey's Comments About Ellen Pompeo
Grey's Anatomy Season 17 brought some serious joy to fans when Meredith Grey (Ellen Pompeo) reunited with the beloved Derek Shepherd (Patrick Dempsey). Now, get ready to cry more happy tears. Dempsey recently opened up about working with Pompeo again, and the actor's remarks are truly beautiful.
Meredith Grey and Derek Shepherd's last scene together in 'Grey's Anatomy' Season 17
Throughout Grey's Anatomy Season 17, Derek appeared to support Meredith on Limbo Beach after she contracted coronavirus (COVID-19). Then in episode 13, titled "Good as Hell," Derek made his final appearance.
After their dream beach wedding, Meredith and Derek spoke one last time. As the sun started to set, McDreamy held his wife and told her it wasn't time for her to die. At first, Meredith resisted, noting that she didn't have to experience any pain. However, Derek reminded Meredith she still had people who needed her. 
Finally, Meredith let go of forever with Derek and woke up at Grey Sloan Memorial with her daughter, Zola (Aniela Gumbs), by her side. 
Patrick Dempsey on working with Ellen Pompeo during 'Grey's Anatomy' Season 17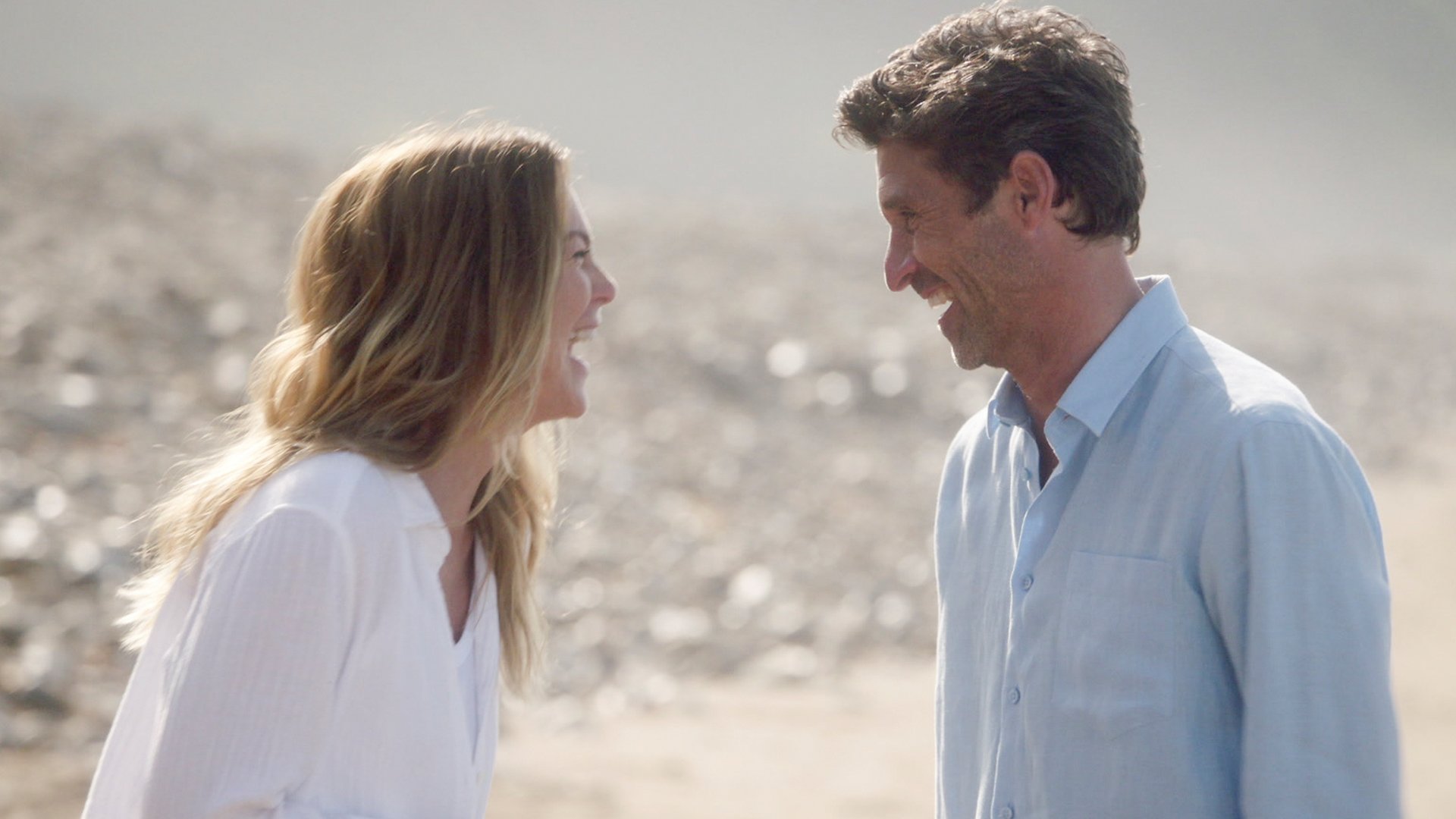 Following Derek's final Grey's Anatomy Season 17 episode, Dempsey opened up about his return and working with Pompeo again after six years. The actor revealed the last scene was an emotional experience, as the team cried during production. He also noted why he came back in the first place.
"We all cried at the beginning and we hugged each other," Dempsey told Variety. "It was really for us to get the message out there to wear a mask, take care of yourself. Ellen and I were like, 'What can we do together to make some impact here?'"
He continued, "It just was a positive action that reverberates into more positive action."
Dempsey also revealed how he really felt about Meredith and Derek's final chapter on Grey's Anatomy. The actor said:
I thought it was a beautiful way to close it. The intention was to really give people some hope because they are such an iconic couple. We've lost so many people this year, the thought that we'd have angels hovering around us taking care of us is a good message to send out in such a bleak world that we're living in. So for all of us, it was a beautiful ending to this story. I'm so grateful that I did it and happy that the fans really loved it.
Ellen Pompeo on reuniting with Patrick Dempsey
Now, Dempsey's comments may not come as a surprise to some Grey's Anatomy fans. When speaking with Deadline following the season 17 premiere, Pompeo revealed it "felt great" to work with Dempsey again, especially when they were telling such a "positive" and "healing" story.
"Patrick and I have this chemistry, where I think, even from when we first met, for some reason it just felt like we've known each other for a hundred years, and it's just the same feeling," Pompeo said. "I think we have a genuine affection for each other."
The actor continued, "It was very healing to come back, and know that we're doing something good, putting out a positive story, a healing story, going to make people smile, and I think, for me, I'm really grateful for the opportunity to be able to be at this place in the show where we can do this."
In the end, Derek gave Meredith and Grey's Anatomy fans some hope this year, and that is extraordinary.