'Grey's Anatomy': Recap of Everything Meredith Missed While Intubated with COVID-19 — How Will She React?
Meredith Grey (Ellen Pompeo) missed so much while sick with COVID-19, she needs a full Grey's Anatomy recap when she wakes up. When Grey's Anatomy Season 17, Episode 11 returns, Meredith wakes up to find that Andrew DeLuca (Giacomo Gianniotti) is dead and her two sisters are both engaged. How will she react?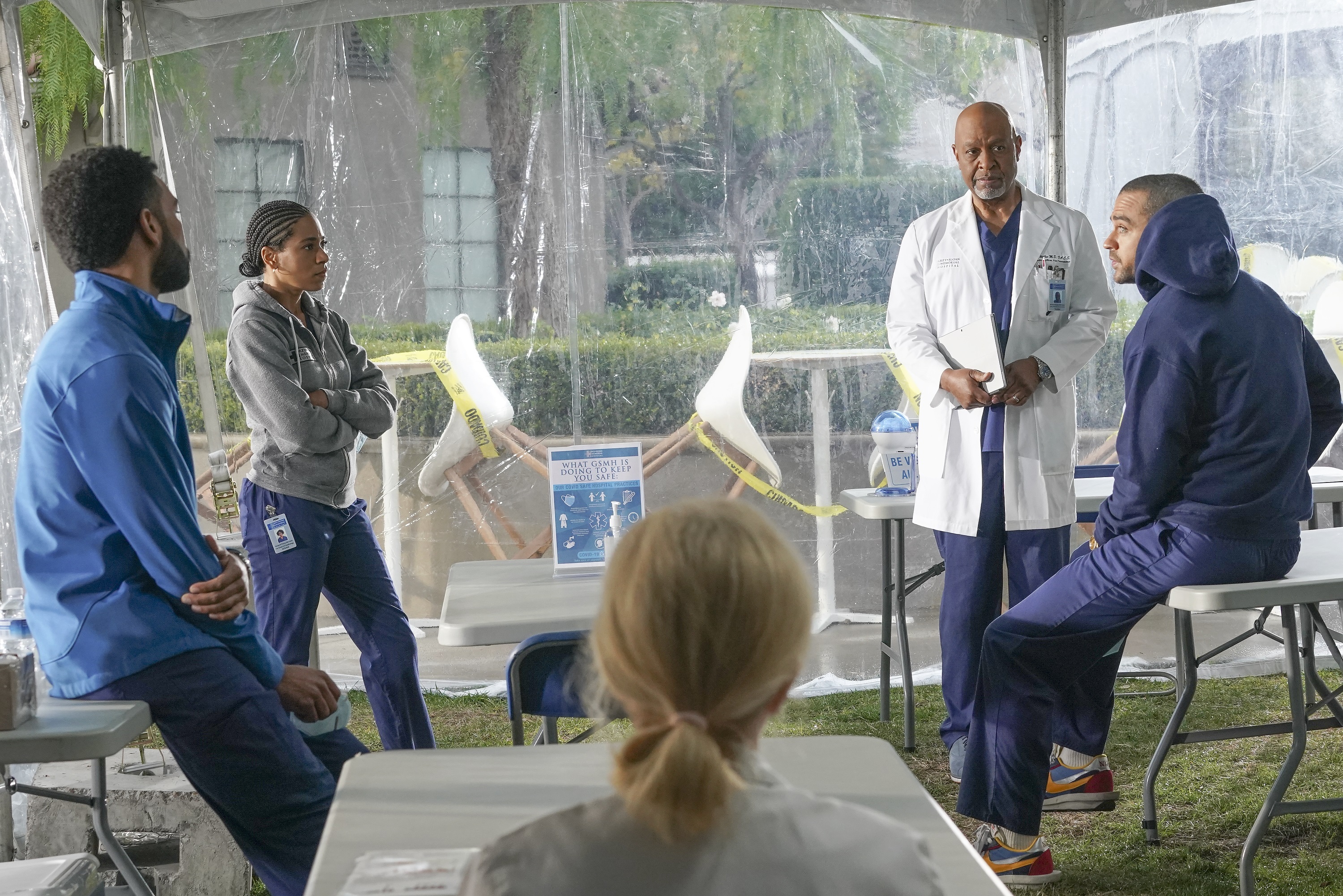 'Grey's Anatomy' Season 17 recap: Did Meredith Grey miss Andrew DeLuca's death?
While Meredith Grey happily chatted with old friends on the beach, Grey Sloan Memorial hospital's life went on. The primary Grey's Anatomy recap that Meredith missed was the death of Andrew DeLuca. In Station 19 Season 4, Episode 6, "Train in Vain," the surgeon followed a known sex trafficker through Seattle. However, he ended up getting stabbed in the train station.
When DeLuca arrived at Grey Sloan, he was not in good shape. Owen Hunt (Kevin McKidd) and Teddy Altman (Kim Raver) worked tirelessly in the operating room to save his life. Meanwhile, Andrew talked to Meredith on the beach while both were unconscious. Although he made it through surgery, he began bleeding out in the recovery room. Owen and Teddy rushed him back to surgery, but they couldn't save his life. 
Meanwhile, back on the beach, Andrew kept trying to build a sandcastle, but the waves knocked it down every time. He worried as the sun began to set, but he knew he was ready to go when he saw his mother.
"I'll miss you," Meredith told Andrew.
So, maybe Meredith won't wake up shocked to find Andrew DeLuca dead. She did get her closure with him on the beach in her dreams.
'Grey's Anatomy' Season 17, Episode 10: Winston proposed to Maggie
Meredith Grey has no idea that her sister, Maggie Pierce (Kelly McCreary), is engaged. Plus, Meredith has never met Winston (Anthony Hill). The two had a long-distance relationship during the pandemic. However, he surprised Maggie with a visit right as the doctors put Meredith on a ventilator.
The couple bonded while working together at Grey Sloan, and then Winston surprised Maggie before heading back to Boston. The Grey's Anatomy recap from season 17, episode 10, included Winston's shocking proposal. Maggie said, "Yes," and Meredith had no idea.
"Also, it just occurred to me that Mer's never even met Winston," one fan wrote on Reddit. Don't you think Grey's jumped the gun on that one?"
Will Meredith think things happened too fast between Maggie and Winston? Or, will she want her sister to live her life to the fullest after everything Mark Sloan (Eric Dane) and Lexie Grey (Chyler Leigh) told her on the beach?
'Grey's Anatomy' Season 17, Episode 11 promo
In Grey's Anatomy Season 17, Episode 11 preview, viewers watch as Atticus Lincoln (Chris Carmack) proposes to Amelia Shepherd (Caterina Scorsone). While we don't know yet if she will say "yes," viewers are concerned.
"Imagine waking up from a coma to discover that not only one, but BOTH of your sisters got engaged," another viewer wrote. 
Grey's Anatomy fans will find out what Meredith's reaction is on April 8, 2021, at 9 p.m. EST.