'Grey's Anatomy': Sarah Drew and Jesse Williams Address Spinoff Rumors: 'Things Just Feel Right'
Actors Sarah Drew and Jesse Williams spent years acting opposite one another on Grey's Anatomy. Their characters' relationship touched many fans, and a May 2021 on-screen reunion nearly broke the internet. Some even proposed a spinoff series for April and Jackson. How do Drew and Williams feel about that idea?
Sarah Drew and Jesse Williams starred in 'Grey's Anatomy'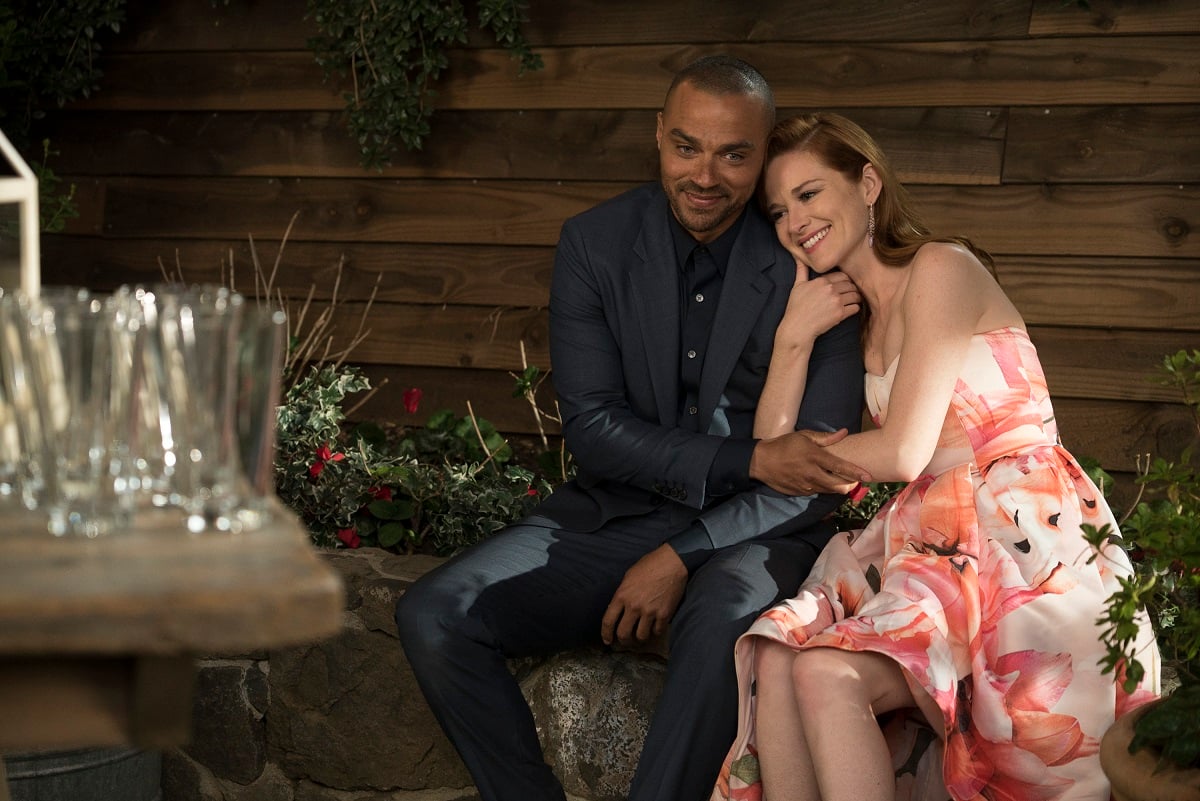 Both Drew and Williams joined the Grey's Anatomy cast in season 6. Their characters, April Kepner and Jackson Avery, come from Mercy West to Seattle Grace as residents when the two hospitals became one. At first, they're just friends, but they grow closer and eventually sleep together, complicating things.
April and Jackson fight their relationship, but eventually, they realize they want to be together. They get married, but their marriage suffers after they lose their son, Samuel, at birth. They decide to get a divorce but, after a spontaneous night together, welcome a child, Harriet. Drew left Grey's Anatomy in season 14.
Their characters reunited on screen in Season 17
Over the past few years, Williams remained a cast member on the show. Jackson dated a couple of women while continuing to co-parent with April offscreen. She married Matthew (whom she previously left for Jackson) and began working elsewhere. But the two actor reunited in the Grey's Anatomy Season 17 episode, which aired on May 6, 2021.
In "Look Up Child," Jackson goes to speak to April. He wants to make real change in the U.S. healthcare system and thinks he can do that by running his family's foundation. That requires moving to Boston, but he wants April and Harriet to come with him. April confesses she and Matthew split up, and she eventually agrees to move to Boston with their daughter to support her ex.
Fans requested a spinoff for Jackson and April
Ahead of the episode, Drew and Williams teased her return to set. In typical Grey's Anatomy fashion, the actors had to keep the episode's details under wraps. But while it aired, they tweeted along with the fans, who, when Williams announced he was leaving the series, saw the opportunity for a spinoff around their characters.
Speaking in an Instagram Live the day after the episode aired, Drew brought the subject up almost immediately. Though they were laughing about it, Williams acknowledged that the setup "lends itself to a spinoff or getting glimpses of it." He added, "Things just feel right."
Drew and Williams are interested in making it happen
RELATED: 'Grey's Anatomy': April and Jackson Are 'a Healthy, Working, Co-Parenting Team' Says Sarah Drew
Williams continued to express his interest. "You would think there's plenty more for us to do," he said of their characters, noting, "You can watch the kid grow up." He stated they could "do something really f*cking interesting," with the storyline, adding, "All that's really rich, and there'd be a lot to do, and Boston would be an interesting place to do it." He finished, "Sh*t I'd watch that!"
Drew agreed. "They're both embracing their purpose," she said of April and Jackson. "[April] has been in that place for years…and she's been living it. And this is the moment when Jackson realizes 'I have this incredible opportunity to make real change in the world.'" Drew continued, "How amazing to really kind of dive into medical justice? We haven't seen that yet!"