'Grey's Anatomy': Why Sarah Drew and Jesse Williams Spent '12-13 Hours' Filming 1 Episode
Grey's Anatomy is known for telling the personal stories of surgeons at a Seattle-based hospital. Throughout its 17 seasons, viewers have watched many couples at Grey Sloan Memorial come and go. However, Dr. April Kepner (Sarah Drew) and Dr. Jackson Avery's (Jesse Williams) won over many hearts when they got married and became "Japril" on the show. 
In Sept. 2020, Drew reminisced about working alongside Williams for nine seasons. The actor left the series in 2018.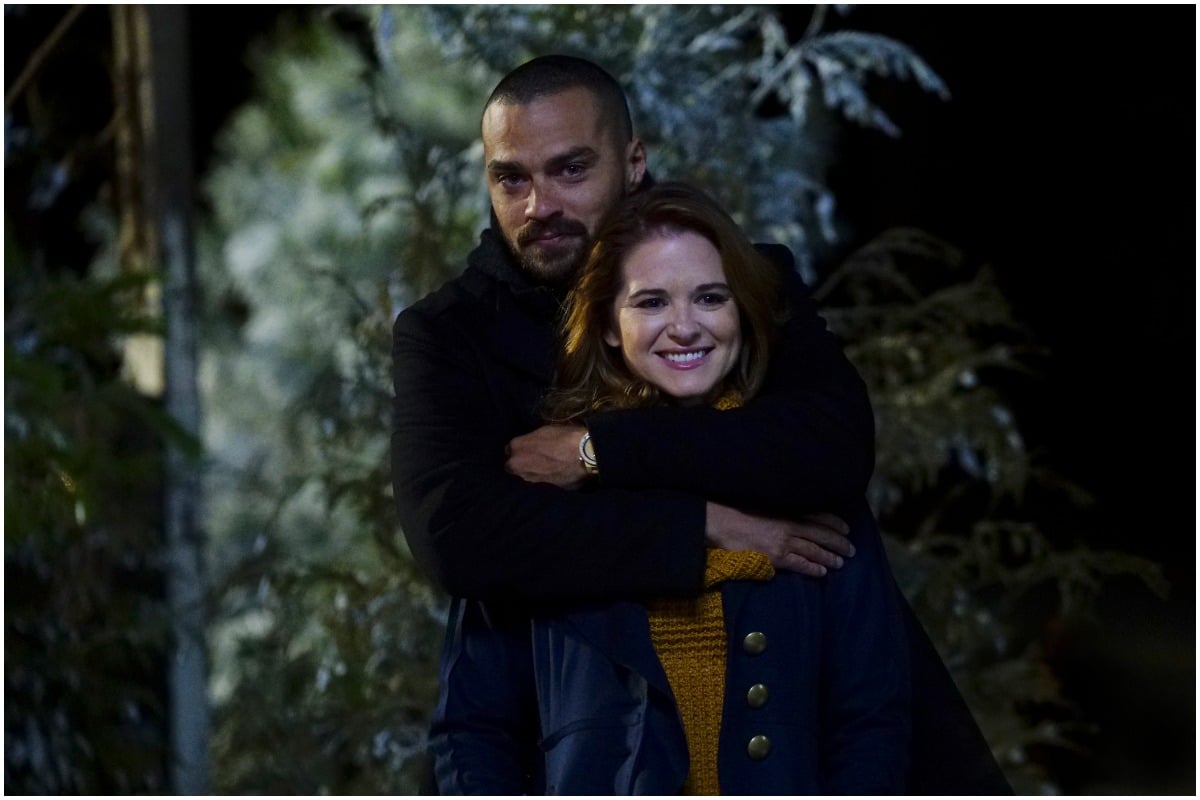 Sarah Drew and Jesse Williams booked 'Grey's Anatomy' at the same time
Drew and Williams joined Grey's Anatomy in 2009. During that time, the show transitioned from centering around surgical resident Meredith Grey (Ellen Pompeo) to focusing on new characters. Initially, they got hired as the competing surgeons at a nearby Seattle hospital, Mercy West. However, Drew and Williams' characters stayed on as series regulars after the season 6 finale. 
Throughout their time on the show, the actors played out April and Jackson's love story. The doctors decided to have a physical relationship in season 8, despite her initial decision to wait until marriage to have sex. Additionally, Jackson professed his love for April in season 10. After they eloped, the couple became pregnant with their first child, Samuel. Unfortunately, Samuel died of rare bone disease in season 11, causing a strain in the pair's marriage. Following their divorce, April found out she was pregnant again with their second child, Harriet Kepner-Avery. Although they went forward with the divorce, Jackson and April co-parented Harriet for several seasons. 
In March 2018, Deadline reported that Drew and Jessica Capshaw, who plays Dr. Arizona Robbins, was let go from Grey's. During April's final season, she married her ex-fiance, Matthew Taylor (Justin Bruening), in an impromptu wedding. While April and Jackson's love story ended, the actors became friends both on and off the screen. 
"That's my buddy," Williams said shortly after Drew's exit. "We absolutely talk and see each other regularly, happily, easily. She's a tremendous, tremendous actress who has a film out now. She produced it, and she's starring in it. She's a tremendous, tremendous person."
Sarah Drew reminisced about her 'favorite television experience' with Jesse Williams
Two years after her final episode as a series regular on Grey's Anatomy, Drew posted a memory of working with Williams on Instagram. She shared a memory from shooting "Unbreak My Heart" in 2020. The episode aired during season 12 of the series and is also known as "Japril the movie." The actors spent "12-13 hours" working on the production because of the lengthy scenes. 
Underneath a still shot of the actors, Drew gushed about Williams' performance and their director, Robert Corn. 
"In honor of my pals over at Grey's starting back up this past week, here's a fun throwback to #japrilthemovie," she began. "Our amazing director for that episode, #robcorn, sent this photo to us over the weekend. This episode will go down as one of my all-time favorite television experiences. Every one of those nine days on set was joyous." 
"The episode was so brilliantly written (by #elizabethklaviter) and directed (by #robcorn), and we felt like we were in this magical little bubble making our own movie," Drew continued. "This pic is from the rehearsal of that epic 15-page scene that ended with us pelting each other with fortune cookies. We spent a whole day (12-13 hours) shooting that one scene together. It felt like we were performing a one-act play, and it was really hard work but a profoundly fulfilling experience. Sending love to all the #japril fans out there and, of course, to my co-captain @ijessewilliams." 
Drew will revive her character at some point in season 17. Until then, she and Williams snapped a photo on Instagram to tease her guest spot.