'Grey's Anatomy': Why Sarah Drew Says April Doesn't 'Regret' Marrying Jackson for 'a Single Second'
Grey's Anatomy alum Sarah Drew played April Kepner for nine seasons. Over time, April and Jackson (Jesse Williams) became one of the show's most beloved couples. Many fans watched the pair go from platonic, best friends to divorcees within a few years. Although Japril didn't last forever, Drew once shared why she doesn't think the couple's marriage was in vain.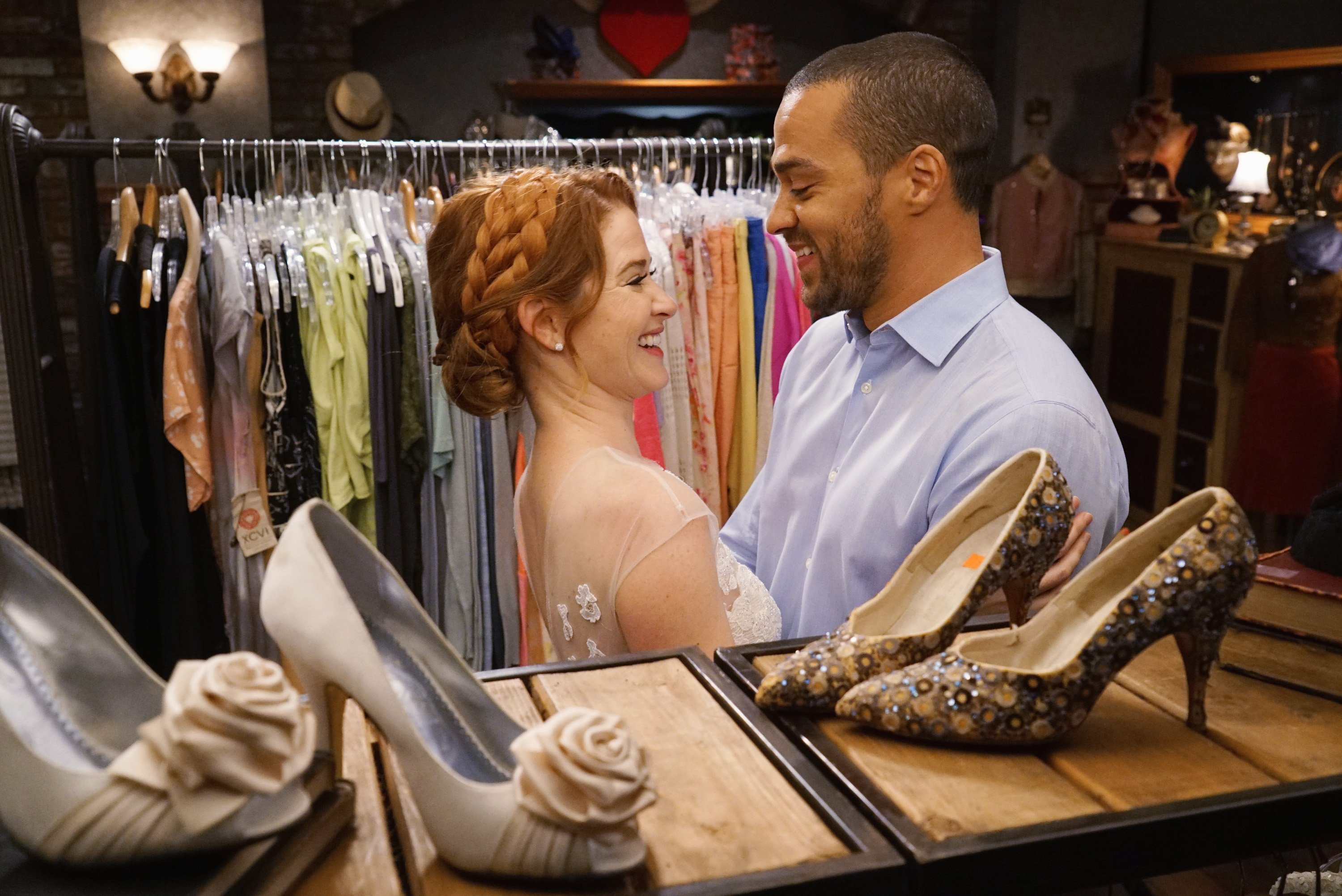 What Sarah Drew says of April and Jackson on 'Grey's Anatomy'
Both Drew and Williams joined the Grey's Anatomy cast in season 6. Throughout the years, the pair's characters fell in and out of love while working together at Grey Sloan. By season 15, Jackson and April were divorced and co-parenting their daughter, Harriet. They also dated other people, and April quit surgery and married her ex-fiance, Matthew (Justin Bruening).
RELATED: 'Grey's Anatomy': Why Some Fans Think April 'Never Deserved' Jackson
Although they ended on good terms, many Japril fans still hope that the surgeons will find their way back to each other. However, Drew's 2018 exit halted any plans of the couple being more than co-parents. Ultimately, April and Matthew got married in the season 15 finale. Drew later shared with The Hollywood Reporter that she wanted April and Jackson to work out their issues.
"I thought Jackson and April were meant to get back together, and they were going to get married again and realize they'd been crazy, and it was just going to be this long, slow burn," she said.
Sarah Drew shared why April and Jackson were supposed to be married on 'Grey's Anatomy'
Even though Jackson and April divorced, they decided to remain friends. In season 16, the exes' relationship briefly interfered with his connection with Dr. Maggie Pierce (Kelly McCreary).
RELATED: 'Grey's Anatomy': The 1 Japril Scene That Was 'Agonizing' for Sarah Drew
Drew told THR in the same interview that, while the marriage between April and Jackson didn't work out, she doesn't think her character regrets following her heart for "a single second." She explained that if they didn't elope in season 10, Jackson and April wouldn't have their daughter. She got pregnant with Harriet a few years after April and Jackson's son, Samuel, died of rare bone disease.
"After thinking about it, there's a real sweetness to that story of April's faith," Drew said of Japril's marriage. "She ran off with Jackson and loved him and wouldn't regret a single second of that relationship because it made her heart grow, and she got a beautiful daughter out of it. She grew as a woman and as a person of faith. All of that had to happen."
Is April and Jackson endgame in 2021?
RELATED: 'Grey's Anatomy': Why Sarah Drew and Jesse Williams Spent '12-13 Hours' Filming 1 Episode
In 2021, Grey's Anatomy fans learned that Drew was coming back to the show as April Kepner. During the May 6, episode, "Look Up Child," Jackson drove to April's house after facing a crisis at work. Although she didn't say if the reunion will be romantic, Drew did say that April and Jackson maintained a healthy relationship once she left Grey Sloan.
"She's still living in Seattle with Matthew and co-parenting Harriet," Drew told Entertainment Tonight in April 2021. "They've seen one another. They've been co-parenting this whole time. … I would say [Jackson and April have] always been a healthy, working, co-parenting team."