'Grey's Anatomy': Why Sarah Drew Scolded Her Fans for 'Attacking' Co-Star Kelly McCreary
Grey's Anatomy first premiered on ABC on March 27, 2005. Since its inception, many of the doctors in Meredith Grey's (Ellen Pompeo) lives have spent time in the on-call rooms of Grey Sloan Memorial. One of those couples was Dr. April Kepner (Sarah Drew) and Dr. Jackson Avery's (Jesse Williams). Viewers watched as the pair dated, married, and divorced from seasons 8-14.
After April and Jackson divorced in season 12, the plastic surgeon moved on to dating Dr. Maggie Pierce (Kelly McCreary). Unsurprisingly, some Japril supporters weren't thrilled about the new relationship.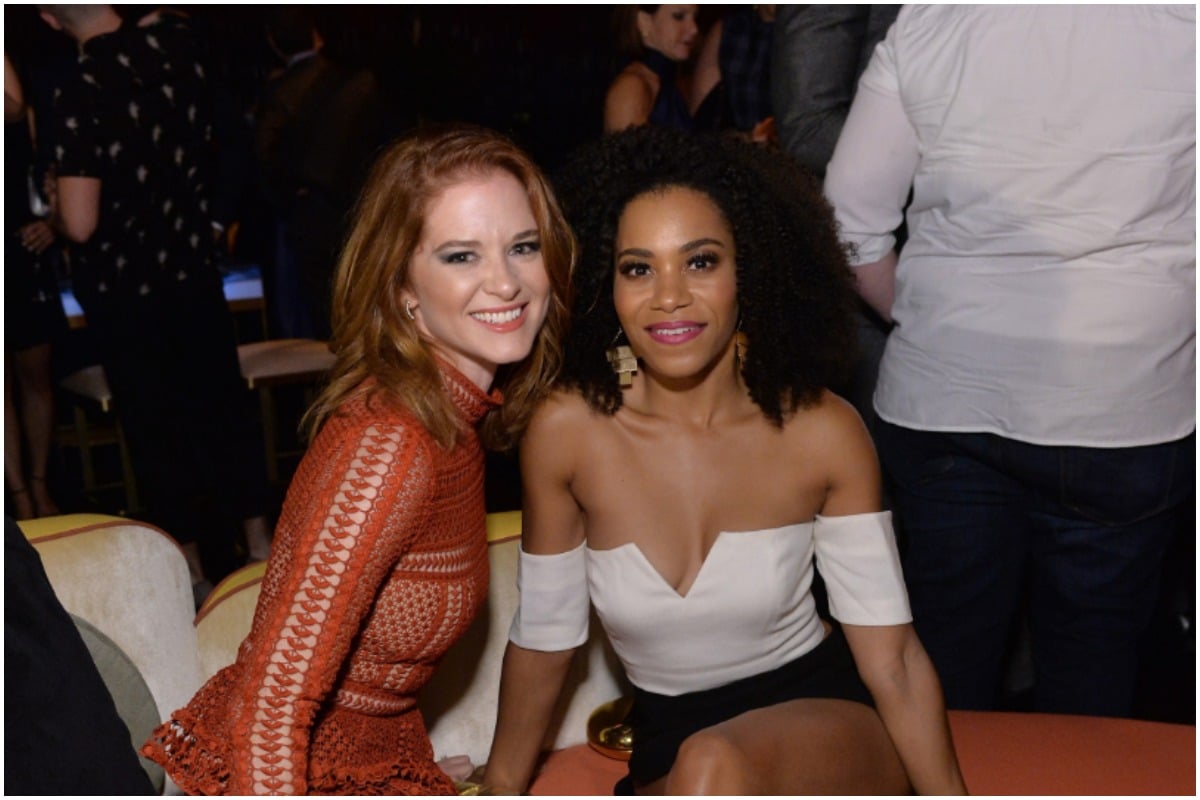 Sarah Drew and Jesse Williams' characters got married on 'Grey's Anatomy' before Kelly McCreary joined the cast
In season 6 of Grey's Anatomy, Grey Sloan Memorial (formerly Seattle Grace Hospital) introduced several newcomers from its competing hospital, Mercy West. Two of the new faces were doctors April Kepner and Jackson Avery, played by Drew and Williams. Although they started as recurring characters, the actors moved up to series regulars in season 6. By season 8, April lost her virginity to Jackson, which began their sexual relationship.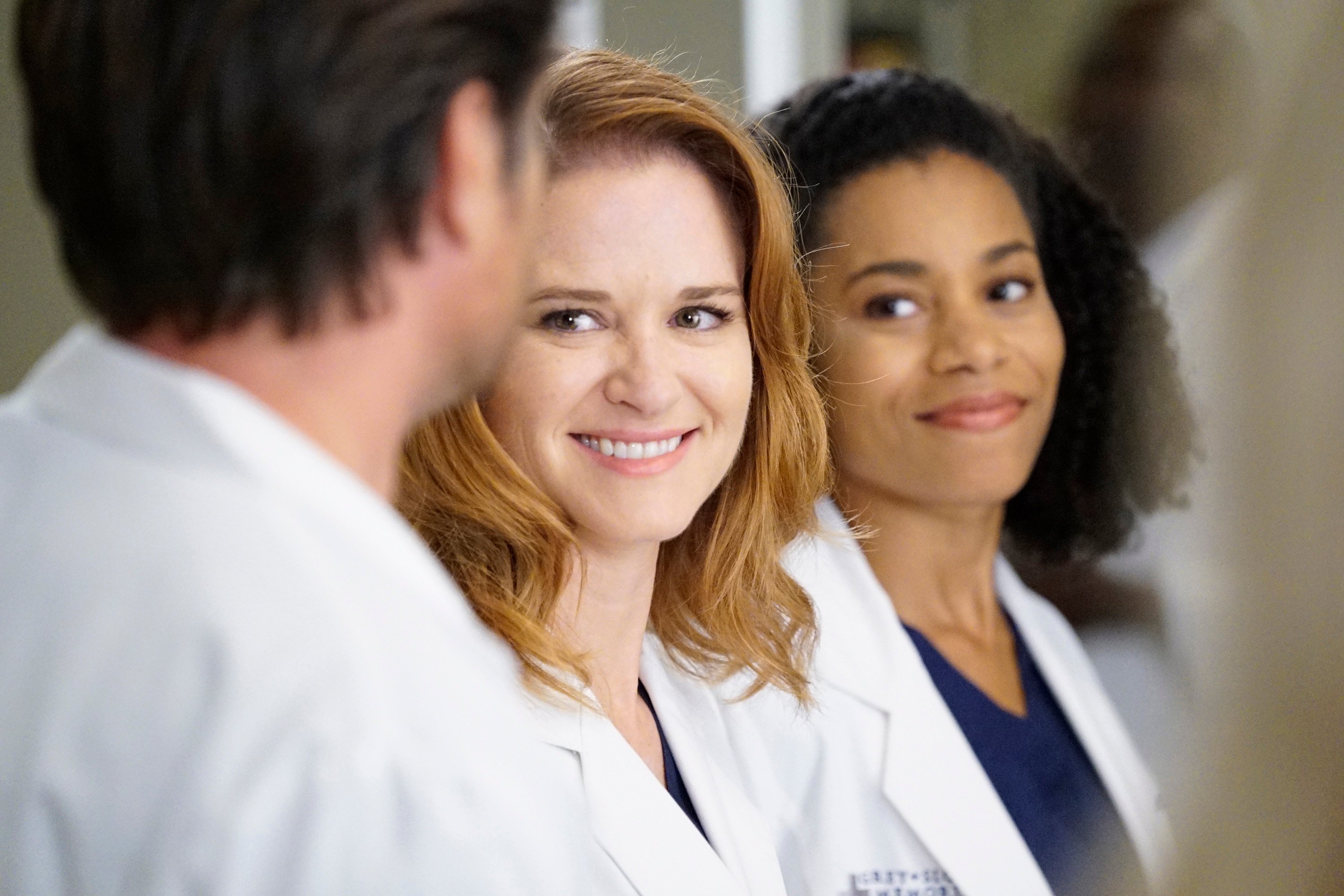 During season 9, April and Jackson decide to remain platonic friends. However, he decided to profess his love for her in season 10, during her wedding to Matthew (Justin Bruening). Afterward, the surgeons eloped, and April became pregnant with their first child, Samuel. Unfortunately, the couple's son died of a rare bone disease he contracted in the womb. Following Samuel's death, April and Jackson divorced. Once April got pregnant again with their daughter, Harriet Kepner-Avery, they remained friends and co-parents. 
Toward the end of April and Jackson's marriage, Grey's introduced Dr. Maggie Pierce in season 10. The heart surgeon initially shocked fans when she announced that she's Dr. Richard Webber and Dr. Ellis Grey's lovechild. Soon, Maggie moved into her sister Meredith's home and formed a connection with Jackson. 
Sarah Drew released a statement on Twitter after 'Grey's Anatomy' fans bullied Kelly McCreary
Jackson and Maggie started dating in season 14 of Grey's Anatomy. At the time, April went struggled with her faith after being a devout Christian for several seasons. According to Deadline, many fans of the ABC drama blamed McCreary for Jackson and April's split. They also believed that Maggie and Jackson's relationship was a ploy to kick April (and Drew) off the show. 
In May 2018, Drew tweeted about the backlash McCreary received from fans online. She shared in her statement that, while she understands the viewers' connection to Grey's Anatomy, the actor felt compelled to stand up for her co-star and personal friend. 
"I know these characters mean so much to you — believe me, they mean a lot to me, too — but I do not feel defended when you attack my friends," Drew tweeted. 
"My beautiful, loving, loyal sister, Kelly, is a brilliant, fiercely talented team player who ALWAYS shows up and dedicates herself to the stories she is asked to tell," she added. "Please stop attacking her for doing her job. When you hurt her, you hurt me. When you show kindness to her, you show kindness to me. Please be Kind."

Is Sarah Drew coming back to 'Grey's Anatomy'? 
Shortly after she scolded fans for bullying McCreary, Drew left Grey's Anatomy as a series regular. Both Drew and Dr. Arizona Robbins actor Jessica Capshaw got fired so the writers of Grey's could focus on other storylines. However, they've reunited with the cast since their exits. Capshaw recently joined the current series regulars for a Zoom fundraiser. 
Additionally, Drew revealed in March 2021 that she will put her scrubs back on for season 17 of Grey's. The April Kepner actor signed on as a guest star for an upcoming episode. 
Grey's Anatomy airs on ABC Thursdays at 9 p.m. EST.