'Grey's Anatomy' Season 16: Who Is the Father of Amelia's Baby? Link and Owen Have Some Explaining to Do
On Sept. 26, the Grey's Anatomy Season 16 premiere finally aired on ABC. As per usual, everything is a mess, especially for our girl Amelia (Caterina Scorsone). After breaking things off with Owen (Kevin McKidd) in season 15, Amelia found a spark with Link (Chris Carmack). However, it looks like season 16 of Grey's Anatomy is pulling Amelia back in for some major drama. And honestly, fans aren't exactly here for it.
Nov. 21 update at the bottom of the page.
[Warning: Spoilers for the Grey's Anatomy Season 16 ahead!]
Amelia is pregnant in 'Grey's Anatomy' Season 16
Viewers know they're signing up for a world of hurt once they tune into a new season of Grey's Anatomy. But, fans were still shocked when they found out about Amelia's pregnancy in the premiere for season 16.
Midway through the episode, titled "Nothing Left to Cling To," Amelia visited Carina (Stefania Spampinato). And while Amelia — hilariously — thought Carina wanted to have a threesome, the OB-GYN informed the reigning Shepherd she is expecting.
"Oh my god," Amelia says in response, simultaneously echoing the words uttered by Grey's Anatomy fans across the nation.
Fans hope the father of Amelia's baby is Link and not Owen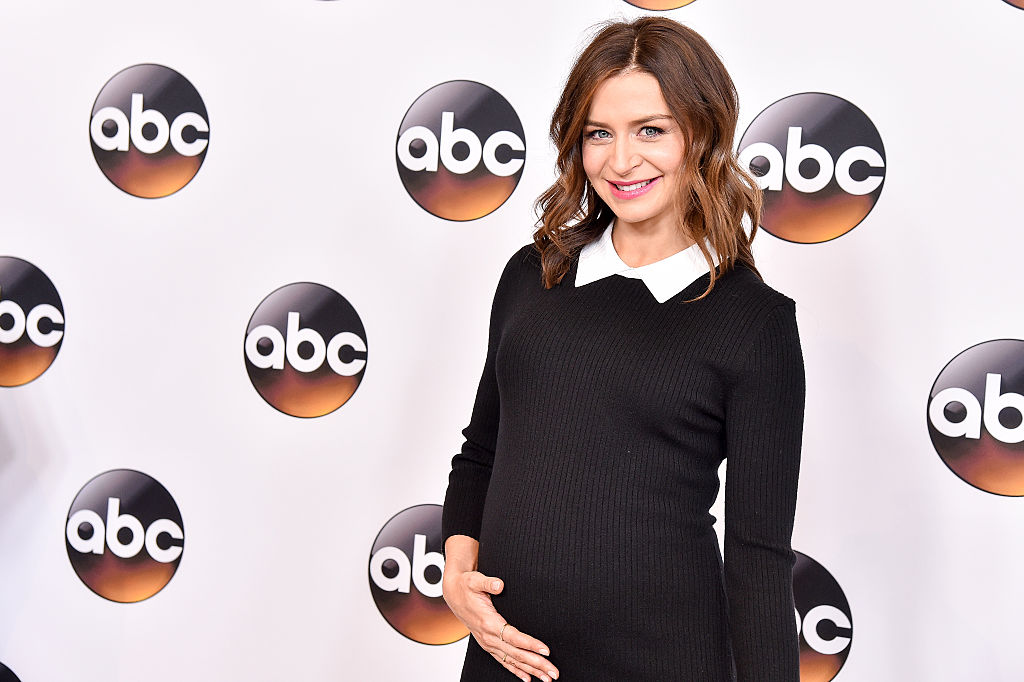 Following Amelia's pregnancy surprise in the Grey's Anatomy Season 16 premiere, everyone was quick to question the paternity of Amelia's baby. Amelia is currently seeing Link. However, Owen could still be the child's dad. That being said, most fans came to an agreement — everyone hopes Link is the father. And if not, we riot at dawn.
A fan tweeted, "This better be Link's baby bc I stg if y'all just had Amelia get pregnant with Owen's child, I AM THROWING HANDS!"
"I swear if this Owen baby I'm done," another fan wrote on Twitter, adding the perfect GIF of How to Get Away with Murder's Annalise Keating to signify their annoyance.
"Dear god," one viewer shared on Reddit. "Can that baby at least be Link's? I'm so sick of Amelia and Owen and Teddy. I want them to be happy. Separate from each other. And Link seems great for her."
'Grey's Anatomy' Season 16 showrunner Krista Vernoff seemingly revealed the father of the baby
Nevertheless, it seems like showrunner Krista Vernoff has seemingly already confirmed the baby daddy of Amelia's unborn child. After the season premiere aired, Entertainment Tonight reported Amelia is pregnant with Link's child. The publication then asked Vernoff how the pregnancy will affect Link and Amelia's relationship through season 16.
"This is a complicated, complicated thing," she explained. "They were dating and having fun and now they're taking a very different journey than the one they thought they were on."
Vernoff also teased Amelia's journey in the upcoming season. She told ET:
I love the character of Amelia, I love her really complicated history, I love her emotional intelligence, I love her recovery and I love that she's always trying to grow and learn and expand and change and evolve as a human being. And I love throwing obstacles and growing opportunities in her path. For her to have decided that she wants not to go all-in with someone, but to slow-roll a relationship and to take it slow and get to know a person and do something differently than she's done before… And then for her to discover in that same episode that she is pregnant, felt messy and exciting.
So now, Grey's Anatomy fans can let out a sigh of relief. It looks like Amelia's baby isn't sharing DNA with Owen. But, of course, there is still plenty of drama ahead. Let's just hope our girl can navigate through it all — with Link at her side.
Update: The 'Grey's Anatomy' Season 16 fall finale reveals the father of Amelia's baby
Things got a little messy during the Grey's Anatomy Season 16 fall finale, titled "Let's All Go to the Bar." At the end of the episode, Amelia received an ultrasound to check on her baby. And she received a bit of unexpected news.
According to Carina, Amelia is 24 weeks pregnant — not 20 weeks. This means that Link isn't the father of Amelia's baby — it's Owen. So stay tuned. Grey's Anatomy returns with its winter premiere on Thursday, Jan. 23.
Check out Showbiz Cheat Sheet on Facebook!