The 'Grey's Anatomy' Season 16, Episode 19 Promo Teases a Steamy New Romance
What happened in the 'Grey's Anatomy' Season 16, Episode 19 promo trailer? "Love of My Life" is will air March 26, 2020 and things will heat up for Maggie.
When Grey's Anatomy Season 16 wrapped on Thursday, March 19, a few fans noticed ABC didn't preview the next episode. Typically, viewers watch the credits shrink in half as the trailer for the upcoming episode starts to play. But for some, the iconic outro song continued with no teaser in sight. Luckily, there will be a new episode on March 26. So what happened in the Grey's Anatomy Season 16, Episode 19 promo? Looks like things are heating up for Maggie Pierce (Kelly McCreary) in "Love of My Life."
The 'Grey's Anatomy' Season 16, Episode 19 promo trailer
As it's now tradition, the Grey's Anatomy Season 16, Episode 19 promo is shared with the next episode of Station 19 Season 3 on March 26. The preview kicks off with Meredith Grey (Ellen Pompeo) as she plops down on her couch with popcorn, looking a bit confused.
That said, this doesn't exactly give us any answers about the episode and more to do with the trailer itself. "Grab some popcorn," the narrator says. "It's a new night of Thursday dramas."
Meanwhile, it appears we're stepping away from Grey Sloan Memorial for at least part of the episode. The Grey's Anatomy portion of the promo shows Maggie, Teddy (Kim Raver), and Richard Webber (James Pickens Jr.) at a conference.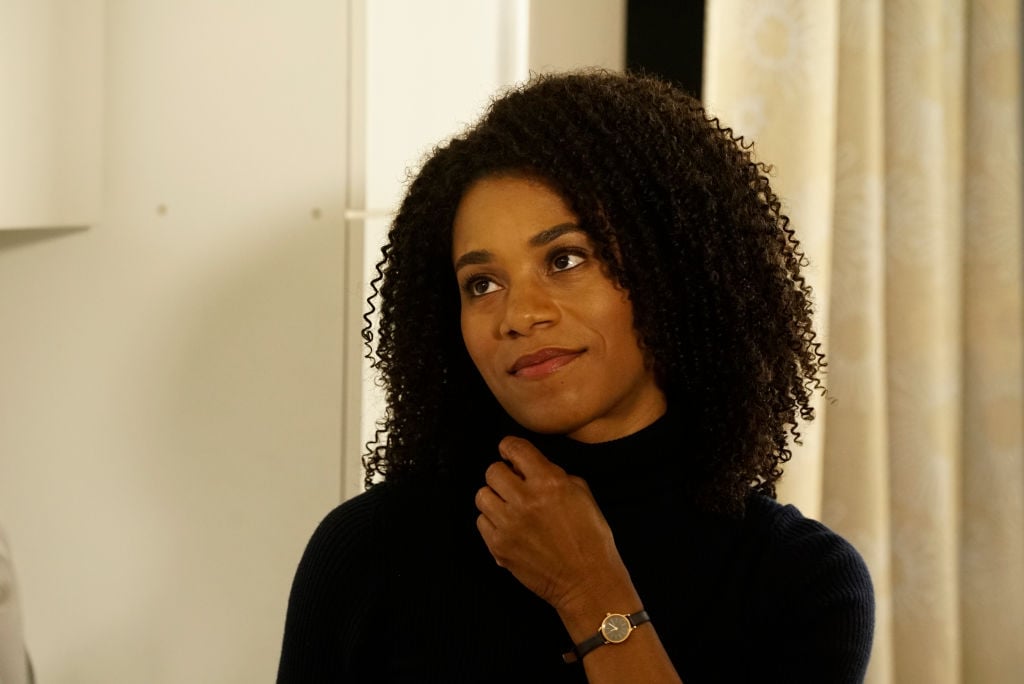 "The doctors are away and ready to play," the narrator says. Clips of Maggie and Teddy chatting flash by. Then a cute newcomer shows up. "I don't have sex with strangers," Maggie says.
And then the complete opposite happens. Maggie and the new guy hook up in a hotel room. But it kind of feels like something more than just a one night stand.
"I've never fallen so hard in one night," the man says. The preview ends as Maggie leans in for a kiss.
What will happen in the next episode of 'Grey's Anatomy'?
According to a press release courtesy of ABC, Grey's Anatomy Season 16, Episode 19 will focus on three different storylines. The synopsis reads:
Richard preps to present his PATH pen at the LA Surgical Innovation Conference but becomes distracted by his issues with [Catherine Avery (Debbie Allen)]. Maggie and Teddy run into people from their past at the same conference, while [Cormac Hayes (Richard Flood)] relives moments from when he met his late wife.
So tying in the March 26 episode's description to the trailer, it's possible Maggie — or perhaps Teddy — already knows the newcomer at the conference in Los Angeles. Meanwhile, Richard's excited "I can't wait to share it with the world" spiel from the promo is a little more heartbreaking once you know he'll experience issues with Catherine.
Nevertheless, the synopsis shares one aspect of "Love of My Life" we didn't previously see in the preview. But here's our question — if McWidow will relive moments involving his late wife, will we also see Meredith reminiscing over Derek Shepherd (Patrick Dempsey)?
We've seen the pair connect on the same level in the past. We also assume a guest star wouldn't be able to dive into major character development alone, without the presence of main cast member. However at this point, we're running on pure speculation and everlasting hope to see old characters back onscreen. So fans will just have to wait and see what happens.
Regardless, Grey's Anatomy didn't hint at the major cliffhanger from the March 19 episode titled "Give a Little Bit." During the episode, the hospital called a Code Violet on Andrew DeLuca (Giacomo Gianniotti) after he accused a patient's alleged aunt of human trafficking.
DeLuca has been struggling with his mental health and no one believed his claims. He caused a scene and was asked to leave. Then at the end of the episode, DeLuca zoomed away on his motorcycle at a dangerously high speed. But where do we go from here? The carousel never stops turning. So stay tuned.
Read more: 'Grey's Anatomy': Why Alex Karev's Death Could Be the Best Reason Why the Character Leaves