'Grey's Anatomy' Season 17: Where Is Andrew DeLuca's Mental Health Storyline Headed?
How Andrew DeLuca's bipolar disorder diagnosis will play out on 'Grey's Anatomy' Season 17, according to showrunner Krista Vernoff.
Grey's Anatomy Season 16 left fans reeling when Andrew DeLuca (Giacomo Gianniotti) broke down in front of Meredith Grey (Ellen Pompeo) after a major medical discovery saving Richard Webber's (James Pickens Jr.) life. The ABC drama has been laying out a mental health storyline for some time. Then recently, showrunner Krista Vernoff confirmed the surgical resident has bipolar disorder. So where is DeLuca headed in Grey's Anatomy Season 17? Here's what we know thus far. 
What happened to Andrew DeLuca in 'Grey's Anatomy' Season 16?
Grey's Anatomy fans grew increasingly concerned over DeLuca's mental health throughout season 16. Time and time again, the surgeon attempted to act heroically. However, there was always a significant risk if he were to fail. 
In "Snowblind," DeLuca went outside in freezing conditions without any gloves. And the character almost lost his hands due to frostbite. Then in "Give a Little Bit," DeLuca suspected a patient was a victim of human trafficking. He called a Code Violet and announced his suspicions to the hospital. DeLuca's co-workers saw the moment as a mental breakdown and called for security.
At the end of the episode, Grey's Anatomy hinted DeLuca's suspicions were correct. But even so, the outburst did not end in a victory. The victim was taken away. Meanwhile, Miranda Bailey (Chandra Wilson) had to suspend DeLuca.
Then in the Grey's Anatomy Season 16 finale, DeLuca and Meredith rushed to diagnose Richard. Everyone thought it was Alzheimer's disease. But just as Bailey and Meredith take Richard to the O.R. for a biopsy, DeLuca ran in and halted everything. He revealed Richard had cobalt poisoning from his previous hip replacement — and he was right. Richard was saved. However, it was clear DeLuca was spiraling.
At the end of the finale, Meredith found DeLuca sobbing on the floor of Grey Sloan Memorial. "I don't know what's going on," DeLuca said through tears. Then Meredith picked him up and brought him home. 
Carina DeLuca revealed Andrew DeLuca's bipolar disorder diagnosis on the 'Grey's Anatomy' spinoff 'Station 19'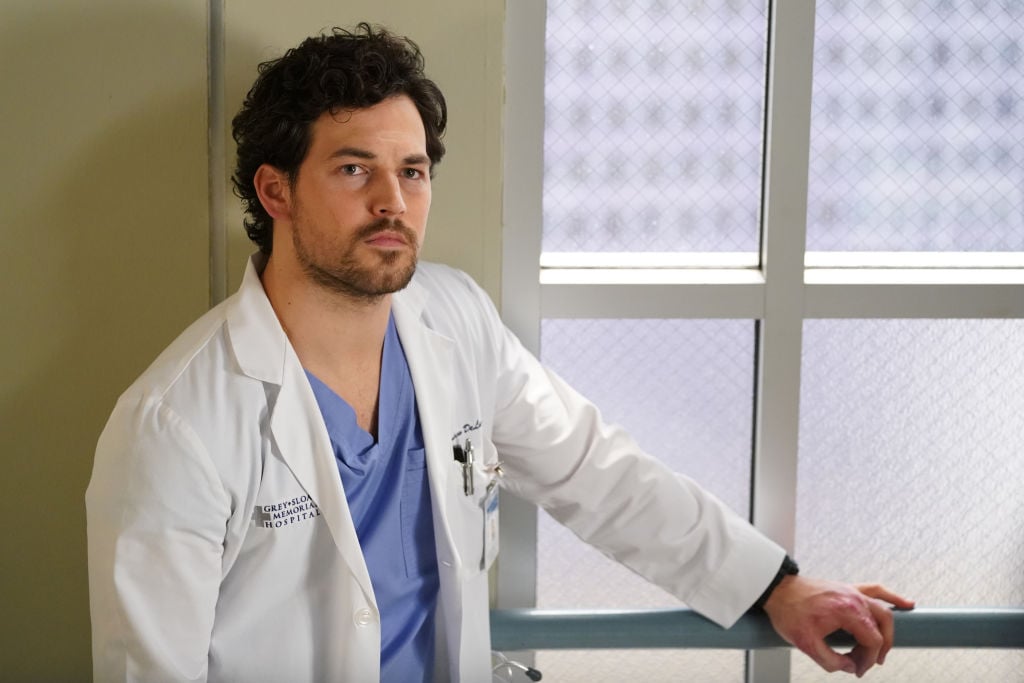 The Grey's Anatomy Season 16 finale ended without explaining what happened to DeLuca. But Station 19 Season 3 revealed DeLuca received a bipolar disorder diagnosis. In the episode titled "Bad Guy," Carina DeLuca (Stefania Spampinato) opened up to her girlfriend, Maya Bishop (Danielle Savre) about her family's history. Carina then shared her brother's diagnosis. 
"My dad has bipolar I," Carina said. "And my sweet baby brother has inherited it."
Naturally, when the Station 19 episode aired, fans were confused. DeLuca's diagnosis wasn't officially announced on Grey's Anatomy. But then showrunner Krista Vernoff confirmed the news.
"DeLuca is bipolar," Vernoff told People in May 2020. "DeLuca was in a really manic state for an extended period of time. Even though he was right about the sex trafficking victim, the way he was behaving was inconsistent with the personality we've known him to have all these years."
She also explained what happened in the final scene from the finale. "DeLuca, after finally diagnosing Richard, went from manic to depressed," Vernoff said. "That's what that last scene was when he's sitting on the floor, crying in a pit of despair after not seeing anything but high for the last several episodes."
Krista Vernoff teases Andrew DeLuca's storyline for 'Grey's Anatomy' Season 17
With DeLuca's diagnosis confirmed by Vernoff, fans are wondering where the character is headed when Grey's Anatomy returns for season 17. The previous season was cut short due to the coronavirus (COVID-19) pandemic. So we weren't able to get answers. And while we don't know when the show will start production, Vernoff shared the writers will be getting together via Zoom to discuss storylines for the new season.
"I'm going to start up the writers' room in May, but it's going to be  'Zoom room,'" Vernoff told TVLine. "The hope is that we will be able to start production when we usually do, which is in July. But we have to wait and see how this thing plays out, obviously."
Then in a recent interview with Us Weekly, Vernoff shared Grey's Anatomy Season 17 hasn't been mapped out yet. However, she teased where DeLuca's mental health storyline could lead to moving forward.
"I think that people with mental health diagnoses participate as productive members of society all the time," Vernoff said. "I don't think that a mental health diagnosis prevents a person from being a surgeon as long as he's willing to treat it. And that's the big question mark."
Meanwhile, Vernoff also suggested Grey's Anatomy Season 17 could potentially wrap up the human trafficking storyline.
"It breaks our hearts," Vernoff wrote in April in response to a fan asking Grey's Anatomy to revisit the storyline. "That story was coming around in what would have been the next episode. Hopefully we can complete her story in season 17!"
Check out Showbiz Cheat Sheet on Facebook!