'Grey's Anatomy' Season 17 Episode 15 Recap 'Tradition': A Farewell to Jackson Avery
While the 'Grey's Anatomy' Season 17 Episode 15 recap mostly focuses on Jackson Avery's farewell, several other major things happen as well.
The Grey's Anatomy Season 17 Episode 15 recap includes the most normal sendoff to any character throughout the long-running medical drama's time on ABC. Jackson Avery (Jesse Williams) broke the news of his departure to Miranda Bailey (Chandra Wilson), Richard Webber (James Pickens, Jr.) Meredith Grey (Ellen Pompeo) and his other friends and co-workers at Grey Sloan Memorial Hospital.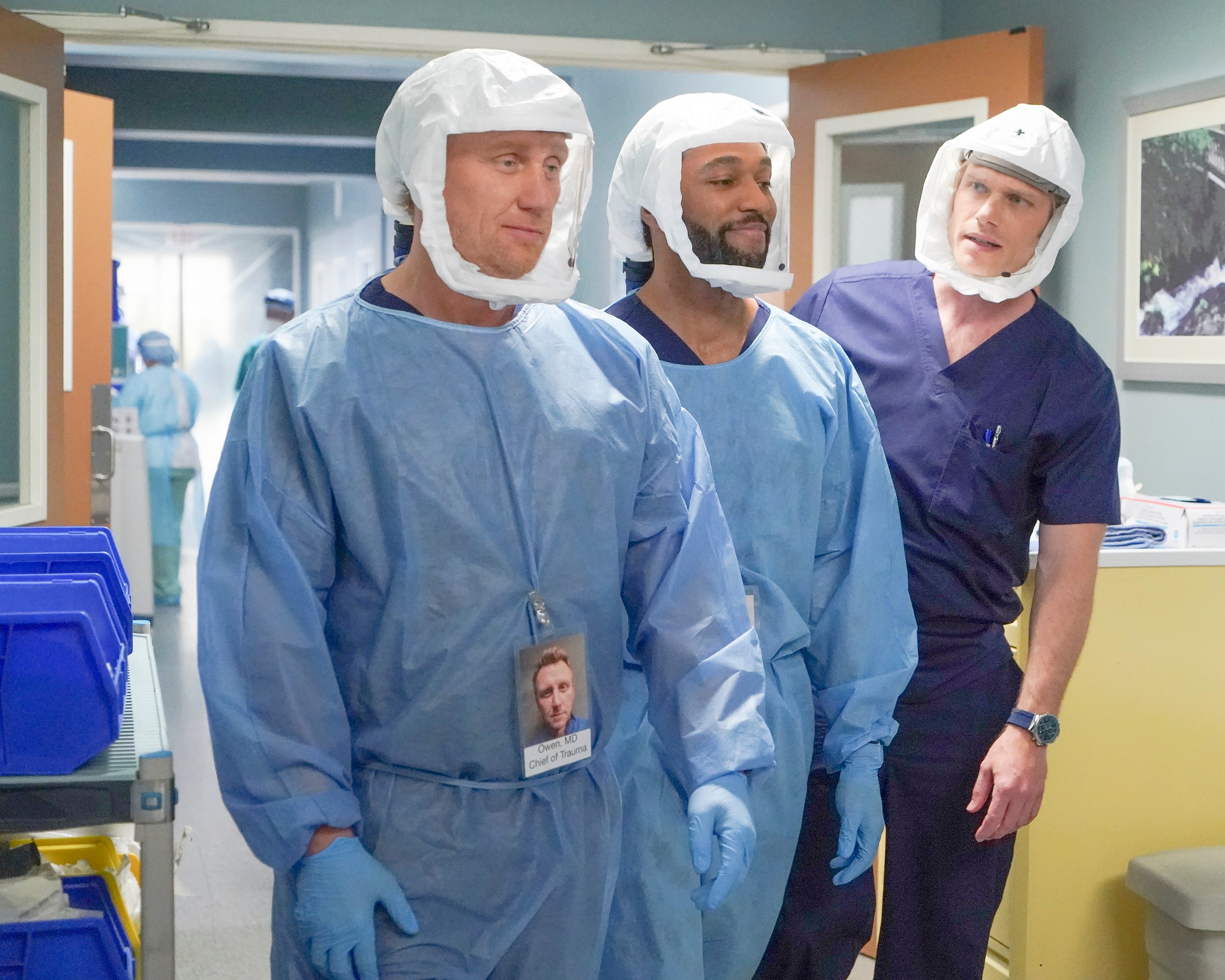 [Spoiler alert: This article contains spoilers from Grey's Anatomy Season 17 Episode 15.]
Meredith gets discharged
Grey's Anatomy Season 17 Episode 15 opens with Meredith getting discharged from her extended stay for the coronavirus (COVID-19). However, Miranda and Richard worry about telling Meredith about Andrew DeLuca's death. It turns out they had nothing to worry about because she already knew. Remember, she had a long talk with him on that beach? Meredith responds, "He's fine. He's with his mother." She also skips her "clap out" for surviving the virus. Instead, Jackson slips her out the back and drives her home.
Why is Jackson leaving 'Grey's Anatomy'?
To understand why Jackson is leaving Grey's Anatomy for good, viewers need a quick recap of what happened. After the death of George Floyd and the racial unrest in the country, Jackson asked his mother why they never protested. He didn't like Catherine Avery's (Debbie Allen) answer, so he sought out his estranged father, Robert Avery (Eric Roberts). 
After a long day with his dad, Jackson realized that he didn't want to walk away from the medical world and the Avery Foundation. Instead, he tried to change and pursue racial injustice in the medical world by taking over the foundation. He asked his ex-wife, April Kepner (Sarah Drew), to move across the country with him and their daughter, Harriet. After another lengthy discussion, April admitted that she and Matthew Taylor (Justin Bruening) split up, and she would come with him.
'Grey's Anatomy' Season 17 Episode 15 Recap: Jackson's farewell
Later in Grey's Anatomy Season 17 Episode 15, when Jackson handed Bailey and Webber his resignation, they wished him well and told him how proud they were of him. After he walked away, they realized that since he is now the head of the Avery Foundation, Jackson is now their boss.
Jo Wilson (Camilla Luddington) thanked Jackson for telling her the news of his departure in person instead of in a letter. That was a nice little dig to her ex-husband, Alex Karev (Justin Chambers), who left abruptly and then sent her a letter explaining why.
'Grey's Anatomy' Season 17 Episode 15 Recap: What's wrong with Helm?
Dr. Tayrn Helm (Jaicy Elliot) is unhappy and distracted. In every scene she's in, it's evident that something is wrong with her. She's not even excited that Meredith Grey is better because she can't get past all of the patients who keep dying from the coronavirus.
Later, Schmitt found Helm crying on a bench outside the hosptial. She admitted that her dream was always to be a doctor. However, all the death and dying began to get to her. She couldn't take the isolation anymore. Schmitt asked Helm to move in with him and Wilson.
Thomas Koracick and Levi Schmitt save a pregnant woman's grandfather
In Grey's Anatomy Season 17 Episode 15, Carina DeLuca and Jo Wilson deliver a healthy baby, while Koracick (Greg Germann) and Schmitt attempt to save her grandfather. Mr. Lawrence survived and got to meet his granddaughter via video chat. The indigenous people admit how shocked they were to receive such good treatment at a large hospital. They also share with the doctors how hard it has been to receive appropriate PPE.
Amelia worries about Meredith returning home
Lincoln Atticus (Chris Carmack) admitted to fellow surgeons Winston (Anthony Hill) and Owen Hunt (Kevin McKidd) that he couldn't wait to leave Meredith's house. They laugh at him and tell him that he probably won't get Amelia Shepherd (Caterina Scorsone) to leave, ever.
'Grey's Anatomy' Season 17 Episode 15 Recap: Happiness
Although a small moment, a sweet moment happens at the end of Grey's Anatomy Season 17 Episode 15. Winston and Maggie asked Richard Webber to officiate their wedding.
Meredith's reunion at home with her children is enough to bring on the tears. They are incredibly happy to see her.
Is Tom Koracick leaving 'Grey's Anatomy'?
Right before Jackson leaves, Tom Koracick asked to be an ally and fight for Black lives with Jackson. He invited Koracick to Boston with him and says he can start at 8 a.m. on Monday.
According to IMDb, the Grey's Anatomy Season 17 finale airs on May 27, 2021.