'Grey's Anatomy' Season 17: Kevin McKidd Teases Owen Hunt's Storyline and It Sounds Messy
Kevin McKidd teases details about Owen Hunt's storyline in 'Grey's Anatomy' Season 17 when answering a fan question on Twitter.
Hold onto your left shoe, everyone. Owen Hunt's (Kevin McKidd) life is about to come crashing down in Grey's Anatomy Season 17. 
In the Grey's Anatomy Season 16 finale, Owen found out his best friend and fiancée, Teddy Altman (Kim Raver), was cheating on him with Tom Koracick (Greg Germann). So we already expected to experience a dramatic aftermath. But recently, McKidd has been teasing Owen's future for next season. And apparently, the character's upcoming journey has been a "long time coming."
How Owen Hunt finds out Teddy Altman is cheating on him in 'Grey's Anatomy' Season 16
Teddy starts her affair with Tom midway through Grey's Anatomy Season 16. But even when she wants to move forward and marry Owen, Teddy continues to cheat on her partner. 
On the day of the wedding during the Grey's Anatomy Season 16 finale, Tom tries to stop Teddy from tying the knot with Owen. He admits he still loves her and wants to run away together. Then Tom and Teddy hook up at Grey Sloan Memorial. However, Teddy accidentally calls Owen while sleeping with Tom, and they leave a dirty voicemail.
Later, Owen listens to Teddy and Tom's hookup. At first, he can only hear moans. But eventually, Tom's voice asks Owen's bride-to-be to ditch the wedding. Teddy insists she still wants to marry her best friend. Though Owen is clearly heartbroken.
At the end of the finale, Teddy gets ready to marry Owen. But her partner is nowhere to be found. Teddy finds Owen's mom, Evelyn Hunt (Debra Mooney), cleaning up decorations for the ceremony. Then Evelyn says her son was pulled in for a last-minute surgery and they need to reschedule. Teddy, who hasn't heard from Owen, looks terrified. 
Kevin McKidd hints what's coming for Owen Hunt in 'Grey's Anatomy' Season 17
Now, it's all about to come out when Grey's Anatomy returns for season 17. Then on Aug. 1, a fan asked McKidd for a preview of the forthcoming season. And the actor's response makes one thing clear: Owen will finally face his demons.
"Owen will prob have a wrecking ball of reality dumped on him for sure! Long time coming," McKidd tweeted, adding a winky face.
Of course, the actor's comments may not come as much of a surprise to some Grey's Anatomy fans. During the Quaranstreaming: Comfort TV That Keeps Us Going panel in July 2020, McKidd admitted Teddy's infidelity was "karmic payback" for cheating on Cristina Yang (Sandra Oh) in season eight. 
"It's interesting where Owen's character is right now," McKidd said. "It's like Owen finds out that Teddy is cheating on him. I remember the season where Owen cheated on Cristina. And this is kind of karmic payback, I think, for Owen's cheating."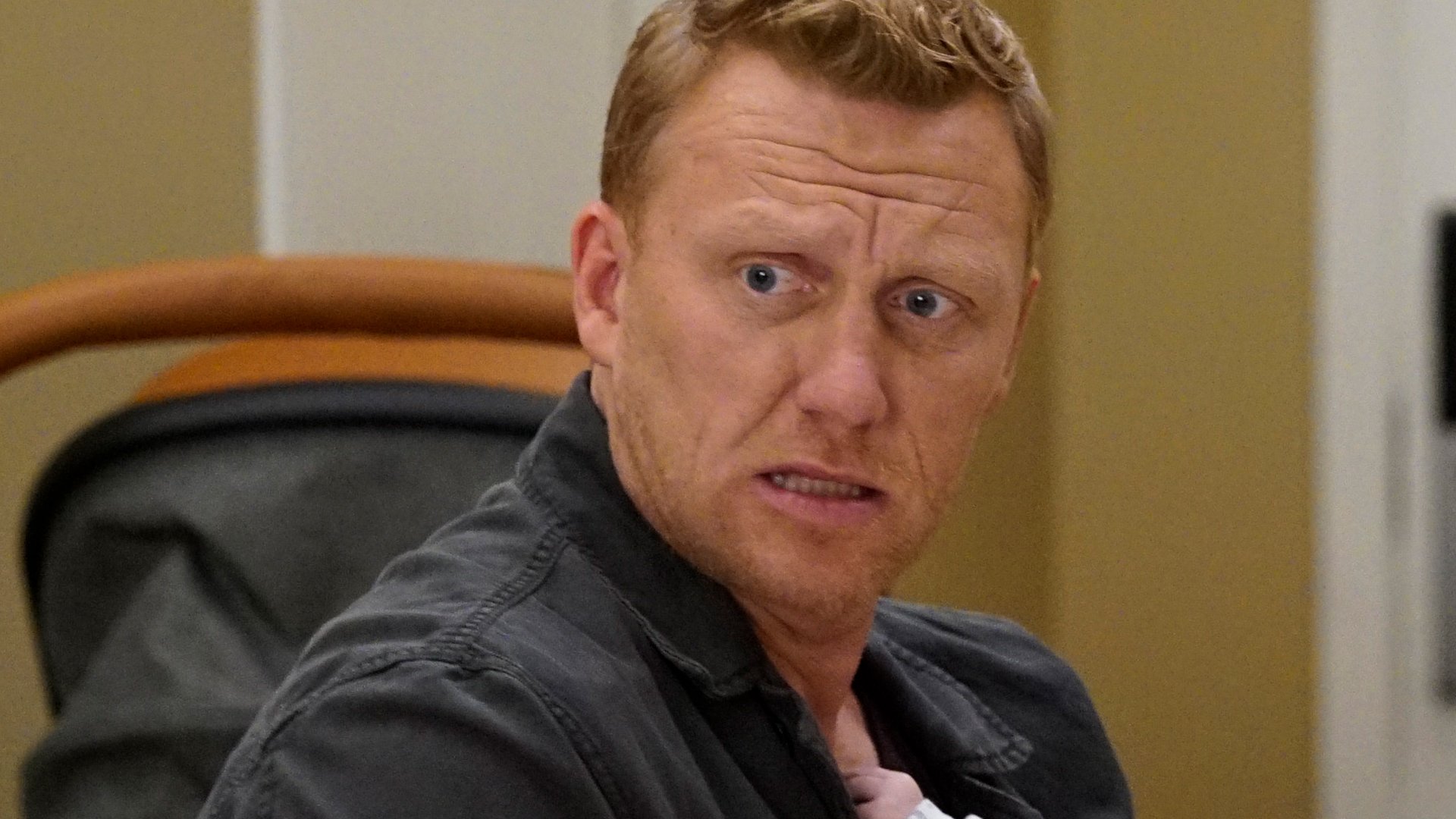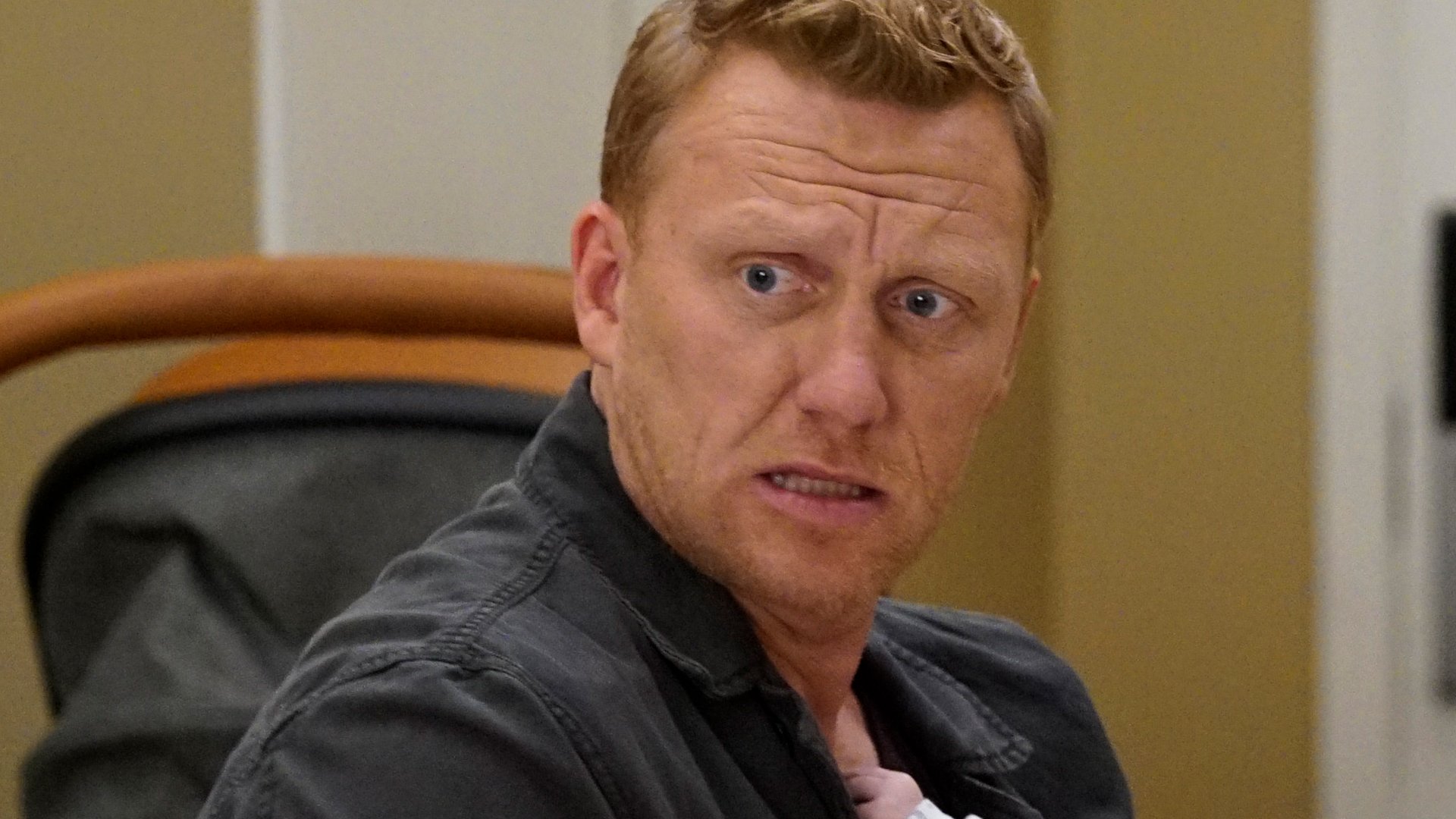 Meanwhile, Owen will also be dealing with the coronavirus (COVID-19) pandemic, which has been confirmed as a storyline for Grey's Anatomy Season 17. Then during the Quaranstreaming panel, showrunner Krista Vernoff revealed why Owen will be the one spearheading the current crisis on the medical drama. She said:
Every year, we have doctors come and tell us their stories. Usually, they're telling their funniest or craziest stories. This year, it has felt more like therapy. The doctors come in and we're the first people they're talking to about these types of experiences they're having. They are literally shaking and trying not to cry. They're pale, and they're talking about it as war — a war that they were not trained for. And that's been one of our big conversations about Owen. He's actually trained for this in a way that most of the other doctors aren't.
For now, Grey's Anatomy fans will wait and see how reality will be "dumped" on Owen in season 17. But clearly, the character has a lot going on moving forward, both professionally and personally. So get ready.
Check out Showbiz Cheat Sheet on Facebook!