'Grey's Anatomy' Season 18 Predictions Include New Couples and Maybe a Baby
ARTICLE HIGHLIGHTS
Meredith isn't looking for love in season 18 of 'Grey's Anatomy'
Will there be new couples this season?
Jo is in 'mayhem' in 'Grey's Anatomy' season 18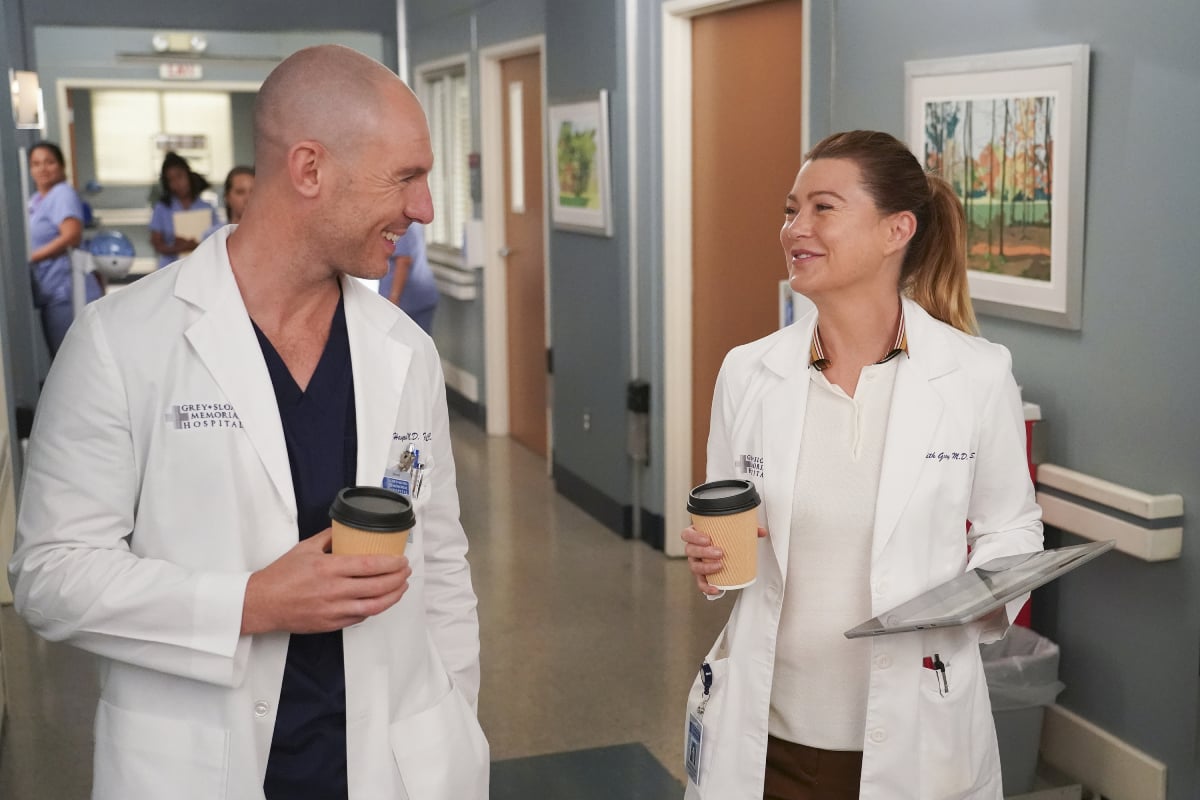 Grey's Anatomy fans are getting ready for season 18. Which means it's time to share theories about what's coming next to Grey Sloan Memorial. After a season dominated by the pandemic — which left Meredith Grey (Ellen Pompeo) in a hospital bed having dream hallucinations — many fans believe it's time for new couples. And maybe even a new baby.
Who do fans believe will be hooking up this season? And who will get a visit from the stork?
Meredith isn't looking for love in season 18 of 'Grey's Anatomy'
Fans watched as Meredith "went through the ringer" last season, says Grey's Anatomy executive producer Meg Marinis. Not only did she battle COVID and nearly die, but she also lost DeLuca. Marinis told TV Line that in season 18, the last thing on Meredith's mind will be looking for love.
"I don't think she's actively looking for it," Marinis says. "Now, does that mean it won't possibly find her? I wouldn't say she's actively looking for it because she just got out of the COVID crisis, and her career and her family have always come first. I think Meredith is open but definitely not looking."
What does this mean for Meredith and Hayes?
Before she got sick, something definitely seemed to be brewing between Meredith and Dr. Cormac Hayes (Richard Flood). Even though Meredith isn't looking for love in the upcoming season, Marinis noted that fans saw Hayes "being more drawn" to her even when she was in a hospital bed.
The duo did get the chance to share a half-empty bottle of whiskey in the season 17 finale. But Marinis does admit that it's time for Meredith and Hayes to have "an official drink, if you will."
Will there be new couples in the upcoming season of 'Grey's Anatomy'?
TV Line predicts "two new romances and a baby" for season 18 of Grey's Anatomy. They're pretty sure we will see something happen between Meredith and Hayes. And after Amelia (Caterina Scorsone) rejected Link's (Chris Carmack) proposal in the season 17 finale, this might be the year that Link and Jo's (Camilla Luddington) friendship turns into something more.
"What's been so nice about that friendship [between Link and Jo] is we've never really shown the danger of there being any pressure of being more than just friends," Marinis noted. "We're hopefully going to learn more about their friendship from the past. But as we start the season, you'll see them being there for each other on both sides."
Marinis says that Amelia and Link still have a lot to work out considering she "said no to his proposal in front of three children with multiple rings on a beach."
"We're not skipping any sort of conversation about how he feels about that," Marinis explained. "They're going to have to figure it out because they still very much have love for each other. But he's also very, very hurt."
Who will have a baby?
As for who should be expecting a visit from the stork — fans believe newlyweds Maggie (Kelly McReary) and Winston (Anthony Hill) will be adding to their family right away.
As one fan on Reddit predicted, "Maggie gets pregnant and has a baby, which is Richard's (James Pickins Jr.) first biological grandbaby, and he loves being a grandfather."
They went on to explain that McReary got married just a couple of years ago. So if she decides to start a family in real life, "they'll probably write her pregnancy into the show."
Jo is in 'mayhem' in 'Grey's Anatomy' season 18
Link and Jo might finally get their chance for romance, but she might not have the time for all of that. Jo is now a mom and an OB/GYN resident, which Marinis describes as being "in mayhem!"
"She's like any new working mom — she's trying to figure it out," Marinis shared. "She doesn't want to step back from her career, but she loves this baby, and I don't think she's ever experienced love quite like what she feels toward Luna. So she's going to have to figure out a way to make it all work."
Marinis also teased that season 18 will explore "the madness of what it looks like to be a single, working mom."
"There will be comedy and heartache in this situation," the EP promises.
Season 18 of Grey's Anatomy premieres Thursday, Sept. 30 on ABC.