'Grey's Anatomy' Season 18 Trailer and What Megan Hunt's Return Means
The Grey's Anatomy Season 18 trailer dropped and shocked fans with the return of Megan Hunt (Abigail Spencer). It makes sense that Owen Hunt's (Kevin McKidd) sister returns for his wedding to Teddy Altman (Kim Raver). However, Spencer signed on for a recurring role in the medical drama, so what does her return to Grey Sloan Memorial Hospital mean? Plus, fans want to know if there could be a surprise visit from Nathan Riggs (Martin Henderson) in the upcoming season like the shocking guest appearances of Patrick Dempsey and Chyler Leigh in season 17.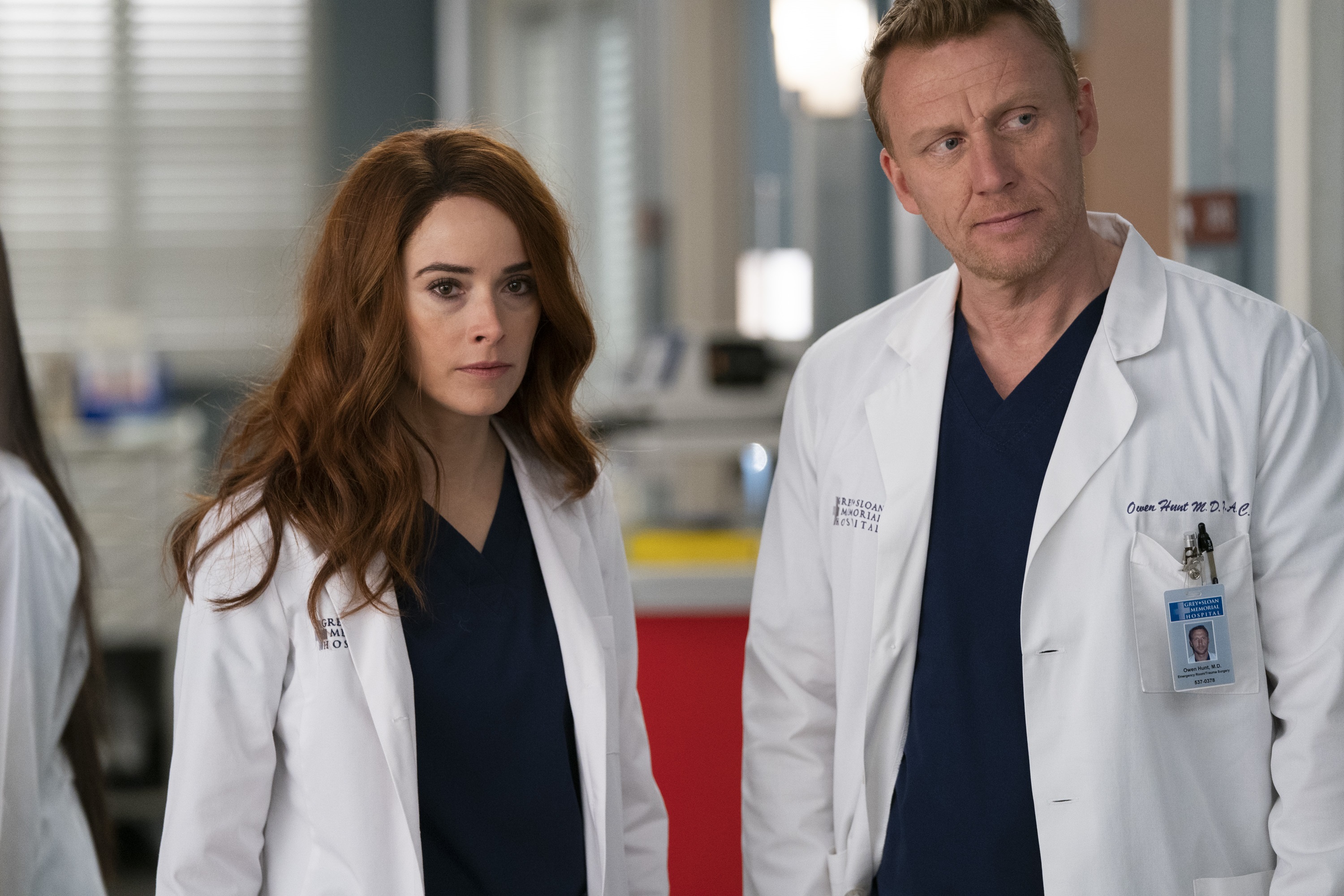 What happened to Megan Hunt on 'Grey's Anatomy'?
In Grey's Anatomy Season 13 Episode 23, Owen receives news that Megan is alive. She speaks to Teddy from a German hospital, and Amelia (Caterina Scorsone) arranges her transfer to Seattle. In the Grey's Anatomy Season 14 premiere, Megan returns to Owen and hugs her fiance, Nathan. Megan was missing for 10 years after a helicopter she was on went down. Both Owen and Nathan thought she was dead.
After a series of episodes during which Meredith Grey (Ellen Pompeo) repaired Megan's abdomen, they released her from the hospital. She decided to move to Los Angeles with her son, Farouk (a Syrian refugee), and Nathan. In Grey's Anatomy Season 14 Episode 5, Megan's storyline ended happily while playing in the ocean with Farouk and Nathan.
'Grey's Anatomy' Season 18 trailer teases the return of 2 characters
In the Grey's Anatomy Season 18 trailer, both Ellis Grey (Kate Burton) and Megan Hunt return. The last time viewers saw Ellis was in Meredith's dream in season 15. She died in Grey's Anatomy Season 3 Episode 17 despite often returning to Meredith's dreams. So, it's no surprise to fans that Burton reprises her role this season.
"You survived the unthinkable," Ellis tells her daughter. "What are you going to do, Meredith?"
RELATED: 'Grey's Anatomy' Stars' Reactions to Kate Walsh's Return Are Sweeter Than Fans
Megan's clip in the trailer is barely a second, but she's in the hospital, not at Teddy and Owen's wedding. However, she does look like she's dressed for a wedding or at least somewhere other than a hospital. In the last few seconds of the trailer, Teddy screams, "Oh my God." She and Owen look like they could be at their wedding when something happened to send someone to the hospital. 
What could Megan Hunt's return mean?
According to Variety, Spencer returns in a recurring role, so Megan isn't only appearing on Grey's Anatomy Season 18 for her brother's wedding. However, it could be as simple as the lead-up and aftermath of the Hunt-Altman wedding and watching the kids during their honeymoon. Viewers know that Megan is a surgeon, so she could also consult on a few cases at Grey Sloan. 
RELATED: 'Grey's Anatomy' Fans Are Begging To See an Episode Focused on This 1 Minor Character's Life in Season 17
Will Riggs return to Grey's Anatomy for season 18? Fans of the medical drama love Nathan, so they are hopeful he makes at least a small appearance with Megan. Sadly, Henderson is busy filming the Netflix original series Virgin River, so he might not have time to join Grey's. On the other hand, it would be a pleasant surprise for the series to keep under wraps if Henderson could squeeze it in. In Grey's Anatomy Season 17, Patrick Dempsey, Eric Dane, and Chyler Leigh all surprised fans with their return. 
Grey's Anatomy Season 18 premieres on Sept. 30 at 9 p.m. EST on ABC.