'Grey's Anatomy': Have We Seen the Last of Schmitt and Nico?
Over the years, Grey's Anatomy has supplied fans with plenty of excitement, both through its medical drama and that of the romantic variety. One notable couple, Levi Schmitt (Jake Borelli) and Nico Kim (Alex Landi), are on the outs as Season 16 ends. But could they still have a future?
Schmitt and Nico were an important couple for 'Grey's Anatomy'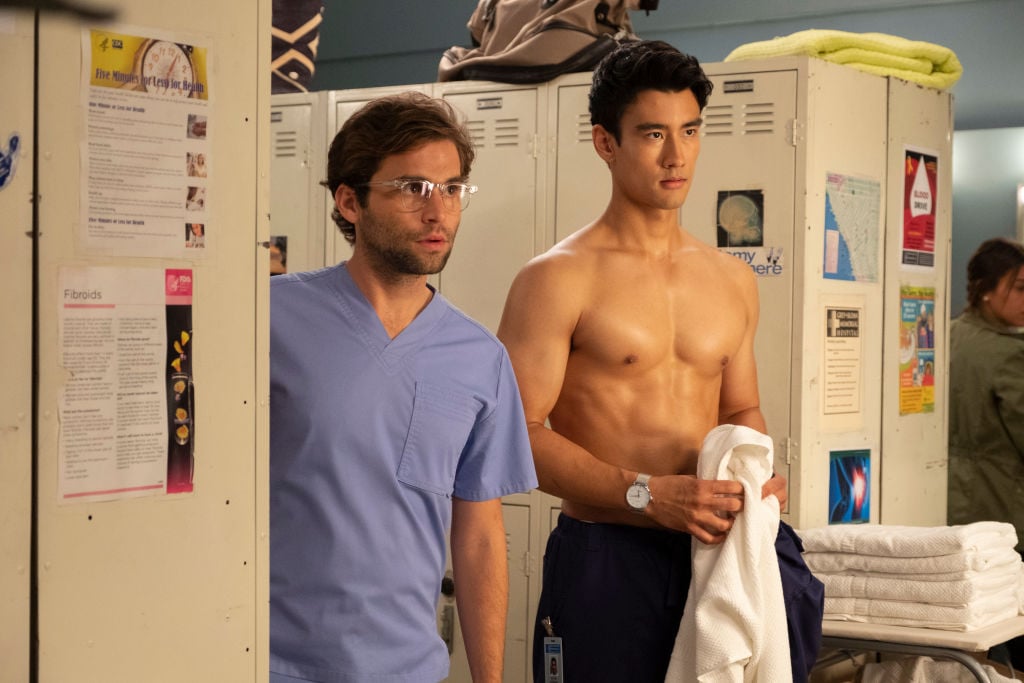 Grey's Anatomy has always been groundbreaking series. Long before it became the longest-running primetime medical drama, the show was hailed for the foundation of TGIT — ABC's night of programming all from Shonda Rhimes, the first Black female showrunner to have such an empire.
The series has also been hailed for being uniquely diverse. In addition to colorblind casting, which Grey's is known for, it has proudly touted an impressive number of LGBTQ characters and prominent storylines. However, Schmitt and Nico were the first gay couple to be featured (as far as the doctors themselves are concerned).
They got together in Season 15
Nico Kim arrives in the premiere episode of Season 15 as an orthopedic surgical fellow working with attending Atticus "Link" Lincoln (Chris Carmack). He flirts with Levi Schmitt, a resident. At first, Nico doesn't want anything to do with Schmitt, upset that he isn't out of the closet. He eventually comes out, and they enter into a relationship.
But things don't exactly progress smoothly from there. The couple hits a number of speed bumps along the way. Nico isn't often willing to open up to Schmitt, and Schmitt learns that his partner can be a bit hypocritical, especially when it comes to being out of the closet to his family.
Alex Landi did not appear in the last few episodes
Landi has been credited as a recurring star on Grey's Anatomy throughout Seasons 15 and 16, appearing in 27 total episodes. The last episode of Grey's Season 16 Nico was in was "Give a Little Bit," in which he pursued a job with the Seattle Mariners, resulting in his and Schmitt's breakup.
But due to the two show's different schedules, Nico was last seen not on Grey's, but on the spin-off series, Station 19. In it, he pops up asking about taking a shift in Ben's PRT vehicle. Could this be where his character is headed instead?
Krista Vernoff said this of returning cast members
Given that the series has been on for so long, cast members are bound to come and go from Grey's. Season 14 saw the loss of Jessica Capshaw (Arizona Robbins) and Sarah Drew (April Kepner). No regulars left after Season 15, with Borelli, Carmack, and Greg Germann (Tom Koracick) being promoted to series regular with Season 16.
Because Season 16 was cut short, fans may have been worried that any sendoffs were preempted. However, that doesn't appear to be the case. Showrunner Krista Vernoff told the Hollywood Reporter that "there are no notable cast member departures happening between seasons" 15 and 16.
Could this be the end for Schmitt?
Whether or not Vernoff's comments refer to Landi remains to be seen. However, given his status as a series regular, we can presume that this isn't the end for Borelli just yet. But there was a scene in the series finale that gave fans pause.
Schmitt is visibly shaken by a patient with a baseball bat puncture wound in his chest, and is very negative (given his recent breakup). Owen Hunt is short with him throughout the episode. After surgery, he tells Schmitt if he can't "put on a game face and suck up [his] feelings" he should "consider a new career." Left on a cliffhanger, we wonder — what will happen with Schmitt in Season 17?