'Grey's Anatomy' Showrunner Says It Would Have Been 'Dull' to Keep Jo and Alex Together
When Grey's Anatomy ended its sixteenth season early, fans had a lot of relationship drama on their minds: Can Teddy and Owen still make it work? Will Richard forgive Catherine? And are Meredith and DeLuca really over for good? However, others are still focused on the fallout of Jo and Alex Karev. Here's what showrunner Krista Vernoff told fans about her decision not to keep them together off screen.
Alex and Jo were together for years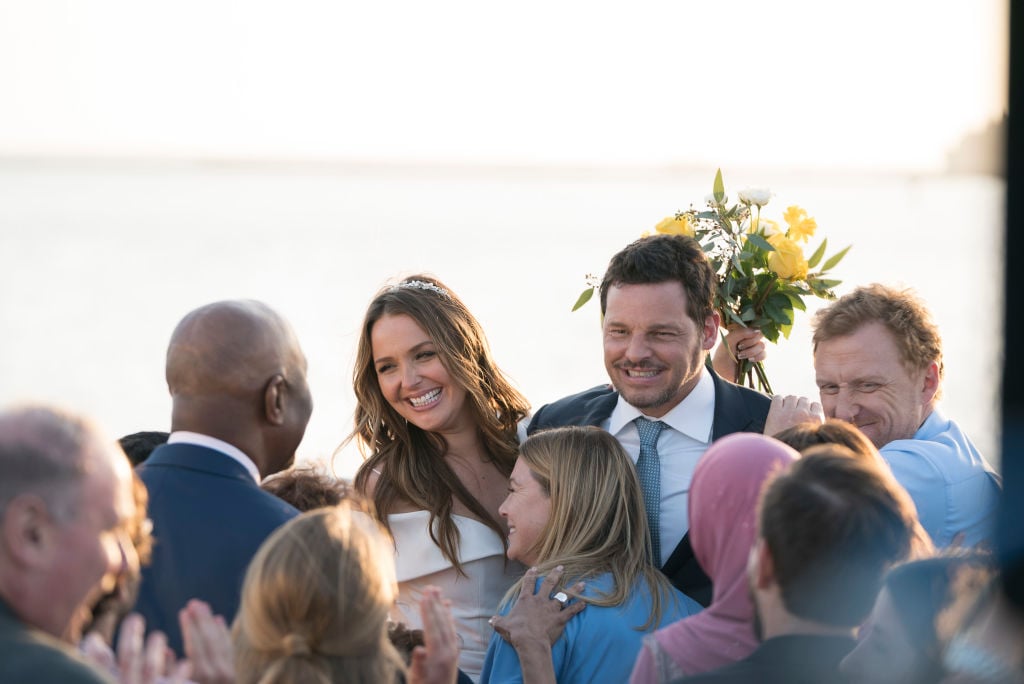 Alex, who made his debut in season 1, has had a number love interests over time. He and Jo meet in season 9, and get together in season 10. They breakup when he proposes the first time, get back together, and then break up again. They later settle things in season 14, and get married in the finale.
This is Grey's Anatomy, however, and so that was not the end of their troubles. Season 15 is a difficult one of the couple, as Jo meets her birth mother and discovers that her father raped her mother. She eventually gets psychiatric help, and she and Alex get married officially in Season 16. (He never sent in their marriage license the first time.)
Justin Chambers exit and Alex Karev's goodbye
After their Halloween wedding, Jolex looks to be doing well. However, Alex then disappears, leaving Jo in the dark. She tries to figure out what happened, and a few episodes later, it's explained: Alex left in order to be with his ex-wife, Izzie Stevens, and their two kids, who he had recently learned about and kept a secret.
If this seems a bit out of the blue, it's because it probably was. Actor Justin Chambers revealed in a January 2020 statement that he was leaving the show. Fans didn't get their official goodbye episode until several weeks later, when an episode, featuring old footage and a voice over from the actor, aired and explained his exit.
Krista Vernoff on 'a better ending'
Though season 16 is now over, fans haven't stopped talking about it — especially as far as Alex's exit is concerned. One tweeted at Vernoff, asking "why can't you give Alex a better ending?" The showrunner obliged, asking back, "Just out of curiosity, what do you think a better ending would've been?"
A different Twitter user gave their response, saying that they should have stayed married and he could have just been busy off screen elsewhere. Vernoff replied, "Then Jo wouldn't have anything to do. Happily married to an off camera character is dull dull dull." Another chimed in suggesting Alex should have died, which the showrunner called "brutal" and "cruel."
The 'ship' she loved that ended tragically
Still more fans protested, with one suggesting that Alex come back eventually and say he had lied and was actually sick and wanted to protect Jo. Vernoff replied in kind, writing, "I hear you. I feel your passion truly." She then spoke about how death "doesn't feel better" necessarily, adding, "Characters can grow & remain flawed."
"My favorite ship was Mark & Lexie," she wrote of Mark Sloan and Lexie Grey. "They were BOTH KILLED right after I left the show." Vernoff exited following season 7, and the characters died at the beginning of season 9 and end of season 8, respectively, from the same plane crash. Perhaps Alex's exit wasn't perfect, but it seems as though the showrunner went through every possible scenario before making her choice.