'Grey's Anatomy' Showrunners and Scott Speedman Originally Had No Plans for Nick Marsh to Return
ARTICLE HIGHLIGHTS
Scott Speedman first appeared on 'Grey's Anatomy' in season 14
Showrunner Krista Vernoff and Speedman both agree there were not plans for him to return
Speedman's chemistry with Ellen Pompeo changed Vernoff's mind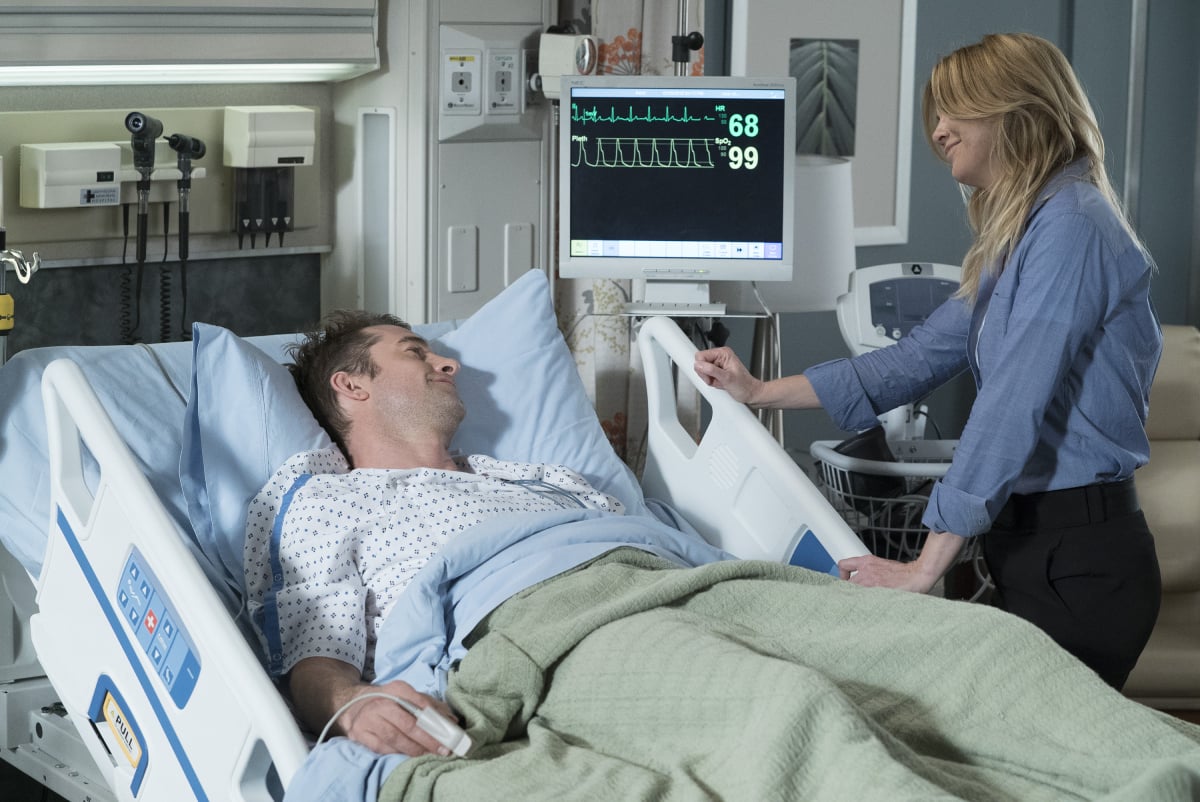 Grey's Anatomy delighted fans in the season 18 premiere with the return of Scott Speedman's Dr. Nick Marsh. And it wasn't just another one-off appearance. Speedman has signed on as the newest series regular, and the expectation is that he will be Meredith's new love interest.
But according to both Speedman and showrunner Krista Vernoff, they had no plans for the character to return after his original appearance in season 14.
Scott Speedman's first 'Grey's Anatomy' appearance was in the episode 'One Day Like This'
Dr. Nick Marsh originally showed up at Grey Sloan Memorial in Season 14, Episode 17 "One Day Like This."
The traveling transplant surgeon was in Seattle to get an organ for a patient. But it was just a few short weeks after his own kidney transplant, and his body started to reject it. That's when Meredith (Ellen Pompeo) stepped in, and she ended up saving Nick's life.
Throughout the episode, the chemistry between Nick and Meredith was undeniable. And in the final scene, she told Alex Karev (Justin Chambers) that she had saved the life of a "smart, funny, and hot" transplant surgeon. She also confessed that he made her feel something she hadn't felt since Derek (Patrick Dempsey).
Fans wanted more of Nick and Meredith
It only took that one appearance from Nick for fans to start shipping him and Meredith. The chemistry was so obvious, many fans were convinced Speedman would be joining Grey's Anatomy in season 15 as a series regular.
That speculation intensified when shortly after his Grey's guest appearance, Speedman confirmed that he had left his leading role on TNT's Animal Kingdom. But at the Felicity 20-year reunion panel at ATX in the summer of 2018, Speedman broke fans' hearts when he revealed he wouldn't be returning to the ABC medical drama.
There were no plans for Dr. Nick Marsh to return to 'Grey's Anatomy'
Speedman's guest appearance in season 14 was supposed to be a one-time thing. He agreed to the role because he was friends with Pompeo, and because he liked the script.
"I was sitting around and I read the script. It was a one-off episode. The dialogue was great, and I thought it'd be really fun to go do with her," Speedman told Deadline. "That's basically how it came about, and everybody was like, oh, no, this is just a one-off. It's just a guest star, it's just this. So, I thought it'd be fun just to sneak on and do an episode of Grey's Anatomy, this great show that's been on for so long."
"I will say that it was planned as one episode, and that's how we got Scott to come do it," showrunner Krista Vernoff added.
That season, if you'll recall, season 14, Ellen had come off a string of romances, and when I came in to run the show, she asked for a break from romance, and I thought that was a well-earned break."
Scott Speedman and Ellen Pompeo's on-screen chemistry changed Krista Vernoff's mind
The timing wasn't right for Meredith to have another love interest in season 14. And the intention was always for Speedman to make just one appearance. While also hinting that Meredith could open her heart to love again. But after Vernoff saw Speedman and Pompeo's on-screen chemistry, she started to change her mind.
"We conceived of this one-off episode and this character who would make her feel, I think she says in the end of that episode, I felt the way I felt with Derek, I felt things I haven't felt in a really long time," Vernoff said.
"It was really designed for that purpose, to say she's capable of feeling, and then I started to see the dailies, and I think I started calling Scott's team, going, 'But what if he came back, when might he come back?' I called several times, but he was making movies and doing things."
Nick and Meredith's meet cute on 'Grey's Anatomy' was Ellen Pompeo's idea
Once Speedman agreed that he would return to reprise his role — this time as a series regular — Vernoff says she planned season 18 accordingly. As for how they decided to reintroduce Nick to the Grey's Anatomy audience, that was all Pompeo's idea.
"The first encounter was actually pitched to me by Ellen," Vernoff revealed. "I said, he said yes, and we're trying to figure it out, and she just had this very specific imagining that was perfect."
Nick and Meredith's meet cute was like an "old-school romantic comedy," and that's what Pompeo wanted, Vernoff revealed.
"She said I just want something that feels different and adult, and I loved it. I thought it was very elegant," Vernoff said. "He's on a date with another woman. He cannot approach her in that restaurant, and yet he finds another way to make his approach. I loved it."
Grey's Anatomy airs Thursday nights on ABC.