'Grey's Anatomy' Star Camilla Luddington Learned This Essential Skill When She Portrayed Kate Middleton
Camilla Luddington of "Grey's Anatomy" went to Princess School to gain some insight on playing Kate Middleton in a TV movie.
Camilla Luddington is well-known for her role as Dr. Jo Karev on ABC's hit series Grey's Anatomy. On the show since Season 9, the British-born actress is able to mask her English accent to speak like someone who's lived in the United States since birth.
Pre-Grey's, Luddington's dialect came in handy when she landed the part of Kate Middleton in the 2011 Lifetime movie William & Kate.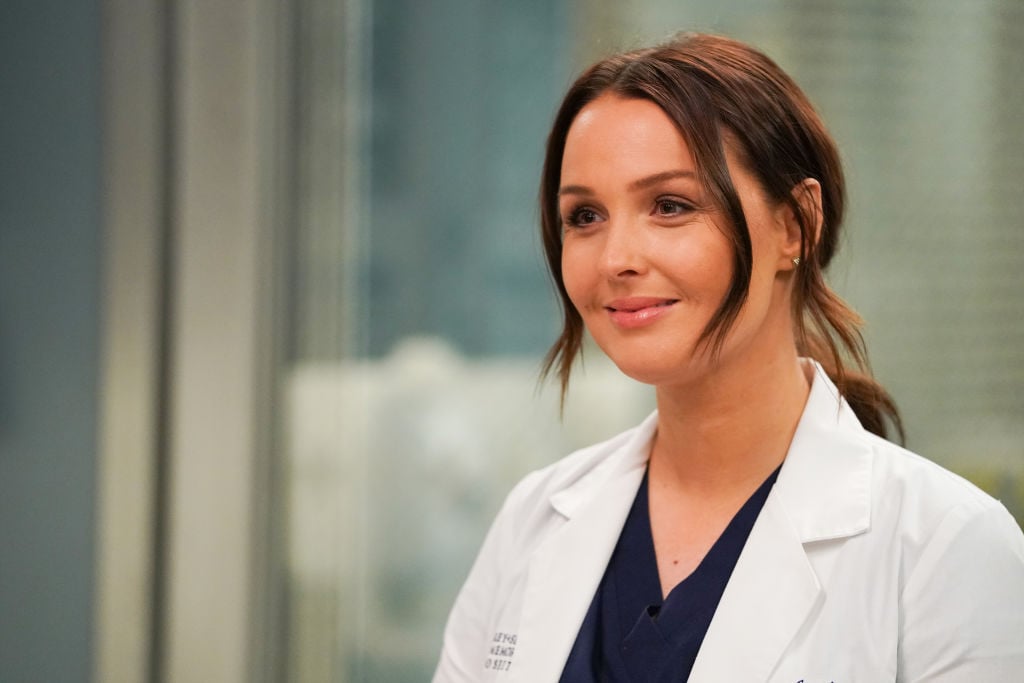 Before Grey Sloan
The British actress had quite a list of credits to her name before she donned her lab coat for the ABC medical drama. According to People, Luddington played Jane Bennet in Pride and Prejudice and Zombies: Dawn of the Dreadfuls, a prequel to the Jane Austen parody Pride and Prejudice and Zombies. The Grey's star also had small roles on CSI: Crime Scene Investigation and Days of Our Lives.
The actress was also cast as a regular on the Showtime comedy-drama series Californication in its fifth season, and in Season 5 of the HBO vampire drama True Blood.
People reported that Luddington has a few things in common with Middleton. They both come from the British county of Berkshire, and both women have an impressive college education. Middleton met future husband Prince William at the University of St. Andrews, and Luddington attended Oxford University.
Mixed reviews
When Luddington stopped by to have a chat with Conan O'Brien on his TBS talk show in 2014, the host brought up her work in the Lifetime film about the Brits. "We don't have Lifetime in England," she explained. "They don't understand that Lifetime movies are cheesy and guilty pleasures where you can have a bottle of wine with your girlfriends."
When O'Brien asked how the TV movie about the Royal couple was received in England, the actress revealed that the consensus was less than praiseworthy. "I knew I was screwed with the reviews before it even came out because they were comparing it to the next King's Speech," Luddington said, referring to the 2010 Academy Award-winning film starring Colin Firth, who earned an Oscar for the starring role. "They thought it was going to be a serious drama, maybe slightly controversial. And then it came out, and they were like 'What is this?'… including my family."
The Conan host asked her to elaborate on her family's thoughts of William & Kate, where she chose her words carefully. "They thought it was interesting," she shared. "I told them not to send me reviews, and they took great joy in sending me so many horrible reviews. They thought it was hysterically funny."
Though there were naysayers, the TV flick actually got decent props from the Duke and Duchess of Cambridge. "We heard that Will and Kate did see the film — from an insider — and they loved it," she told Access Hollywood in 2011 after the Lifetime movie aired.
Luddington also saw an upside to the bad press, noting that the negative reviews ended up increasing their audience. "What's been great is that we've had so many people approach us and say, 'We tuned in because we thought it would be the worst movie ever made, apparently, and we loved it!'" she revealed. "So I almost feel like the bad press sort of helped the people want to watch it and really tune in. So, it's been great."
Don't know how to curtsy? Ask Camilla
Luddington stopped by Today in 2018 to chat with Kathie Lee Gifford and Hoda Kotb right around the time of the Royal wedding of Prince Harry and Meghan Markle. Since Kotb and Gifford were attending the famed nuptials, they asked if Luddington could give them some tips on how to curtsy.
The Grey's actress confirmed that she actually attended 'Princess School' to practice the ways of the Royals and revealed that she had to learn the gesture for her role in the Lifetime movie.
Luddington proceeded to give the co-hosts a demonstration of the perfect curtsy. "You have to keep your back really straight and then you cross your leg and then you get down as low as you can," she instructed Kotb and Gifford. "It's kind of hard. It's a bit of a leg work out too."
Though it's doubtful she'll ever use the Royal skill at Grey Sloan Memorial, Luddington is sure to treasure the memory of her time as a princess.